Campaign Underscores Line2 Customers' Ability to Send and Receive SMS Texts While Flying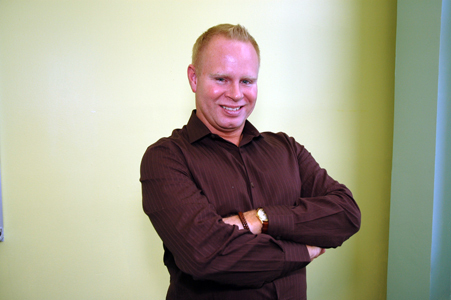 San Francisco, CA – Toktumi, Inc., the company behind the popular mobile communication app Line2, has signed a deal with former JetBlue flight attendant Steven Slater to be the official spokesperson for the company's 'Mile High Text Club' Contest, which celebrates Line2's in-flight texting capability on Wi-Fi-equipped airplanes. Slater is the ex-JetBlue flight attendant who was so fed up with rude passengers that he decided to exit his airline career on an emergency slide.
The Mile High Text Club Contest invites travelers to text their 'craziest' (i.e. most outrageous) flight stories to 222-222-2222 to enter to win prizes, including iPod touches, free Line2 service, and a Grand Prize of a weekend holiday shopping trip for two to New York City. Texts must be sent from the Line2 app, which can be downloaded for a 30-day free trial from the iTunes App store. The texted stories will appear on the www.milehightextclub.com website, where anyone can read them and vote on their favorites. As an expert on crazy flight stories, Steven Slater is a natural fit as the spokesperson and as one of the judges for the contest.
"In order to spread the word that Line2 allows airline passengers to text from the sky, we hired one of the most famous guys in the airline business today, Steven Slater," explained Peter Sisson, Founder and CEO of Toktumi. "After talking with Steven, I realized that despite his dramatic approach – which he regrets – he was making a statement about the need to return civility and common courtesy to flying. He's a perfect judge for a contest concerning the current state of air travel." He was a flight attendant for 20 years, and both his parents had long careers in the airline business.
Toktumi's Mile High Text Club Contest, which runs November 16 through December 3, will be a wickedly funny forum where entrants share their craziest flight stories by texting about them using Line2. The texts will be displayed at the contest website www.milehightextclub.com , where voting for the best stories takes place. The top 21 vote getters will get points that count towards winning the contest. A panel of judges including Mr. Slater will select all prize winners based on criteria including originality and humor. Mr. Slater will advise the grand prize winner and 7 second prize winners during a conference call with them using Line2's conferencing system.
The grand prize in the Mile High Text Club Contest is a weekend holiday shopping trip for two to New York City, including air travel and hotel for the winner and a companion. 7 second prize winners will win an Apple iPod Touch. Thirteen third prize winners will each win a gift card for six months of free Line2 service.
The 'Mile High Text Club' champions the cause of communicating in flight via texting rather than talking so that other passengers are not disturbed by loud voice calls. Traveler surveys consistently show opposition to voice calls on planes, which not only disturb fellow passengers but are often prohibited by airlines.
"Line2's SMS texting is really useful while in flight," Sisson says. "You can let people know about delays, make plans for the evening, or just pass the time texting with your friends and family while you fly."
Line2 Texting
Line2 Version 3.0 is the first VoIP calling app to feature carrier-grade SMS texting, allowing customers to exchange unlimited text messages with any SMS-enabled phone on any carrier. The result is a texting experience that is indistinguishable from traditional SMS text capabilities offered by the major cellular carriers. Unlike competing texting-only applications, Line2 combines VoIP calling capabilities and carrier-grade texting in one app, so that customers can use one number for both types of communication. There is no other calling app available on the iPhone, iPad or iPod Touch that offers the complete calling, call-handling, and texting capabilities available from Line2.
Line2 customers can get unlimited calling and unlimited SMS texting for just $9.95/month, which is less than half of the $20.00/month cost that AT&T charges iPhone users for unlimited texting alone. When calculating the savings achieved by moving to the most affordable AT&T calling plan and using Line2 over Wi-Fi for voice calls, users can reduce their cell phone bill by as much as $50 per month.
More About Line2
Line2 is the first and only truly dual-mode VoIP/cellular calling app for the iPhone, meaning that among other features, customers can place and receive calls over Wi-Fi or over cellular using the same number. If Wi-Fi isn't available, Line2 will use the cellular network to place or receive the call. Customers also have the option of placing VoIP calls over the 3G data network, allowing them to avoid cellular minute charges while still having complete mobility. The application detects the best available network based on customer preferences and places and receives calls over that network automatically.
Line2 is also one of the few VoIP apps that features true multi-tasking support on Apple's iOS4. This means customers can receive calls on their Line2 number even when they are running other apps, browsing the web, or listening to music. Line2 customers can be sure to never miss a call, even if they don't have cell reception.
Line2's Wi-Fi capabilities allow international travelers to place and receive calls while overseas without incurring voice or data roaming charges. Using Line2, calls to any number back home will be free, as will calls to other Line2 users, wherever they are worldwide. Calls to international numbers start at $0.02 per minute, whether calling from home or abroad. Line2's Wi-Fi call quality is also better than traditional cellular quality, and Wi-Fi calls between two Line2 customers use 16-kHz HD audio for crystal clear sound quality that is stunning to experience.
Line2 is a free download that comes with 30 days of free service. After that, service costs just $9.95/month for unlimited US/Canada calling and texting.
Also available is Toktumi Unlimited which comes with all of the features of Line2 plus business PBX features like auto-attendant ("Press 1 for…"), call screening, caller-specific call forwarding, after-hours settings, and Mac/PC-based calling for just $14.95/month.
About Toktumi, Inc.
Toktumi, Inc. is the leading provider of affordable hosted PBX phone services for small businesses and virtual offices and mobile VoIP solutions for business users and consumers.
About the Mile High Text Club Contest
NO PURCHASE NECESSARY TO ENTER OR WIN. The Mile High Text Club Contest begins at 12:00 AM PST on November 15th and ends at 11:59PM PST on December 3, 2010. Must be a legal resident of the 50 United States or the District of Columbia and 18 years or older at time of entry to participate. Eligibility & other restrictions apply. Void where prohibited.
About Dave's Travel Corner

Dave's Travel Corner is a travel content, resource provider and community (founded 1996) providing travel
Guides
written about Dave's personal travel experiences and
Journals
, pages that contain trip summaries and experiences written by fellow travelers. We spotlight locations and attractions with an article linked directly from our homepage including content across our blog, photo and video galleries. We use a combination of social media, written content, photography and videos to promote locations. Not only does the content appear on this site but we have direct partnerships with other well visited travel sites for placement of the content. Since 1996, we have also established hundreds of relevant link exchanges with other travel sites.
Visitors to Dave's Travel Corner will also find thousands of travel related links organized by categories on the
Resources Page
, a
Photo Gallery
containing International travel photos,
Book Reviews
, and
Product Reviews
focusing on products useful for travelers, fully automated
Forums
,
Tour Bookings
offering over 4400 unique tours around the globe,
Interviews
with those making news in the travel industry and
Videos
- specializing in International travel videos as well as home of the
Dave & Jim Show
.
Dave's own travel blog is
Above the Clouds
which focuses on International Travel & Lifestyle.
For information on advertising please choose from a variety of
advertising options here
.
Contributors are welcome

Learn how you can contribute
About

www.davestravelcorner.com/about