Leading luxury eco-resort becomes world's first to introduce state-of-the-art stargazing technology for guests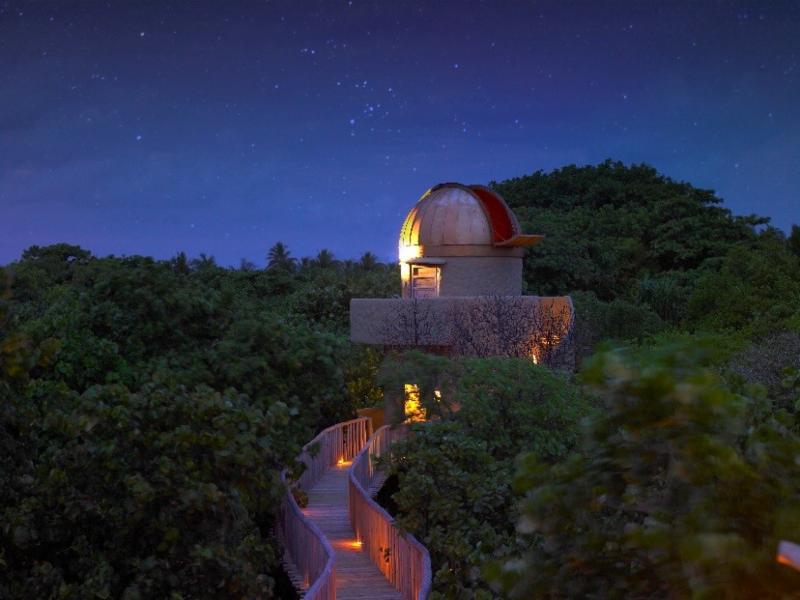 New York – Soneva, the world-leading luxury resort operator, is the first in the world to bring the 3D astronomy experience to its guests, with the introduction of a brand-new Meade telescope at the Observatory at Soneva Fushi, its flagship resort in the Baa Atoll of the Maldives. Now, the resident astronomers at Soneva Fushi will be able to show guests the vast differences in distance between stars and other celestial objects – enabling guests to gain a new appreciation of the nature of space with their own eyes.
"Astronomy is a fascinating field of study, and I believe that at Soneva we must constantly strive to improve how our guests experience it. This 3D technology is a leap in advancement for astronomy, allowing our guests a very unique way to view, and better understand, the galaxy," said Soneva CEO and founder, Sonu Shivdasani.
Mike Dalley, CEO of Inspiring Skies, the company responsible for installing the new telescope and 3D technology at Soneva Fushi, explains: "This new technology will help revolutionize how we offer astronomy experiences to guests, as it gives depth of field to what people see while looking through the telescope. It means that, for example, while looking at an open cluster, some stars will appear closer while others further away."
The inventor of the Lederman Optical Array (LOA) 3D technology, Russ Lederman, also added: "The LOA 3D technology allows live 3D astronomy views for the first time in history and at this time, Soneva is the only resort to have the 3D astronomy."
Over the New Year's Eve holiday period, Soneva Fushi hosted the award-winning astronomer, Professor Massimo Tarenghi, who shared his vast knowledge of the universe with guests. The Italian astronomer is known for building and directing the world's most powerful optical telescope (the Very Large Telescope, or VLT). Throughout 2018, Soneva will welcome a number of influential and well-known astronomers to its Observatories to share their expertise and experiences of the night skies. In 2015, Soneva welcomed the renowned American astronaut Buzz Aldrin, who gave a lecture to guests about his moon landing.
Soneva leads the way for astronomy tourism in the Maldives, already operating two observatories, one at Soneva Fushi and the other at Soneva Jani, housing the biggest telescopes in the Maldives. Soneva Kiri on the island of Koh Kood in Thailand also boasts a large observatory. The resorts offer a variety of astronomy-related experiences to guests, such as an Astronomical Dinner Cruise, sunrise astronomical breakfast, and stargazing with the resorts' on-site astronomers.
For more information about Soneva, visit www.soneva.com.
ABOUT SONEVA FUSHI
In 1995, award-winning luxury resort Soneva Fushi set the standard for all desert island barefoot luxury hideaways in the Maldives. It has a pristine UNESCO protected Biosphere Reserve and is known for its legendary service. Fifty-seven private villas with their own stretch of beach are hidden among dense foliage within touching distance of a pristine coral reef. Intuitive service is provided by Mr./Ms. Friday butlers. Highlights include the open-air Cinema Paradiso, counting Saturn's rings in the high-tech Observatory, the home-made chocolate and ice cream rooms, five hundred wines to choose from and nine dining options. If the experiences are magical, the philosophy is simple: No news, no shoes. No pretensions either.
ABOUT SONEVA
Soneva is a pioneering family of hospitality properties and products, offering holistic encounters in luxurious and inspiring environments – from world-class hotels to outstanding natural locations. Combining luxury with a conscientious approach to sustainability and the environment, and proactively changing the nature of hospitality, it delivers intuitive service and meaningful experiences to the guests.
ABOUT INSPIRING SKIES
Inspiring Skies is an astronomy consulting company based out of Australia that helps companies around the world set up and operate astronomy tourism. With their innovative and forward thinking, ground-breaking technology, knowledge and experience, Inspiring Skies remains the world leader for astronomy consulting for tourist destinations. For more information about Inspiring Skies, visit www.inspiringskies.space.
About Dave's Travel Corner

Dave's Travel Corner is a travel content, resource provider and community (founded 1996) providing travel
Guides
written about Dave's personal travel experiences and
Journals
, pages that contain trip summaries and experiences written by fellow travelers. We spotlight locations and attractions with an article linked directly from our homepage including content across our blog, photo and video galleries. We use a combination of social media, written content, photography and videos to promote locations. Not only does the content appear on this site but we have direct partnerships with other well visited travel sites for placement of the content. Since 1996, we have also established hundreds of relevant link exchanges with other travel sites.
Visitors to Dave's Travel Corner will also find thousands of travel related links organized by categories on the
Resources Page
, a
Photo Gallery
containing International travel photos,
Book Reviews
, and
Product Reviews
focusing on products useful for travelers, fully automated
Forums
,
Tour Bookings
offering over 4400 unique tours around the globe,
Interviews
with those making news in the travel industry and
Videos
- specializing in International travel videos as well as home of the
Dave & Jim Show
.
Dave's own travel blog is
Above the Clouds
which focuses on International Travel & Lifestyle.
For information on advertising please choose from a variety of
advertising options here
.
Contributors are welcome

Learn how you can contribute
About

www.davestravelcorner.com/about