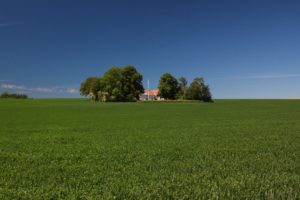 Plan a holiday to Sweden in the month of June this year and you will be rewarded with double helpings of celebratory joy. Not only is it the month when Sweden turns 500 years old, but also the month of Sweden's most longed-for festival – Midsummer.
On June 23rd (Midsummer´s Eve), which is the longest day of the year, you will have the chance to meet with a group of cheerful Swedes, dressed in traditional costumes, dancing around the maypole. Make sure you join the "Små Grodorna" (The Little Frogs) dance and hop away from all worries. Treat yourself to traditional Swedish fare including cured salmon, pickled herring and, of course, fresh strawberry cake.
In agrarian times, Midsummer celebrations in Sweden were held to welcome summertime and the season of fertility. It was not until the 1900s, however, that this became the most Swedish of all traditional festivities. Midsummer Night, one of the lightest of the year, was considered a magical night, as it was the best time for telling people's futures. Also that night, it was said, water was turned into wine and ferns into flowers. Many plants acquired healing powers on that one night of the year.
Six Places to Enjoy a Truly Authentic Swedish Midsummer
Over the Midsummer weekend, Swedish cities are usually quiet as most local people head off to the countryside and celebrate the Midsummer holiday with their families and friends. Here are a few places where you can join the fun, celebrate like a local and experience this truly authentic tradition.
Please note that celebration programs from the below list may only be updated at the end of May or early June. Make sure you check the latest information before leaving
Dalarna – Sammilsdal
Midsummer in Leksand, Dalarna gathers 20,000-30,000 visitors every year to Sammilsdal (Gropen) . It is also the world's largest & longest-running midsummer celebration.
Dalarna is home to many of Sweden's timeless treasures. The centuries-old UNESCO-listed Falun Mine is only an hour away from Leksand by train. Or after the Midsummer feast go hiking along the route of the world's oldest long-distance cross-country ski race 'Vasaloppet'.
Stockholm – Skansen
Midsummer celebrations at Skansen are the real highlight of the summer in Stockholm. Follow the folk dancers and dance through until Sunday, the summer will then officially have arrived. Pay a visit to both wild and domestic Nordic animals living in the world's oldest open-air museum and learn from Skansen's approach to species conservation and biodiversity.
It is worth noting that Skansen has recently earned the honourable distinction of Sweden's most sustainable brand in the travel industry, according to the "Sustainable Brand Index 2023". Such recognition is no surprise, as Skansen has consistently played an active role in preserving and making Sweden´s cultural heritage accessible.
Göteborg – Slottsskogen
Slottsskogen in Gothenburg is a well-designed city park combined with a natural forest. It creates a large open area for people to gather and celebrate festivities. Both locals and visitors alike are invited to the big lawn in front of Björngårdsvillan every year to enjoy this classic Midsummer event.
This year's celebration promises to be different as the city also celebrates its 400-year anniversary in the same month. A variety of festive activities are lined up throughout the year and the city will be filled with music, dance, culinary experiences, and fun for all ages.
Småland – Getnö Gård
We often say Småland is 'Sweden for real' thanks to its rich culture and undisturbed nature. If you want to treat yourself to a real authentic Swedish midsummer as well as their enchanting countryside, you should not miss Getnö – Lake Åsnen Resort in Småland.
The resort is a natural paradise, nestled by the Åsnen National Park , Sweden's 30th national park. Enjoy a magical Midsummer night by the tranquil Åsnen lake, old beach forests and its unique archipelago landscape.
Gotland – Paviljongsplan
Gotland off the east coast of Sweden embraces both wild nature and rich culture. Its mild summer weather and long hours of sunshine make it a holiday paradise for Swedes. Visby , the main town of Gotland, listed by UNESCO World Heritage, preserves a beautiful walled town dating back to the 12th century.
The Midsummer celebration in Visby on June 23rd starts at noon with a parade from Södertorg Square with horses and carriages, down to Paviljongsplan (Pavilion Square). Other than the traditional activities like raising the May Pole and folk dances, live music performances and fun activities will also be arranged for the children.
This event is made possible by a non-profit organisation, that loves the midsummer traditions.
Lund – Friluftsmuseet Kulturen
If you are travelling through Southern Sweden , Lund is a wonderful option for experiencing the Midsummer festival with youthful enthusiasm in a traditional setting.
The students from Lund University will perform a folk dance at the Kulturen open-air museum. Come early and help decorate and raise the maypole! Buy your midsummer lunch on site or bring your own picnic to the beautiful museum park.
Swedish Midsummer in New York Celebrates 25 Years
If you are in the NYC area, mark your calendars for June 23rd, 5-8pm, and get ready to immerse yourself in the vibrant festivities of the annual Swedish Midsummer Festival right here in the US. As the largest official Midsummer celebration outside of Sweden, this beloved event has been enchanting visitors for a quarter of a century, and this year's 25th anniversary promises to be a truly special occasion.
Hosted by the Consulate General of Sweden together with Battery Park City Authority, the festival will this year take place at Rockefeller Park in downtown Manhattan and feature traditional music performed by Paul Dahlin from the American Swedish Institute in Minneapolis, as well as traditional midsummer dancing around the Midsummer pole presented by Barnklubben Elsa Rix and Ross Sutter, a Scandinavian folklorist. Immerse yourself in the beauty of Swedish Midsummer by making wreaths from beautiful flowers representing those in bloom on solstice in Sweden and indulging in delicious Swedish treats from a variety of vendors present at the festival.
About Dave's Travel Corner

Dave's Travel Corner is a travel content, resource provider and community (founded 1996) providing travel
Guides
written about Dave's personal travel experiences and
Journals
, pages that contain trip summaries and experiences written by fellow travelers. We spotlight locations and attractions with an article linked directly from our homepage including content across our blog, photo and video galleries. We use a combination of social media, written content, photography and videos to promote locations. Not only does the content appear on this site but we have direct partnerships with other well visited travel sites for placement of the content. Since 1996, we have also established hundreds of relevant link exchanges with other travel sites.
Visitors to Dave's Travel Corner will also find thousands of travel related links organized by categories on the
Resources Page
, a
Photo Gallery
containing International travel photos,
Book Reviews
, and
Product Reviews
focusing on products useful for travelers, fully automated
Forums
,
Tour Bookings
offering over 4400 unique tours around the globe,
Interviews
with those making news in the travel industry and
Videos
- specializing in International travel videos as well as home of the
Dave & Jim Show
.
Dave's own travel blog is
Above the Clouds
which focuses on International Travel & Lifestyle.
For information on advertising please choose from a variety of
advertising options here
.
Contributors are welcome

Learn how you can contribute
About

www.davestravelcorner.com/about