Ten Finalists Chosen For 2012 Cintas' America's Best Restroom Contest
Public Voting Begins for 11th Annual Contest

Will America's next Best Restroom be the result of a multi-million dollar renovation to the nation's largest natural outdoor amphitheater, and set against picturesque iconic Hollywood Hills? Or will Sin City's most luxurious loo, a sprawling 2,000 square foot space inside Vegas' Hard Rock Hotel & Casino, earn America's popular vote? Perhaps it's the charm of the Old World Style Craftsmanship found in the hand carved wood doors and oversized oak barrel sinks that are nestled inside Georgetown's Mie N Yu Restaurant that will capture the crown?
We will soon find out as the top ten public toilets compete for the coveted title in Cintas' America's Best Restroom, the popular contest now celebrating its eleventh year.
Voting begins now! The public is invited to vote for their top pick at through October 26 as these top ten venues compete to secure the most votes in hopes of being crowned Cintas' 2012 America's Best Restroom.
The contest's site takes visitors on a photographic tour of each facility and then encourages them to choose their King of the Throne. The winner of the 11th Annual Cintas' America's Best Restroom Contest will be revealed during a nationally publicized media event this fall and both the winner and runner-up will secure a place in the Hall of Fame.
2012 Finalists for Cintas' America's Best Restroom Contest:
Liberty Market – Gilbert, Arizona
This antiquated grocery store has been transformed into an urban bistro that blends retro with recent to create a washroom space that sports a chic, polished style. Each of the five unisex stalls at Liberty Market —restauranteur Joe Johnston's (of Joe's Farm Grill) latest brainchild — reflects a personally inspired design complimented by a coordinating playlist to set the mood in each stall. Keeping particulars top secret until the final reveal, and working on a fixed budget, Liberty Market's four owners and one of the kitchen brigade members designed one stall each to reflect their unique style. There's an Italian adventure, complete with photomurals of vineyards, "Vespa" bikes and the Italian countryside. With punk rock on the stereo, there is a real men's room featuring walls that are painted vibrant red and trimmed with black tile. A single urinal atop floors picturing tattoos and classic automobiles give the space a masculine roadhouse feel.  With its porcelain wall tiles, kitchen gray floor tiles and white walls, the stall behind door number three most mirrors a master chef's kitchen.  The brushed metal fixtures accent this lavatory and the walls have the expected sharpie writing. Upon closer observation, however, one can see that the writing isn't the usual mix of phone numbers and off color references, but rather recipes from Liberty Market's menu. Don't forget to look up or you'll miss the collection of whisks, spatulas and strainers hanging from the ceiling.
Hollywood Bowl – Hollywood, California
The Hollywood Bowl restrooms, recently renovated by the architecture firm Rios Clementi Hale Studios, serve an 18,000 seat outdoor amphitheater run by the County of Los Angeles. With minimal improvements made to them over the previous 30 years, the 14 restrooms were dark, dreary, and their design caused large lines to form during intermissions. Rios Clementi Hale Studios was tasked with making the restrooms feel brighter, more inviting and efficient. The renovated restrooms evoke the 1920s modern style of the Hollywood Bowl's shell and stage. The primary color palette is a clean and simple white, with black and stainless steel accents on the walls, trim and ceiling. The floor of each restroom was painted a shade of green that was color matched to the Toyon tree, a plant native to Southern California and found around the Bowl. This color helps lead people in from the outside and also helps define the extents of the restroom. The design includes simple lines, pure geometry and sweeping paint accents that visually connect to the iconic stage's arches. The combination of these curving lines along the walls and ceiling, and large round mirrors, help patrons see hidden areas where additional fixtures are available. In one of the largest restrooms, there is a green/red light system above the stalls to tell you if they are occupied. The restrooms were designed to save water and paper waste, with waterless urinals, dual flush water closets, automatic faucets, foam soap dispensers and hand dryers.
Gitane Restaurant – San Francisco, California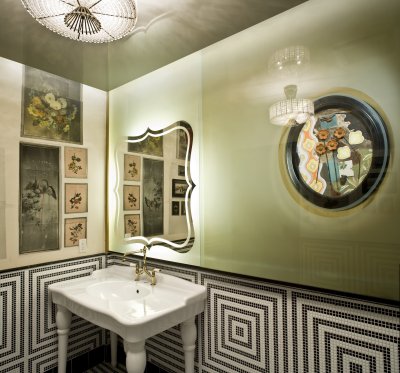 In French, Gitane means "Gypsy woman" and it's no surprise where designers drew inspiration for this restaurant's bold Bohemian décor. The dining room space, swathed in bold wallpaper, fuses with luxe fabrics and romantic furniture to create a warm, eclectic and glam interior that integrates vibes from three decades — the Euro-themed 50's, Hippie-Driven 60's and the Big Bling 70's. By juxtaposing the bold, black and white geometric tile design on the floor with soft, feminine prints of flowers and the female form, San Francisco-based interior designer Charles Doell brings a hint of the nostalgia and romance of the era into Gitane's bathroom space. The traditional Farmhouse Drainboard Sink paired with vintage hardware and a Victorian Style chandelier adds a final touch of girly glam.
Mie N Yu Restaurant – Washington, DC
The eye-popping blend of textures and colors continues cross-country to our nation's capital where guests might mistake Georgetown's Mie N Yu Restaurant for a Moroccan Bazaar. That's because artists with CORE Architecture + Design infused accents of the Orient, like paper lanterns and lacquer-red shutters, to create a space with a true Singapore flea market flare. But patrons at this exotic DC diner have important choices to make besides what to eat. They must decide if they want their dinner in Turkey or perhaps Tibet because the Asian-fusion fare at Mie N Yu is served in thematic dining spaces that reflect its international flavor and are appropriately dubbed things like the Turkish Tent, Hong Kong Bar and the Venetian Lounge, just to name a few. But the journey is just beginning. Guests enter a whole new world with a trip to Mie N Yu's unisex washroom, which is maintained by a round the clock attendant on weekends. The Old World Style Craftsmanship is carved straight into the rich dark wood that accents the face of each floor-to-ceiling stall door. The artistry continues at the communal hand washing station where four oversized wood barrel sinks face each other, positioned in such a way that invites bathroom banter. A rock lined copper basin complete with a rustic faucet sits atop each drum and completes this loo's traditional look.
Radisson Blu Aqua Hotel, Chicago – Chicago, Illinois
It's less than a year old but this latest artistic addition to Chicago's cityscape needs little introduction or explanation as to why it's not a regular Radisson hotel. Just take a peek inside the lobby's loo and you'll see exactly why we say the North American debut of Radisson's hip sister chain, Radisson Blu, has got it going on!  Thousands of reflective glass mosaic tiles wallpaper the washroom from ceiling to floor, like a giant disco ball. UK designer Jim Hamilton brings perfect balance to Radisson Blu's flashy, edgy space by integrating solid shapes with sleek surfaces, like white marble floors and countertops that are complemented by a series of ceramic vessel sinks. Designers carry in a touch of color by lining the vanity with fresh flowers. Radisson Blu's bathroom, just like the hotel brand, is "inspired by design and driven by function." 
Walker Art Center – Minneapolis, Minnesota
In 2005 the Walker Art Center engaged the renown Swiss architectural firm Herzog & de Meuron to develop a master plan and design for an expansion that doubled the size of the museum, adding new galleries, a restaurant and restroom facilities. The Walker's washrooms have been given high marks by restroom raters and museumgoers alike that say the stalls are art forms themselves. With floor-to-ceiling glossy stall doors that starkly contrast the black restroom walls, the sleek, modern space is reminiscent of a first-generation iPod.
Vanity Nightclub Las Vegas, Nevada
From the creators of Gitane in San Francisco comes Vanity Nightclub. Hard Rock Hotel & Casino plays host to this star-studded hotspot dubbed the most luxurious loo in Sin City by the Travel Channel. Carrying a scant $1.2 million dollar price tag and donning flat screens over the urinals and faux reptile-skin walls, the men's room at Vanity is nothing to scoff at, but it's the women's room that wows. Situated in the heart of the Vegas strip this lavish lair spans 2,000 square feet and features eleven stalls and six sinks. But it's the individual vanity stations, each separately lighted and paired with red-velvet cushioned seats that really get the gals talking! The porcelain palace is also flush with gold plated faucets, gold laced curtains and finished off with a custom-designed $40,000 chandelier made from 70 hand-blown glass globes. With a cocktail waitress making rounds in the restroom, we might just argue the life of the party is in this lounge's loo!
Da Marino Ristorante Italiano – New York, New York
Restaurant goers step off Broadway's bustling city street for a taste of Tuscan paradise at Chef Pasquale's cozy New York basement spot. Pasquale brings his unique twist on Italian and love for quality and freshness, learned long ago in his grandmother's kitchen in Calabria, to Da Marino Ristorante Italiano. Well known for their authentic Italian cuisine and top notch waitstaff, Da Marino has played host more than once to celebrity guests like Mario Lopez, Usher, Sara Jessica Parker and Reba McIntire. Arguably the main attraction might be the bathroom, which captures the essence of the Italian Renaissance, rich with itstraditions and artistic legacy, all within the four narrow walls of the women's washroom. Guests entering through the hand painted door find a "miniature Italian sanctuary" on the other side, complete with beautiful stone inlay detail on the walls, authentic Italian art and sculptures. A tranquil running waterfall compliments the soft Italian opera tunes playing in the background. Twinkling colored lights and candles around the room glow in festive red for a fun finish.
Buc-ee's – New Braunfels, Texas
Customers making a beeline for the bathroom at Buc-ee's say this Texas-based business flushes the competition when it comes to clean! Offering up some of the most spotless loos in the Lone Star State, the Buc-ee's brand of convenience stores knows firsthand that clean bathrooms mean big business! The Battle of the Alamo may explain the city's nickname "Something to Remember," but outside San Antonio just off I-35 North in New Braunfels, stands a sparkling restroom facility that's almost impossible to forget! It's hard to miss the 60 gas pumps that mark Buc-ee's newest 68,000 square foot store. Or the 80 soda fountains inside that sit beside to the 31 cash registers. But it's the 83 stalls in this Buc-ee's restroom that really impress! Road warriors who frequent the New Braunfels Buc-ee's say this one-of-a kind rest stop is fit for a King.  And with 83 toilets to choose from, you even get your very own Throne!
Lane Stadium/Worsham Field at Virginia Tech – Blacksburg, Virginia
Virginia Tech's Lane Stadium may be almost a half-century old but the restroom facilities on the Hokies' home turf are sporting twenty-first century technology! Virginia Tech modernized Lane Stadium's loos in 2010 by installing new digital mirror displays that guarantee a captive audience for both the college and its largest sponsors. That's because stats show that the two sure-fire stops a fan will make during a sporting event is their seat and the bathroom, averaging 2.8 potty breaks during each game. The mirror itself is essentially a TV screen with two-way mirror glass over the top. Motion sensors at the base of each mirror detect when a fan approaches. This signals the start of an ad or short school message that plays for several seconds before it minimizes and rapidly retreats to a less prominent position on the mirror. When the screen goes black, the glass shows a mirrored reflection once again. University officials say this unique, cutting edge technology is a perfect fit for the research and engineering school which asserts in its slogan that VT grads "invent the future."
Fans can also participate by visiting the Best Restroom Facebook page, Twitter account and YouTube Channel to post comments, receive contest updates, share photos or upload videos; links to all three sites are on the contest homepage
Nominations for any non-residential restroom accessible to the general public were accepted online through the summer. Qualifying facilities were then judged and finalists were selected based on cleanliness, visual appeal, innovation, functionality and unique design elements.
Cintas launched America's Best Restroom Contest more than a decade ago to recognize establishments that place high value on hygiene and style in their public restrooms. "The condition of the facilities in a restaurant, hotel or other public place undoubtedly influences a customer's overall experience," said Cintas' Senior Marketing Manager, John Engel.
"It's certainly had a positive effect on our staff, which in the end, affects business. Our facilities services staff members are the unsung heroes of the Museum, and this recognition was exciting for them–increasing morale. I believe that shows in their continued work,"
 said Emily Waldren, Public Relations Manager at The Field Museum, which took the regal crown in last year's contest.
Successful businesses recognize the correlation between clean restrooms and customer satisfaction and retention. "Cintas' contest salutes owners and managers who invest in the upkeep of their facilities because they know it makes smart business sense," Engel added.
It's not too early to start sending in nominations for next year's contest. "Whether you want to promote your own business, or bring recognition to a favorite restaurant, hotel, school or other establishment that you believe goes above and beyond in the design or cleanliness of its restrooms, we invite you to send us a name and photo," says America's Best Restroom Survey Editor, Sabrina Zimring.
About Cintas:
Headquartered in Cincinnati, Cintas Corporation provides highly specialized services to businesses of all types primarily throughout North America. Cintas designs, manufactures and implements corporate identity uniform programs, and provides entrance mats, restroom cleaning and supplies, tile and carpet cleaning, promotional products, first aid, safety, fire protection products and services and document management services for more than 900,000 businesses. Cintas is a publicly held company traded over the Nasdaq Global Select Market under the symbol CTAS and is a component of the Standard & Poor's 500 Index.
About Dave's Travel Corner

Dave's Travel Corner is a travel content, resource provider and community (founded 1996) providing travel
Guides
written about Dave's personal travel experiences and
Journals
, pages that contain trip summaries and experiences written by fellow travelers. We spotlight locations and attractions with an article linked directly from our homepage including content across our blog, photo and video galleries. We use a combination of social media, written content, photography and videos to promote locations. Not only does the content appear on this site but we have direct partnerships with other well visited travel sites for placement of the content. Since 1996, we have also established hundreds of relevant link exchanges with other travel sites.
Visitors to Dave's Travel Corner will also find thousands of travel related links organized by categories on the
Resources Page
, a
Photo Gallery
containing International travel photos,
Book Reviews
, and
Product Reviews
focusing on products useful for travelers, fully automated
Forums
,
Tour Bookings
offering over 4400 unique tours around the globe,
Interviews
with those making news in the travel industry and
Videos
- specializing in International travel videos as well as home of the
Dave & Jim Show
.
Dave's own travel blog is
Above the Clouds
which focuses on International Travel & Lifestyle.
For information on advertising please choose from a variety of
advertising options here
.
Contributors are welcome

Learn how you can contribute
About

www.davestravelcorner.com/about