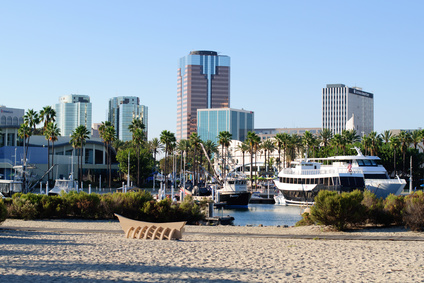 The Queen Mary Re-Interprets Winter with 51 Days of Unique Attractions and Ancient Art of Chinese Ice Carving Makes Southland Debut
Long Beach, CA (November 6, 2012) — Already recognized around the world as a maritime icon, the Queen Mary regularly hosts world-class events and attractions. Beginning November 17, a new chapter in her history begins with the arrival of CHILL – a winter celebration like no other. CHILL presents traditional and truly unique holiday entertainment that goes well beyond Santa, elves and carolers. The Queen Mary, in partnership with International Special Attractions (ISA), has created The Ice Kingdom at CHILL- where over 2 million pounds of ice make for a one-of-a-kind winter sculpture gallery.
"We have converted the Queen Mary Dome into the world's largest 'igloo' – where the temperature is Arctic-cold and demands that each visitor be provided with a parka to ensure their comfort," said Steve Sheldon, Director, Entertainment Events. Wearing a parka will not prepare guests for what awaits inside The Ice Kingdom at CHILL- a spectacular gallery of giant ice carvings created by Chinese artisans and reminiscent of those seen in Harbin, China where the annual winter festival draws global attendance. "The only thing this exhibit has in common with traditional ice carving is ice," Sheldon said.
It has taken weeks to manufacture and deliver the huge blocks of ice required for the sculptures. Thirty-six truckloads of ice, weighing over two million pounds in total, have been brought to the Queen Mary and kept under freezing conditions. Each carving exhibit – some rising over thirty feet above the floor and dramatically lit – is the work of ice-artists, some of whom are veterans of the internationally known Harbin International Ice and Snow Sculpture Festival.
"Unlike our beautiful Long Beach climate, the Harbin Festival is held in an area where sub-freezing temperatures are normal. Keeping our ice intact for sculpting and coloring is critical and requires constant monitoring and the installation of special equipment to ensure Arctic conditions at all times," Sheldon continued.
The Ice Kingdom at CHILL exhibition will feature many holiday-themed exhibits including the spectacular roof-high ice replica of the Queen Mary herself! With a bow-on perspective and skillful rendering of the Bridge, this dramatic portrayal of the world's most famous passenger liner is itself worthy of a visit – there's even an ice-slide attached – allowing smaller or more adventuresome visitors a slippery return to the main exhibit floor! The Ice Kingdom at CHILL is further enhanced by an Ice Cave, Santa's Toyland, a walk-through Fairytale Castle, touching Nativity Scene and interfaith Ice Grotto. With spectacular lighting and the abundant use of dramatically colored ice, The Ice Kingdom at CHILL is a winter setting unlike any other.
Nearby the igloo is a 100 foot-long Ice Tube ride where visitors will speed down an ice hill at sleigh-ride speeds. An outdoor 6,500 square foot ice skating rink adds to CHILL'S wintery ambience. The Holiday Village completes the experience with live entertainment, portraits with Santa Claus, gingerbread house decorating, a "Candy Lane" maze, holiday shopping and more.
The Queen Mary's newest attraction will offer family and other promotional opportunities. Military personnel will be especially accommodated. A variety of incentive programs will provide area residents, school groups and others an exciting and educational option to other holiday time entertainment.
CHILL opens to the public, November 17. General admission to the Queen Mary's Holiday Village is FREE. Activity and Attraction details may be found at www.queenmary.com.
About the Queen Mary
Located in the Port of Long Beach, the Queen Mary features a rich maritime history, authentic Art Deco décor, and stunning views of the Pacific Ocean and Long Beach city skyline. At the time of her maiden voyage in May of 1936, she was considered the grandest ocean liner ever built. The Queen Mary's signature restaurants include the award-winning Sir Winston's and Chelsea Chowder House & Bar as well as a weekly Champagne Sunday Brunch served in the ship's Grand Salon. History buffs enjoy the ship's museum and Glory Days tour, guests of all ages love the Ghosts and Legends show, and the ship is currently featuring the renowned Diana: Legacy of a Princess exhibit and Tea Room. The Queen Mary features 80,000 square feet of event space in 17 remarkable Art Deco salons as well as a tri-level, 45,000-square-foot Exhibit Hall. The Queen Mary boasts 314 staterooms including nine full suites.
About International Special Attractions (ISA)
ISA was established in 1996 and has become a world leader in the execution of large scale special attractions, events and theatrical productions. ISA's ICE! attractions can be seen annually at four Gaylord Hotel locations throughout the United States, and have been enjoyed by over 5 million people worldwide. ISA was the first company to bring Chinese acrobats to Broadway and also produces Cirque Shanghai, which has performed in some of the most prestigious venues in the world. Additionally, ISA has produced Luminasia for the past three years at The Galt House Hotel in Louisville, KY, USA. Led by President and CEO Haiping Ge, ISA has produced shows for clients including The Walt Disney Company, Gaylord Entertainment, Navy Pier Chicago, Busch Entertainment Corp and Six Flags, Inc. Featured Television coverage has aired internationally, including networks such as NBC, CBS and ABC. Visit www.isaattractions.com for more information.
About Dave's Travel Corner

Dave's Travel Corner is a travel content, resource provider and community (founded 1996) providing travel
Guides
written about Dave's personal travel experiences and
Journals
, pages that contain trip summaries and experiences written by fellow travelers. We spotlight locations and attractions with an article linked directly from our homepage including content across our blog, photo and video galleries. We use a combination of social media, written content, photography and videos to promote locations. Not only does the content appear on this site but we have direct partnerships with other well visited travel sites for placement of the content. Since 1996, we have also established hundreds of relevant link exchanges with other travel sites.
Visitors to Dave's Travel Corner will also find thousands of travel related links organized by categories on the
Resources Page
, a
Photo Gallery
containing International travel photos,
Book Reviews
, and
Product Reviews
focusing on products useful for travelers, fully automated
Forums
,
Tour Bookings
offering over 4400 unique tours around the globe,
Interviews
with those making news in the travel industry and
Videos
- specializing in International travel videos as well as home of the
Dave & Jim Show
.
Dave's own travel blog is
Above the Clouds
which focuses on International Travel & Lifestyle.
For information on advertising please choose from a variety of
advertising options here
.
Contributors are welcome

Learn how you can contribute
About

www.davestravelcorner.com/about