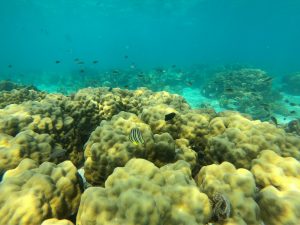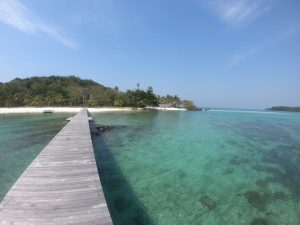 A number of islands in Thailand or beach destinations, especially in the southern part of the country can be over tourist-ed at times and or are destinations for travelers who want to party. For many years I've been attracted to some of the islands in the north closer to the Cambodian border including one of my favorite islands in Thailand, Koh Kood. However, recently I made the trip to Koh Mak, a tiny neighboring island accessible via one of two piers near near the city of Trat – about a 4 hour ride from Bangok.
Aside from hiring a private driver, one catches bus 999 at the Eastern Bus Terminal (almost next to the Ekamai Skytrain stop) in Bangkok – with 2 early morning departure times daily (745am or 9am). The bus stops at 2 piers including the second one, Centrepoint from which you will need to get on a shared taxi (Songtheaw) about a 10 minute ride to Laem Ngop Pier.
From Laem Ngop Pier it is about a 45 minute speed boat ride to Koh Mak with speedboats offered from several different companies leaving almost hourly throughout the day until 4pm or 5pm (no reservations needed).
Booking a hotel at the last minute meant more limited options but somehow we found rooms still available at the Koh Mak Buri Hut. A lucky choice perhaps, but this property fit exactly what we were looking for – small rooms, reasonably priced in a very quiet part of the island. And the property comes with an infinity pool, a restaurant and a small low-key bar, very friendly and helpful staff and a great view of the nearby bay. And the hotel provides free pickup and drop off for guests to the speedboat piers.
Koh Mak Buri Hut

Koh Mak is tiny – one can cross from one side to the other via motorbike in about 15 minutes. And if you spend a few days here, invariably you will bump into other travelers repeatedly. Compared to nearby larger Koh Kood which is mostly forested jungle across hilly terrain – Koh Mak is much smaller and mostly developed to agriculture (still many rubber trees) and while there are small rolling hills, much of the island if fairly flat.
Still there are plenty of guesthouses one can stay at and despite its diminutive size, the island does not feel crowded. There is a nice balance between the number of buildings, visitors and open space. This is not a party island, but rather a place to come and relax, enjoy good food, and let the days unfold rather then follow any set plans.
The best way to get around the island is either by bicycle or motorbike.
Two unique and recommended dining experiences are Koh Mak Seafood located on a wooden dock next to the water (perhaps the best seafood restaurant on the island with excellent service) featuring a diversity of delicious seafood dishes and the tiny Laem Son Restaurant, a hut built out of coconut wood, basically a shack under coconut trees next to a beach in a little visited part of the island run by a husband and wife. The Thai dishes they hand prepare are impressive, considering the rather primitive cooking conditions they are working under.
Laem Son Seafood Restaurant

The beaches on Koh Mak are not generally fine white sand – for powdery floury white sand beaches, a day trip to the tiny Koh Kham (about a 10 minute boat ride from Koh Mak) is highly recommended. Alternatively one may kayak to this island. Generally less crowded then some of the more popular beaches on Koh Mak, a visitor entry fee including the speedboat transportation (300 baht) tends to limit the numbers of visitors. A small hut serves drinks and some ramen. Crystal clear water with some coral – fairly shallow swimming areas close to the beaches – although watch out for the very sharp spiny black sea urchins anchored to rocks or near the coral. Ruins of a resort can be easily spotted from across the water on Koh Mak.
Koh Kham

Snorkel and dive trips can be arranged from several operators on Koh Mak including BB Divers whose slogan is something like (if we can remember correctly), "no troubles, only bubbles". Other activities including taking classes at a cooking school, having a massage (some of the guesthouses offer this on site and there are several stand alone massage places on the island (only one we saw had air conditioning) or visiting the Koh Mak Museum (next to Koh Mak Seafood Restaurant).
This island is like an uncut gemstone – found but not yet polished and rounded and shiny. If it were up to us, this is how tourism would look – a good balance between the number of visitors, nature, agriculture and infrastructure.