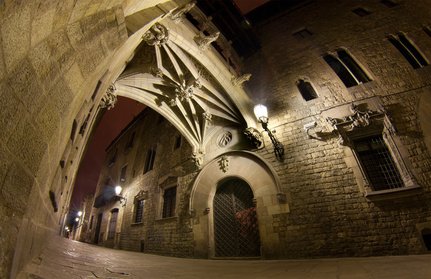 The Barcelona cityscape is fantastically diverse, with striking modern structures sitting alongside traditional and historic Catalan buildings, which means that when you stroll through the city you're almost taking a tour through time. There are literally dozens of must-see buildings for you to discover on a Find great deal with Jet2holidays Barcelona city break, but if you want to take a tour of some of the very best, here's one of our favourite routes to take.
Sagrada Familia
Right in the heart of Barcelona is one of the most impressive constructions that you'll see anywhere in the world – the Sagrada Familia, Antoni Gaudi's still-unfinished basilica with life-sized scenes from the bible carved into its exterior facades, and is equally as magnificent inside. If you're not afraid of heights, take the trip to the top of one of the towers for breathtaking views over Barcelona, and pay your respects to Gaudi himself at his crypt too.
Hospital de Sant Pau
Before or after your visit to the Sagrada Familia, take a stroll down the Avenue de Gaudi to see the Hospital de Sant Pau, a stunning example of art nouveau architecture designed by Catalan Lluís Domènech i Montaner. Completed in 1911, this hospital is such an important part of Barcelona's architectural history that it has been classified as a UNESCO World Heritage Site, and you'll marvel at its ornate, steel-framed structure that fills the entire space with light.
Parc Güell
Once you've snapped your photos of one of the most beautiful hospitals in Europe, head south in the city to visit another of Gaudi's architectural gems – Parc Güell. This lush green space is unlike any other park you'll have seen before in that it feels like you're stepping into a fantasy storybook, with colourful pavilions and pathways rising from the ground, gazebos made from twisted metal, seating covered with a rainbow of ceramic shards and even a fountain guarded by a fearsome dragon. The architecture of Parc Güell reflects just how playful Gaudi's imagination really was, and has to be seen to be believed.
Barri Gotic
When it's time to head back downtown, make your way towards the Barri Gotic, or Gothic Quarter, which is the centre of Barcelona's old town and is where you'll find entire streets of historic architecture from many centuries ago. Here it's possible to see the remains of the Roman wall that used to enclose the city as well as Medieval buildings, but flamboyant Gothic style dominates in this area of the city especially in the form of Barcelona Cathedral, the city's most iconic structure.