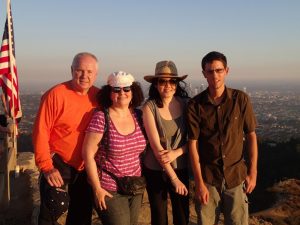 I had another epic few days in Los Angeles. As like nearly all my visits to town, this one was a whirlwind event filled few days.
I was invited by LA City Councilman Tom LaBonge on a hike of Mt. Hollywood to honor the London summer olympics as well as the closing of summer. This is a great hike – 1.5 miles to the summit nearly all up hill. The day was hot, the day was clear – I sweated as I climbed with fellow travelers @michelleyam and @latravelwriter – but we had stellar views of Griffith Observatory below us, much of the LA basin and downtown as we hiked.
Upon reaching the summit we were soon serenaded by Amazing Grace and other tunes being played on a bagpipe. We watched the sun slowly sink to the west – a perfect way to end another summer in southern California.
The next day the Endeavor buzzed much of Los Angeles – my aunt and uncle were in town from Alaska so we headed back to Griffith Observatory and fortunately arrived just before the big "rush". I was surprised to see Mr. LaBonge frantically directing traffic near the main parking lot below Griffith Observatory – now that is called dedication!
The anticipation of seeing the Endeavor fly through at an elevation of around 2000 feet had seemingly brought much of LA directly to Griffith Observatory. Massive crowds flooded the parking lot, all side streets were packed with vehicles, the overflow grass lots were full and traffic was amazingly backed up both ways on Los Feliz Blvd – all the way across the 5 into Glendale. It was nuts!
People were lined several deep around the edges of the actual observatory – people had fashioned homemade "endeavor" paper planes – and souvenir Endeavors were flying around the edges on string. The Endeavor landed at LAX later in the day; our friend was on the plane that landed right before the Endeavor. The pilot of the plane he was on pulled over and all the passengers watched this historic event.
Here are a few photos: