I frequently use LAX for connecting to domestic flights and it is often my International hub. I even have LAX written on my license plate! Over the past few years I've been watching the airport change … in a good way. The architectural 'waves' of Tom Bradley International Terminal are now as nearly iconic as the Theme Building (which housed the former Encounter Restaurant).
LAX is growing – it is now the 5th busiest airport by volume in the world and the 2nd in the United States. And it's infrastructure continues to improve with significant upgrades and additions to various terminals. I frequently fly into and out of Terminal 6 – right now much of this terminal is under construction with signs indicating new restaurants are on their way.
All major airports should offer complimentary WiFi. Several years ago LAX started offering a free WiFi which is invaluable to travelers – especially those arriving from abroad who don't have a local phone plan or International roaming. For those that want quicker service (as in needing it for large file transfers, paid options are available).
#LAXisHappening ! CLICK HERE for more information about the improvements to LAX.
These improvements and upgrades are all part of a multi-billion renovation to improve and modernize the infrastructure of LAX including updated ticketing and baggage handling, smoother traffic flow as well as promoting some of LA's restaurants and new airport retail outlets. I've long been familiar with LA's Homeboy Industries, a nonprofit that supports ex-gang members through a variety of services including culinary programs. I recently found some of their food in the Sunset News concession stand just after the security checkpoint in Terminal 6.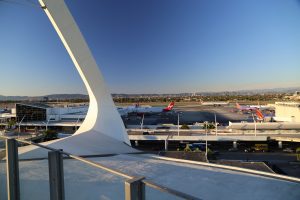 The Flyaway Buses can be a good option for getting into town – currently they offer five locations including Union Station (near downtown), Hollywood, Santa Monica, Westwood and Van Nuys. Catch these on the lower/arrival levels. No reservation required.
LAX has a storied history dating back to the early 1930's – perhaps most visitors haven't heard of or haven't had the time to visit the Flight Path Museum located on the south side of LAX in the Imperial Terminal. However it is worth taking some extra time to visit – exhibits trace the history of aviation at LAX over the years – the displays focus on planes, luggage and the evolution of LAX. Individual rooms models, photographs, uniforms and other items relating to LAX are shown as well as general aviation companies and airlines. One can easily spend significant time here especially if you have an interest in aviation.
For other airplane enthusiasts who happen to be at the airport on the weekends, get here early before your flight and head up to the observation deck on top of the Theme Building (limited hours). On a clear day there are spectacular views 360 degrees all over the Los Angeles basin and you can easily see over to the Hollywood Hills and the tall buildings of downtown. And of course watch planes land and take off.
My other favorite LAX plane spotting location is from south of the airport in El Segundo from the tiny Clutter's Park at East Imperial Ave (from a hill).