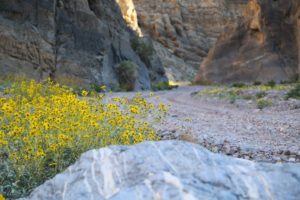 After visiting the original Ballarat in Australia about 90 minutes outside of Melbourne earlier this year, I got the urge to visit it's tiny relative in the Mojave Desert, California. I drove across what looked like a salt plane – some rare recent rain had muddied the road and left my windshield covered in white droplets.
I pulled into the old town, originally founded in 1897, it's boom was a few short years before the nearby mine shut down in 1905. And the United States Post Office shuttered in 1917.
A number of relics are scattered about including old vehicles and like in similar towns, lots of rusting iron. I parked and then strode into the Ballarat General Store. A massive snakeskin nailed to the wall caught my eye. So did a number of old relics. I dropped a fiver into the old tin jar, to be used for bathroom repairs and upkeep. I tipped my hat to the grizzled looking veteran who was sitting on the wooden porch in front of the old building.
I continued up Indian Ranch Road until I found a sign leading me up to Surprise Canyon. I found a flat spot in the desert and set up camp. The night was full of stars – a far cry from what I'm used to at night in Bangkok or Los Angeles.
I woke up to a deafening silence and clear skies. But not for long. The exhilarating booms of a fighter jet echoed throughout the landscape. I was treated to my very own private airshow courtesy of the United States Air Force. Low flying fighter jets doing acrobats at high-speed. Very cool!
Heading into Death Valley National Park later that day, I took the back road up to the Wildrose Charcoal Kilns. These stone ovens created charcoal for mines located about 30 miles away. One can still smell the creosote when walking inside. I then hiked about 10 miles round-trip – leaving my vehicle at the kilns and hiking without any water or food. I had not planned on hiking that far but in places the ground was covered with piñon pine nuts – eventually I reached the snow line. I hiked as far as I could eventually reaching Mahogany Flat Campground above 8000 feet and then continuing on the narrow trail to the 11,049 foot Telescope Peak, the highest mountain in Death Valley National Park. Eventually the snow became to deep, clouds started rolling in and it became extremely cold so I turned back.
Death Valley is one of my favorite national parks in the country. The park is massive, the landscape stark, the temperatures are extreme and there are usually few people outside of the main natural attractions. But with widespread panic about a recent virus, the park was especially empty.
I stumbled into Echo Canyon via a rugged rocky road – not far above The Oasis At Death Valley. About 10 clicks in I stopped at Inyo Mine consisting of several old wooden buildings and 4 or 5 mine shafts – all of which were open. I made it about 5 miles from the Nevada border and turned around – another rough road exits near Amargosa Valley in Nevada – but with absolutely no one around I didn't want to chance driving on this long and very rugged road.
Before driving in canyons I enjoy walking a mile or so into them on foot – especially desert slot canyons in which the roads are rough and often best navigated with a high clearance four-wheel-drive vehicle. On foot one notices details both next to the road and in the surrounding landscape. Driving a road like this one misses these details because everything is blurred out on your periphery except for the road itself, which requires constant attention.
The next day I pulled out of Stovepipe Wells with a temperature of only 70 degrees. About 20 minutes later or perhaps less, remarkably I was driving through a snow storm at 34 degrees! I rounded a curve in the driving snow and spotted what looked like a grizzled old miner – dressed in boots, jeans and an old leather jacket. Long scraggly beard. Head down. So sudden and quick was my glimpse – that I shrugged this off as an apparition from the mining days of 100 years ago and kept driving. There is no mining town along this part of Highway 190 nor any settlement close by. Why would this guy be in the middle of nowhere with no vehicle?
I ended up continuing for several more miles before my curiosity finally overtook my high speed driving. I screeched to a stop – did a u turn and headed back down the road.
Not an apparition – a few minutes later I spotted this guy again, stopped and asked if he wanted a ride. He was extremely appreciative to get out of the near freezing temperatures and wet snow.
I offered to take him to Panamint Springs even though I was headed for Ballarat – not that far out of my way. Turns out he had been mostly walking from Las Vegas – not hitchhiking but like myself, a few others had given him short rides along the way. He started this early morning in Stovepipe Wells – having hiked from Beatty Nevada the previous days – he said he had been walking uphill all day. I picked him up around 5pm. Anyone who has driven from Stovepipe Wells over Towne Pass on the way to Panamint Springs knows this is nearly an all up hill grind (of about 18 miles) with significant elevation gain.
He had some water and snacks tucked away in his jacket but that was it. No backpack. No gear. As nomadic as it gets. He told me he was trying to make it to Los Angeles to look up a friend. At his current pace it might take him a week or more. I dropped him off at the general store in Panamint Springs. He thanked me profusely – and that was the last I saw of the man who told me his name was Todd.