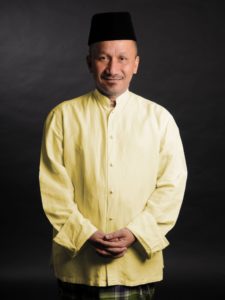 Joe Sidek is the Chairman of the Federation for Asian Cultural Promotion. He was the Festival Director of George Town Festival (GTF) (2010-2018), Butterworth Fringe Festival (BFF), and the Rainforest Fringe Festival (RFF)(206-2018).  In 2010, he founded the George Town Festival – an annual event  to commemorate George Town being inscribed as a UNESCO World Heritage Site. The 2010 event that showcased the heritage and cultural history of George Town turned out to be a HUGE success, and Joe, the mastermind who made it all happen, was hailed as "father of George Town Festival" ever since.
I recently had an opportunity to have a short interview with him.
If you only have 48 hours to spend in Penang, what would you do to make the most out of a day in this beautiful island city?
"I would kick start my day with a hearty breakfast at Mugshot café or Muntri Mews café. Both are my favorite cafes. After that, I would sign up for a guided tour at the Blue Mansion and the Peranakan Mansion. When lunch time rolls around, I would dine either at Beach Blanket Babylon, a beachfront restaurant or Rempah, a restaurant specializes in Peranakan food. In the afternoon, I would visit Tropical Spice Garden and explore the beaches in Batu Feringgi area.  Late afternoon is the best time to chill out with a drink at Eastern & Oriental hotel and continue with a delightful dinner at Java Tree restaurant in the hotel.
On the second day, I would spend a day in Penang Hill and visit the Habitat, an eco-tourism attraction tucked away in the heart of Penang Hill. While on the hill, I would drop by Belle Vue Hotel to have a drink and watch the beautiful sunset. Later, I would go down the hill to get my dinner at Kebaya, a restaurant that offers the typical Nyonya cuisine followed by a couple of delicious cakes at China House."
Fact: The Blue Mansion, or known as Cheong Fatt Tze Mansion, is a 19th-century heritage painted in indigo-blue and designed with a unique Chinese architecture. The Peranakan Mansion is a museum dedicated to Penang's Peranakan heritage. The term Peranakan refers to an ethnic group descended from Chinese settlers who came to Southeast Asia in the 15th to 17th century.
Not long ago, Penang iconic delicacy – Penang's Asam Laksa ranked 7th on CNN's 'World's 50 Best Foods' List. Everyone's tastes are different. What are the top 3 Penang food you cannot live without?
Peranakan Food, Laksa and Mamak Mee
The most unforgettable moment when running the George Town Festival?
"In 2012, we were short on funding, we resorted to passing the hat around to collect donations from the public throughout the festival. At a musical performance by The Manganiyar Seduction, we invited 100 special guests consisting of orphans , old folks, impoverished artists to the show. When the show ended, an 8-year-old orphan dropped MYR 1.50 in the donation box. I was touched by his gesture and asked why he gave away the money that could have been all he had. He said his teacher told him that I was running out of money, and he enjoyed the show so much and thought he could help with a little something. That moment stays with me to this day."
What aspects in the festival that you think are highly successful and which areas that have not done enough or could have been better?
Our strengths are placemaking and storytelling but we should build more effective community engagement and public participation.
Lastly, Joe would like to thank all the role models that inspired him to keep going and he looks forward to entering into the next great chapter of his life.