Q. I listened to your Ted Talk and podcast interviews. you talked a lot about finding courage – about how courage is a choice and a mindset that takes us beyond our comfort zone. My question has two parts:
First, during the months of preparation before setting off on your round-the-world walk, what did you do to build your courage, physical stamina, and most importantly, stay committed to your goal and belief to finally turning this idea of world walk into a reality?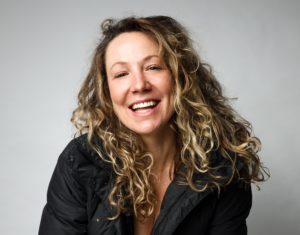 That's a great question because although I read books, researched other expeditions, and practiced walking several miles a day, there was no way to truly prepare. I believe I could have built stamina by walking up to 15 and 20 miles a day before the walk but setting aside that, I still had work to do and a limited time frame, I also think that nothing can truly prepare you for the unknown. We never know when a rainstorm, a hailstorm, a drought, fatigue, or physical injury could happen. I think that's why we understand more than ever that experience trumps all.
For me, walking a seemingly safe wooded trail to gain experience of walking across four continents was the best I could do at the time. Even courage was something I didn't know fully understand until I was on my walk, on another continent.
But I would say that listening to my heart and taking the action to do my walk, to let go of everything I had built from my business, my relationship, even my personal identity was the first step of courage I took.
Second, during your world walk, how did you condition your mind to keep roughing it and pushing forward in the face of all adversities?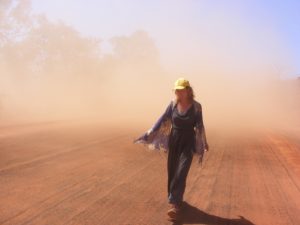 I often used stories I had heard or read that helped me; stories of women that had accomplished amazing things that made me feel that I too could do wondrous things in my own life.
Also, I had a background in breathwork, meditation, and visualization. I not only had tools that could help me calm my mind or help me push through climbing a mountain pass, but I learned how to respect my limits and when to push them. I'm a bit of an extremist, so I tend to push hard when it's needed and then I feel I can relax enough to write a book about the art of doing nothing.
Q. I know you lived on $5 a day and many times relied on the kindness of strangers along the way. What were some of the best "kindness of strangers" experiences you encountered or the best people you met on your journey?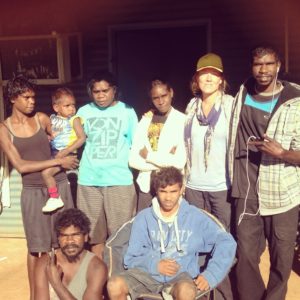 Oh, that's such a tough question!! Because there were so many! So, I can't possibly choose one, but I will definitely share one that remains very special in my heart and mind.
I was reaching the top of a mountain pass in Vietnam, called the Hai Van Pass. I never look at the topography because I know if I'm aware of what's coming, I'm going to be climbing the mountain days before I reach it. So, I like not knowing what's coming. I'm going to do it either way.
I was nearing the top and a local Vietnamese woman, who had seen me at the base of the climb early morning, was waiting for me at the top. She offered me a place to sleep for the night, made me chicken skewers, and even massaged my head from some of the heat exhaustion. She had no idea what I was actually up to but she didn't hesitate to help offer a stranger a safe haven. It was so special to me because although I had some people in America and Australia that had offered me a place to sleep and eat, we shared a common language that allowed them to understand what I was doing.
This woman in Vietnam didn't know and didn't need to know. Her heart felt compelled to offer her services without knowing my past or present. I like to think we understood each other without using language.
Q. Some of the best sceneries and the eye-opening culture you saw and discovered throughout your 6.5-year of slow walking?
I believe every place should be given at least some walking. Whether a village, a city or a rural landscape. But some of my favorites are the eastern coast of Sardegna in the Ogliastra region. They have some of the most pristine and beautiful beaches along with wonderful people upholding ancient traditions.
I love the Republic of Georgia, particularly the city of Tbilisi and the Vardzia cave monastery. I recommend looking up Queen Tamar, she accomplished amazing things in the twelfth century.
And I also have to add the Eagles Bay area of Western Australia. Australia is commonly known for its remoteness, and most of the Western state being some of the harshest land with mostly spinifex and small shrubs covering its deserts. But tucked into the southeast corner are beautiful beaches with jarrah forests and caves. I could easily visit or live there.
Q. I am sorry about the assault you experienced while camping in Mongolia. I understand you left the site immediately after the incident and spent the night alone in the ravine. Can you briefly walk us through what happened that night and where you went to get help when the morning came?
What I can say is that there was nowhere to go for help. I was in the steppes with a village another day's walk from where I was camped. Immediately following the attack in my tent that night, I packed up my things and waited for the sun to rise. I knew I had to make a decision. This was the time to decide to find a way to go home and give up or to keep walking.
This is where those stories came back to mind. I thought of those other women I had never met but shared their experiences, their hardships and ultimately, how they faced their fears and kept marching forward. I felt their presence, like ancestors encouraging me. By sunrise, I felt I had a crew of courageous women walking alongside me. I kept that strong all the way to the border of Russia.
Q. Did you take any additional measures to ensure your safety and well being after the assault incident in Mongolia, dengue disease in Vietnam and heatstroke in the Australian outback?
I quickly learned how to preserve water at all costs which helped me almost never run out of water anywhere in the world. The remnants of heat stroke still have an impact on me today, I often get dizzy and nauseous in extremely hot weather. But I'm heading out for another expedition soon in the deserts of Kazakhstan, so it doesn't necessarily slow me down much.
And as much as I like to be natural about things I eat and put on my skin, I use bug repellent in places that have mosquito-borne diseases or high cases of Lyme from deer ticks.
I also have a system down that helps me feel more prepared while in my tent. It consists of tying my zippers closed at night and I carry pepper spray and a taser with me.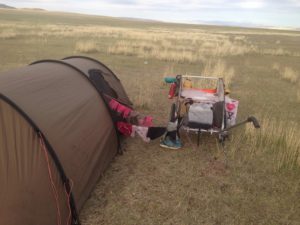 Q. You ended your walk in December 2020, that was around when the global pandemic was in full swing. How had the pandemic affected your walk and how and when the realization came to you that your journey has come to an end?
It was actually when my stepfather who raised me was ill and we knew his passing was close at hand that I decided to leave Europe and go back to the states to help my mom care for him. I had thoughts of going back to Switzerland, where I left off, but when he passed, my mother's way of grieving was to join me on the road. She wanted to cross the states with me on her recumbent tricycle. I knew I could go back and do Europe another time but I wanted to give my mom that experience and for us to have that time together during our grief.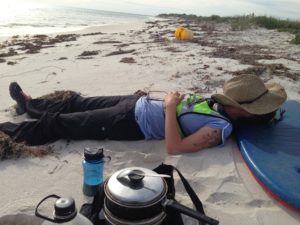 We made it to Denver, Colorado before the pandemic in the winter of 2019 and my mom went back home while I took a break to write and rest before finishing that last leg from Denver to Bend, OR (my starting point). By the time I was ready to start walking in March 2020, the pandemic was in full swing and the states had just shut down. I put my walk on hold until September that year. I needed to be in solidarity with everyone, not just in the states, but all over the world. It didn't feel right to be walking out and about, even if I didn't come in contact with another human being, there were people unable to leave their homes in several countries. I used that time to write and visit with family and friends.
The part of my world walk is complete, but my walking expeditions are far from over.
Q. What your typical day was like on your daily walk, e.g. how did you decide how many miles you wanted to cover each day, how would the weather affect your walk, how did you find the night stops etc?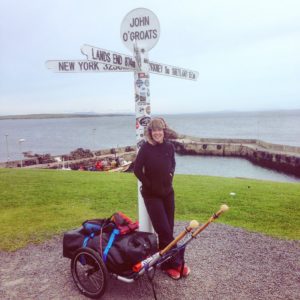 I liked averaging 15-20 miles a day when I was in wide open spaces, like Australia. When it's just me and the elements, I can have a decent stride. But in populated areas, it can be harder to get long distances, often because of people I would meet along the way. Strangers become friends and stop by to bring a cup of coffee or homemade meal.
Water and food supplies also made an impact on daily distance. Running low on water means walking all day and night till you find water.
I once knew it was a day's walk to a lake in Mongolia and I went through water faster than usual because I had a puppy with me at the time. We would be out of water by nightfall. When we reached the lake, it turned out to be a salt lake so we walked till almost midnight to reach the next freshwater lake. Those are the mornings I allow myself to sleep in!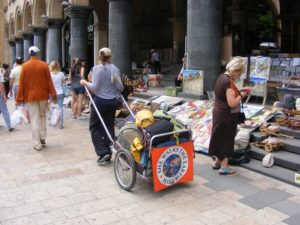 Q. You also partnered with Her Future Coalition and donated the proceeds to raise awareness and educate, shelter and nourish at-risk girls. When did you decide that you wanted your walk to be tied to a good cause?
Before I ever took my first step I knew I wanted my walk to contribute in some way. I had heard of other hikers and adventurers that would take donations and then share it with an organization. Because I sold everything and no longer had an income I wanted to be open to someone donating to the walk and I found giving half away felt good to me. If someone gave me $10 that gave me my average of $5 a day and I could give $5 to another in need.
I did that for three continents, giving to different non-profits, all focusing on empowering and supporting young girls and women internationally. But for my crossing of the states, I decided to give 100% of the proceeds to Her Future Coalition. I wanted to have a goal in mind and a real partnership with an organization where we could create something together, like a new shelter for at-risk girls in India.
Q. What were the lessons you learned from your walk that may help you be even better prepared and build more resilience on your next expedition?
I learned how resilient I could be. And more profoundly, in the hardships of a sandstorm or a snow blizzard, I began to understand that things like courage, resilience, and willpower are all things we're born with and we have to nurture them. I like to create circumstances and expeditions that help challenge me to strengthen virtues that are important to me.
One day it might be, how far can I walk? Then next, how can I give more? Or how can I live on less?
No doubt I love walking into the unknown, never knowing what waits around the corner. I love the challenge as much as I appreciate a good vista and sunset. And I also craft my expeditions around how I can contribute more, give more and learn more.
Q. What would be your message to our readers about how to get out of their comfort zone and live life without regrets?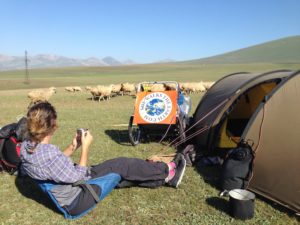 We've all heard that we tend to regret the things we never did and regret less those things we tried. I find that to be true. Not only do many people reflect on their lives and wish they had done more, seen more…. But also that they had said I love you more, spent more time with their children and loved ones.
I find myself less compelled to tell someone they need to go on an adventure or travel the world as much as I want to encourage people to live fully and courageously.
Being fearless is a myth. The very idea of courage is feeling the fear but not letting it stop you from what you want to do. And I think the key to living a life with no regrets is to live wholeheartedly. It takes heart to have courage.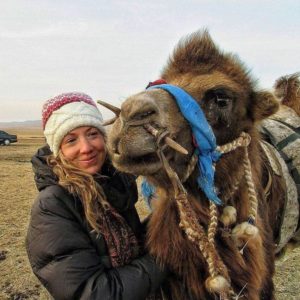 All photographs credit: Angela Marie Maxwell
Biography:
Over 6.5 years, Angela Maxwell traversed across 4 continents spanning over 20,000 miles on foot, leaving her footprints in over 4 countries and a handful of islands. Motivated by determination, strength and courage, she set off to trek through desolate deserts, snow-capped mountains and bustling ancient cities with a walking cart carrying all her essential supplies.
Angela survived several harrowing events including the harsh and unforgiving Australian Outback, dengue fever in Vietnam that had her bedridden for days, a physical attack in Mongolia that did not break her but only made her even stronger, and the sheer challenges of being a solo woman sleeping in a tent wherever she could lay her head for the night.
She is a gifted inspirational speaker and was invited to give a Ted talk to a local audience at TEDxUniversityofEdinburgh.
Angela is in the process of writing a book and offers one-on-one coaching and consulting. Visit her website at https://www.shewalkstheearth.com
She lives in Bend, Oregon.