If you're looking for an adventurous break from city travel, Thailand awaits you for an ultimate rock climbing holiday. It is a land of diverse scenery, encompassing laid-back beachside cliffs and vertical-adventure-friendly terrain. Thanks to a dedicated community, the country has become a focal point of outdoor fun.
Here are some of the best places to go rock climbing in Thailand.
Chiang Mai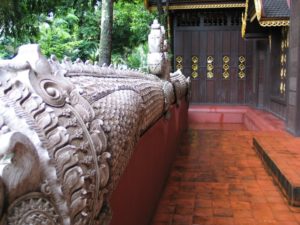 Chiang Mai is a historical city situated in the misty, mountainous north. It offers a range of natural and architectural landmarks. Among them lies the Crazy Horse Buttress.
This can't-miss formation at 25 miles from the city overlooks the hills of northern Thailand. There is a long walk ahead of the dirt road parking lot. The trail is well-marked that crosses a few restrooms and water kiosks.
You can choose from more than 200 routes sprawling besides caves and cliffs. There are both single and multi-pitch avenues tightly bolted for tenderfoot climbers. Scaling Doi Chiang Dao Mountain in winter is also an adrenaline-pumping challenge, and it is crucial to train your strength before heading toward it.
Railay and Tonsai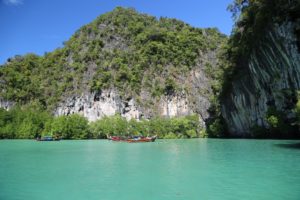 The bays of Railay and Tonsai are known for shimmering white-sand beaches and sky-high limestone cliffs. Located in Krabi on the southwestern coast, it is the paradigm of world-class coral diving and rock climbing, indeed.
Railay is a tiny peninsula, accessible by boat only. Huge crowds flock to this craggy paradise throughout the peak season. In comparison, Tonsai is a quieter beach at a walking distance from Railay West. The peninsula harbors a large range of grades (5.5 to 5.12) that suit both beginners and advanced climbers. If you've docked the shores of the Andaman Sea, try deep water soloing over its tropical waters.
Koh Yao Noi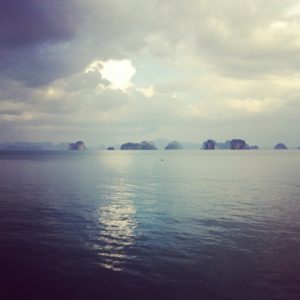 Koh Yao archipelago is sandwiched between Krabi and Phuket. Although neighboring James Bond Island remains in the limelight, Koh Yao Noi is a low-key station. The Isle's decent beaches don't find their way to tourists' bucket lists.
It appeals to die-hard scramblers seeking off-the-beaten paths for clipping quickdraws. On the northern end, the Mitt Wall has hit the scene. Its right side – Big Tree – is heavily vegetated. The routes require an 80-meter rope.
You'll traverse through relatively challenging terrain only to behold equally fascinating views. Several stone walls will welcome you despite a few recent closures by Ao Phang Nga National Park!
Kanchanaburi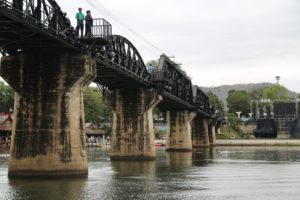 Kanchanaburi paints the history of World War II with the Death Railway and the War Cemetery. The town is perfect for soaking into indigenous culture and rafting across the River Kwai.
Visitors don't realize that Kanchanaburi is the closest rock climbing experience from Bangkok. It is a concave of unspoiled routes, introduced and managed by the local population.
A duo of climbing brothers has developed a brand new circuit for veteran backpackers. Sport climbs are abundant. But you can also venture across alpine pinnacles.
You may want to avoid traveling here in the summertime because humidity and temperatures can be unbearable.
Also, camping is not allowed either. Nonetheless, Sai Yok District is brimming with a plethora of luxurious and budget lodgings.
Koh Phi Phi
Phi Phi is a stretch of six spectacular islands in Krabi Province. It shares the same lush topography with sedimentary accents, allowing relaxation and recreation. It is a vantage point for spotting rare marine life of Southeast Asia.
An infinite number of pocketed limestone cliffs rise from its crystal-clear waters. You'll find organized rock climbing tours in Koh Phi Phi Don and Koh Phi Phi Leh. Still, the maintenance is almost negligible. But, stay vigilant as rock climbing requires you to be careful at all times, and it's recommended to have moderate to advanced climbing skills before climbing in Phi Phi.
Thirty titanium bolted routes of the 200-meter-high Tonsai Tower are pretty famous. Other sites include Maya Bay and Monkey Beach.
Koh Tao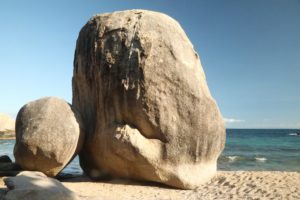 It is the smallest island of Samui triplets, embellishing the Gulf of Thailand. It is a popular destination among party-goers and scuba divers. A minimal subset of rock climbers also arrives at Koh Tao – commonly dubbed as 'boulder heaven.'
Conquer a granite rock before sunset and plunge into the sea with snorkels.
The rockscape is dominated by classic boulder problems. If you're unfamiliar with bouldering, you may want to try ascending a home climbing wall prior. The region is suitable for both sports and trad climbing. Mek's Mountain and the rolling hills of Tanote Bay are significant highlights of this largely untouched island.
Lampang
Lampang is an ancient city that boasts numerous murals and monuments. Lately, it has emerged as a new rock climbing paradise in Northern Thailand.
It offers spine-chilling top-roping at vertical cliffs having chossy sections but glued-in footholds. Since the climbing area is located on military lands, Chiang Mai Rock Climbing Adventures (CMRCA) certifies all entrances and tour guides.
You can enjoy rappelling from a 120-meter tower, surrounded by dense jungles and picturesque cave paintings. Do check your belay devices properly before setting off!
The city sits at a distance of 61 miles from Chiang Mai. You can pick cost-effective metro rides or a deluxe business flight. Tasting savory street food is a must-do at Lampang.
Better Safe than Sorry!
Thailand is among the world's
Train your body regularly in preparation, and remain focused while climbing.
Take a protective helmet and gloves with you. Don't forget to choose an adjustable, maneuverable climbing harness for your venture.
Double-check the strength and backup knot of rope. Additionally, make sure that the belay device is properly attached with a carabiner.
Lastly, novice climbers should book a guided tour with mountaineering experts for their on-site consultancy.

From massive northern mountains to the forested crags at the shoreline, Thailand invites you for a raw alpine treat. Are you in?