Couch Surfing!! What a weird term – The first time I heard of it I thought it was some sort of illegal activity. It turned out to be a club where you could offer free accommodation in your humble abode to the complete strangers who happen to visit your hometown, and you could get the same in return by requesting free stay whenever you are traveling abroad. Also it offers an opportunity for you to practice your courtesy as well as hospitality to the foreigners by showing them around your beautiful city and at the same time promote your country's tourism industry sounds like a tourism ambassador job eh?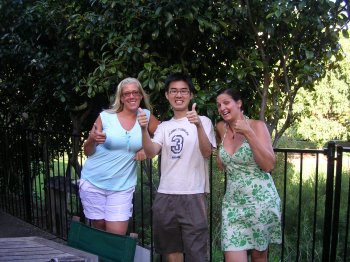 I really love this kind of travel concept and immediately registered to become a member. It was totally free!! My friend Sherry who is also a member and I had hosted a few guests who visited Penang. She always said to me, "Hey Chin Liang, let's start our own exclusive website called 'meetthestranger.com'" Yes, basically the concept here is meeting strangers. Many people feel skeptical at this idea as meeting the person you have never met before could be awkward and unsafe, let alone letting them staying at your place. To be frank, I was a bit nervous in the beginning but after a few hosting sessions with some really fun loving Couch Surfers the fear waned pretty soon.
I went to Australia in March this year and totally did "Couch Surfing" all the way — requesting to stay at stranger's houses instead of hotel. My friends said I must have been out of my mind. Undoubtedly, it certainly poses some risk staying with someone you do not know. However as they say no venture no gain sometime you've got to have your guts to do it in order to gain excitement from the experience.
On my arrival in Sydney, one of my hosts Andrew kindly picked me up from the airport and dropped me off at his apartment in Neutral Bay overlooking the Sydney Harbor Bridge. To my surprise, there were already a bunch of couch surfers hanging around at his apartment. I couldn't believe he had somehow turned his apartment into a "youth hostel". His living room was cluttered up with pillows, mattresses, blankets, books and bags. Almost every nook and corner in his apartment had been occupied by CS's belongings. Andrew told me he hadn't had time to be with his guests all the time, therefore he would prefer to host a few guests so that they could mingle with each other in his absence.
He was right. He had gone for his brunch with his buddies right after he dropped me off at his apartment. I was really awkward as I couldn't even find a corner in his house to let me settle down for a minute. A Canadian guy was concentrating on a laptop, a German girl drowsily nodding off on a futon laid on the floor though it was nearly noon, apparently she must have been drunk the night before and a British couple was chatting happily over coffee. I told myself "Hey I am coming here for fun, not to be awkward and act stiff as a log."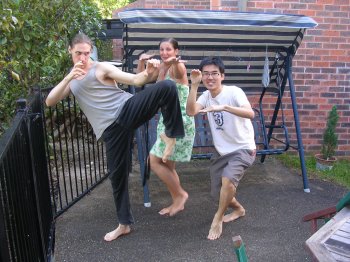 Thus I later joined the others for a walking tour to the Sydney Harbor Bridge. At night we were staying together at his living room watching a DVD while he went off to play tennis. I also knew a pair of Swedish girls and one of them was a nurse. She was a great cook and during her stay she would cook for everyone in the house and we enjoyed her meals very much. Toward the end of my stay, I grew very weak and groggy due to the flu, she offered me some really good medicines to relieve my runny nose and also "sacrificed" her only blanket for me – I was really touched and felt grateful for her.
My second host Sam lives in a suburb called Richmond, about 2 hours train ride from Sydney city center. He is in the Australian army and thanks to the Australian government's subsidiary he afforded himself a fancy town house in a lovely suburb. Before my arrival, He had already gathered a few brochures and figured out the bus and train route for my following day trip to Blue Mountain. He also let me use his computer and cooked dinner for me – wow thanks again Sam!!
My third host Daniel is the best host ever. He hosted me during my few days stay in Tasmania. He was a quiet guy and his only housemate was his affectionate doggie named Indy. He allotted his long weekend time to show me around some hot spots around Hobart. Some of the attractions he took me to were really captivating. Besides sightseeing, I also joined him while he took his dog for a walk in the evening.
Dog walking was really a great experience for me as I learned how relaxed it was to walk your dog. During sunset hours, instead of staying in front of TV there were a bunch of people gathered in the park or on the beach with their loyal pets. Some of them were jogging along the beach with their pets tailing behind them. The others were playing toss and fetch with their beloved canines. After a whole day hectic sightseeing, I really gained some relaxation through dog walking.
Tips to enhance your CS experience. If you are the guest and you have been offered a free stay, do your host a favor by offering to cook for your host family. Why not share your favorite country dishes with your host and tell them a bit about your country. It is certainly a good way to learn about people and cultures. If you are hopeless in cooking, do not despair!! Bring a token – A unique souvenir which represents your country – as a sign of appreciation for their courtesy.
If you are a host, besides making your guest feel at home, it is encouraging to allocate some of your time to take them on a tour around your hometown. Plan wisely and be creative, come up with a stress free agenda and take them to those nice "hidden" attractions or eateries where most tourists or even locals may not know of.
Couch Surfing has changed my way of travelling. Despite wearing your hat with your camera slung over your shoulder at some "must visit" attractions, staying and mingling with locals could also be an ideal holiday for you.