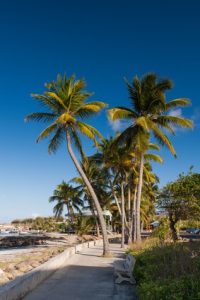 John M. Edwards, a future inductee into The Napoleon Society, storms Martinique in search of his own Josephine.
A huge fan of Napoleon Bonaparte, the hero of post-Revolutionary France, I left the U.K. Crown Colony of Montserrat in the days before their volcano blew up for the fatal shores of Martinique via a scary Island Air prop plane.
Landing with a jarring whump, my galpal and I, along with the burdensome baggage of my Sistah Sah, then cleared customs and hailed a taxicab.
Surprisingly, the black-looking driver said he was not descended from African slaves, but was instead a native "Indian" (a member of the twin tribes of Arawaks and Caribs). He told us that Martinique was once known in the local langue as "Madinina" (The Island of Flowers).
We ended up overtipping and getting out at an okayish resort near a beach and a bar on the southern side of the island, somewhere near where Christopher Columbus first landed in 1502.
At night, we passed nice-looking women with fluorescent "doss bags," and at a unique Martinique boutique I bought some imported Bain de Soleil and a beach towel. We then proceeded to sit down at the obvious bar near the beach. My galpal and sis avoided making eye contact with the annoying black man blowing kisses at them. The dark-skinned bartender naturally assumed we were members of the French European land-owning elite (numbering roughly 5,000 souls), known as "The Béké People," until he realized none of us really spoke much French.
Indeed, in some ways, it was easier to understand Martinique's second language, the "Creole Martiniquais," used with great effect in insulting pale-faced foreign tourists behind their backs.
We left in a hurried funk and dined at an "al fresco" (outdoors) eatery in a colonial touristic zone (Martinique is actually a real French "departement," much like an American-style "state," not a colony or protectorate). The tall waiter sat down and tried to woo my sis, staring into her eyes and commenting on how beautiful she was. He mentioned he had studied at "La Metropole" (Paris).
More than miffed, we began to hurriedly leave, whereupon the tall waiter informed us he was a "gendarme" on the lookout for suspicious characters. On the fast-track back to our beachside hotel whose staff requested anonymity, my sis tripped in her togs and exhaled, "Unf, Jesus!"
I laughed and invented a new craze, fancier than the footloose footwork of Kevin Bacon, called the "Unf Jesus Dance." Which became a popular alien warcry throughout the entire time of our stay in, er, France?
After we stuffed Sistah Sah back on a plane on the up and up, my galpal and I checked into one of the island's best restaurants whose staff also requested anonymity, in an attic room. Emerging bleary eyed for dindin, we slurped aphrodisiacal turtle soup and scarfed down "mixed vegeetaabeels." Up went the flagpole, as for once I actually really felt French throughout the whole damned entire night, a reggae-rap version of "La Marseillaise" running through my pulsating prothalmus.
The next day we hitched a ride with a "Swiss" French-Italian-German-Romansch tourist lady and drove beneath the shadows of the massive "pitons" (volcanos) ringed with haloed cumulus clouds wrapped like Axel Rose bandanas in the balmy breezes. We passed through the legendary city of Sainte-Pierre, which was destroyed by an eruption of Mt. Pélee (1,397 meters or 4,583 feet), when it once was known as "The Paris of the Lesser Antilles." Zigzagging through steep cobblestone streets lined with narrow cornices and cast-iron balconies exploding with wildflowers, we drank in the perfumed air of antiquity.
Our next move was decidely de rigeur: we chose to ignore the "rhumeries" (rum distillers) and pay a pointed visit to one of the island's other most famous local spirits: Marie-Josephe-Rose Tascher de la Pagerie (1763-1814), better known as "Josephine," Napoleon's main squeeze.
And so we made a beeline for the Musée de la Pagerie (The Empress Josephine's Maison), a museum inside a scenic "sucrerie" (sugar-plantation house), whose grounds were delineated by bougainvilleau and frangipani. The museum inside is filled with parchment love letters from the young Napoleon, jewelry, and fashion accessories.
Not the best museum I've ever been to, but not that bad either. The highlight was a painting of the Empress Josephine, which resembled a still from a silent Grand Siecle 1920's period piece with folk costume. Very influential. My friend Alfonso Alejo, a proud member of The Napoleon Club, most certainly would have liked it.
(Later Alfonso told me that the Corsican Emporer Napoleon Bonaparte's last word on his deathbed was "Josephine"!)
Feeling like an international gem smuggler, I pocketed a handful of lonzenge-shaped butterscotchers—and then we all departed for the penultimate pleasures of the plage ("beach"). Here at Plage des Salines, standing erect like Lafayette or Talleyrand on the strand, I waded out into the shallows until I disappeared under the water, swimming away spastically like Patrick Duffy's butterflying web-fingered and -footed character in "The Man From Atlantis."
Or, a Lovecraftian creation from the Chthulu Mythos.
The conch-shell ring of mermaids and maenads sounded like deep-sea chthonic sonar echolalia in the drink.
I thought back to when I had finally visited Les Invalides in Paris, where Napoleon is buried in an impressive onyx sarcophagus. I felt then a whoosh of kingly deja-vu, as if in fact I had actually been there when they had first laid down the cornerstone. In my stylish quadrangle cap and greatcoat, I promised Josephine and all my other soul mates that all of us would live forever, even unto the afterlife.
Why is it that people who claim to be related to Napoleon (or his reincarnation) are denounced as automatically fit for the funny farm?
Maybe in another life I did depart from exile on Elbe, in order to make a quick stop in Martinique to pick up Josephine and Proserpine standing like lovesick vampyrs on the volcanic black sand beaches of the north waiting for a ride. Perhaps we were on our way to a shadowy plot prepared in the new "Louisiana Purchase" (sold to Thomas Jefferson for only several million francs). Here in the city of New Orleans, we would live in hiding at the French Quarter's "Napoleon House," where we would eat beignets and drink chicory coffee laced with anisette spirits.
Or, Old Absinthe—now legal.
As Napoleon famously said, apropos of the coffee plantations in Martinique, "Le café fort me ressuscite!"
One day we would all try again to conquer the world, as Napoleon once almost did with his invention of "canned goods" to feed his troops during the Napoleonic wars, an idea he supposedly came up with on unique Martinique, the closest you can get to a real part of France from the United States.
FRANCOFILE
Unique Martinique manages to suffer both the jetsetting elite and the hoi polloi, and actually being in "France" here is reminiscent, especially on the beaches, of a stroll in Cannes or Nice, except without the film festival and demanding daytrippers. Contact: Tripadvisor to begin planning your "vacance," making sure you either do not miss or purposely avoid a bon voyage on "Bastille Day" (14 July 1789).
GETTING THERE
There are frequent flights via Air France from Paris to Martinique. From the USA, American Airlines flies (via its "American Eagle" affiliates) to Puerto Rico and then on to Martinique's Aimee Cesaire International Airport, located in La Lamentin, right near the capital of Fort-de-France. Air Canada flies every Saturday from Montreal to Guadeloupe and then to Martinique on Air Caraibes.
WHERE TO STAY
With so many resorts to choose from, here is one that works for 36 lucky people with refreshing ocean views, plus nearby a relatively inexpensive property rental:
Le Panoramic
Anse a l'Ane
97229 Trois Islets
Martinique (F.W.I.)
Tel: 00 596 596 68 34 34
E-mail: resa@lepanoramic.fr.
Suzy Bry Vacation Rental
2 bedroom villa with pool
Euros 929-1,189 per week
Tel: 333 21 38 0051
WHERE TO EAT
Instead of making reservations (notice: no phone numbers) eat wherever you feel like as if by mere happenstance, especially at the following sophisticated French/Caribbean joints:
Le Cave a Vin
124 Rue Victor Hugo
97200 Fort-de-France
Martinique
Le Paradisio
Cap Chevalier
Plage l'Anse Michel
977277Sainte-Anne
Martinique
Le Petibonum
Quartier le Coin
Plage du Carbet
97221 Le Carbet
Martinique
TOURIST OFFICE
Martinique Tourist Board
Blvd. Alfassa
Fort-de-France
Martinique
Tel: 596 637 960
Web: www.martinique.org