The word 'luxury' is overused – as are 'tranquility' and 'unique.'
Yet, as I discovered at Plas Robin's retreats in the heart of the rural Wales, sometimes justifiable.
A picture, it is said, paints a thousand words and, to be honest, the breathtaking views from these two bespoke holiday homes perched atop the rolling Welsh hillside, do most of the talking!
However, it's only after staying in the Shepherd's Rest lodge for three nights that one can truly appreciate the true magic and gentle pace of life it offers.
This retreat is perfect for families, couples, friendship groups – and, quite simply, anyone who loves nature or is in need a some much-needed RnR.
This exquisitely designed, bespoke holiday home is equipped with every modern comfort. But it's the design and attention to detail are what elevates it to the next level of luxury.
Indeed, in their approach to the properties' design, owners David and Carol have made the most of every inch of the property's biggest asset – the spectacular vista – full-length bifold glass doors perfectly framing the views from your armchair. We never tired of that!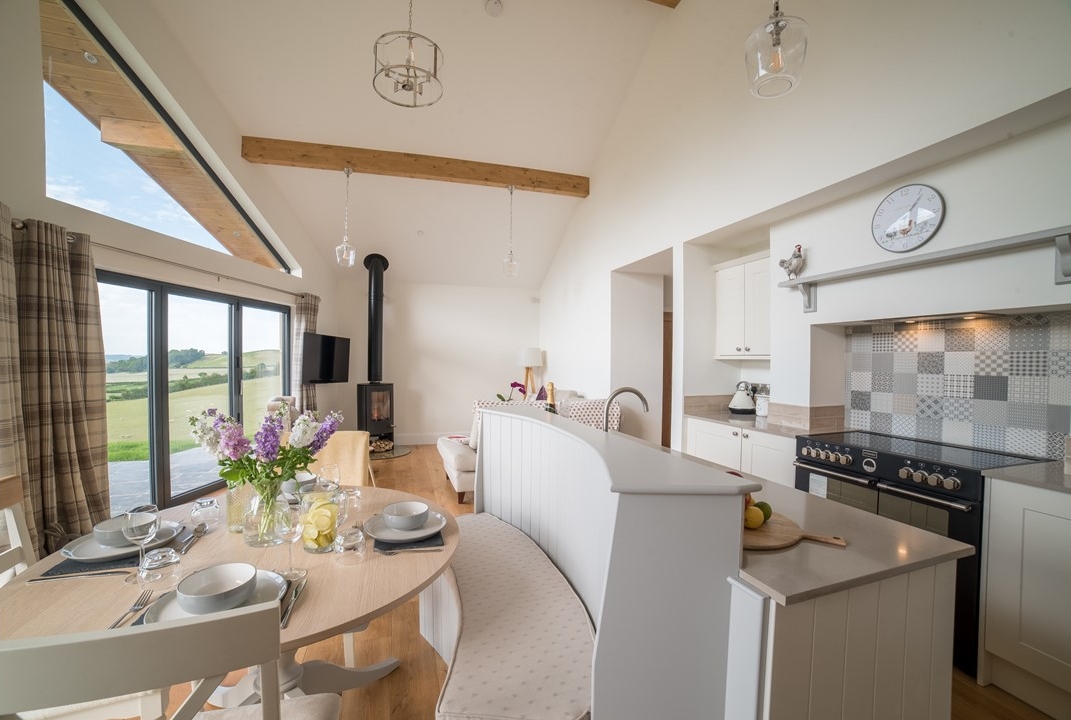 The fine weather enabled us to make good use of the many comfortable outdoor seating areas and watch the country life unfold before us, from kites and buzzards, sheep, chickens and Welsh ponies. (You can even help yourself to some fresh eggs from the hen house in the morning!) And as for that sunset. . .
The only visitor during our long weekend was the owners' friendly dog, Meg, who invented a new game of fish the stick out of the hot tub for us. Hours of al fresco entertainment with our new friend! (We instantly fell in love with her.)
Shepherd's Rest sleeps four in two bedrooms, one with en suite shower room which, like the bathroom, is exquisitely presented and scrupulously clean. There was even a fluffy robe and slippers for each of us. (It is very easy to just lounge around in an environment that quickly left us feeling unravelled from the stresses of our lives.)
The master bedroom's king size bed is so sumptuous, one doesn't want to climb out of it! I felt so rested following my stay, I could barely summon the energy to drive home – or maybe that was more about wanting to not go home at all!
The contemporary open-plan kitchen and living area are well thought out in design and equipped with all the gadgetry and cooking utensils even the most enthusiastic chef could ever need.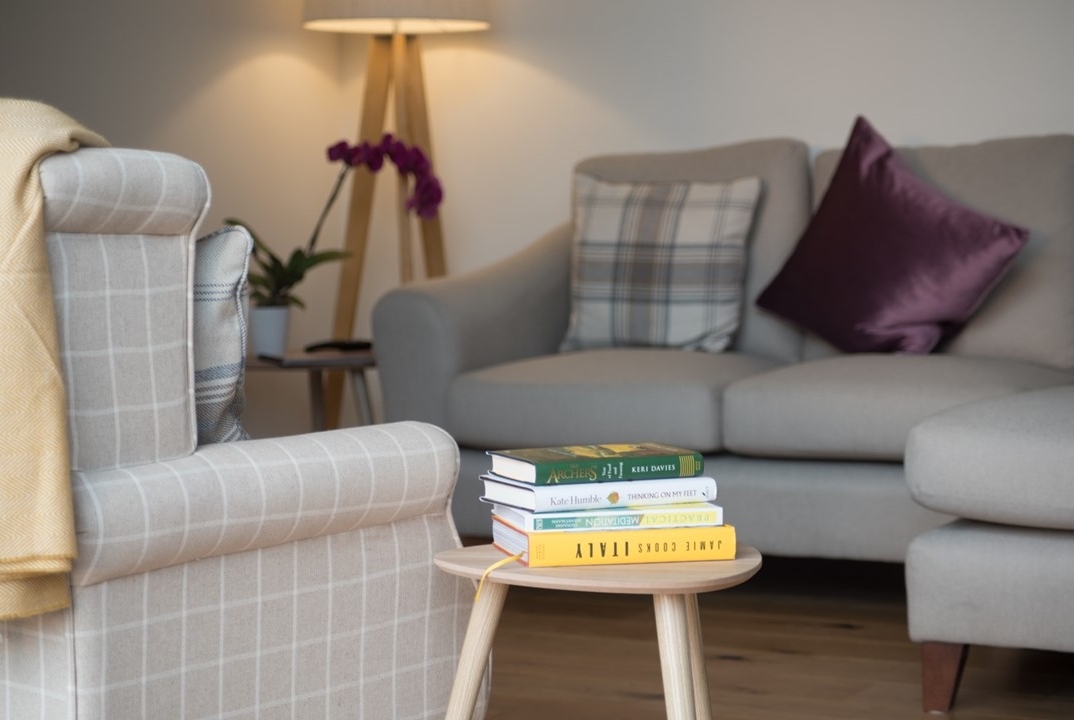 The SMART TVs in the living area (and both bedrooms) meant we could truly kick back with a girls' movie night definitely on the cards.
Thoughtful touches can be found in every corner of this property which has clearly had a great deal of passion and love poured into it – from the jar of bath salts in the bathroom to the ice bucket and hot tub side table for that all-important wine resting place!
All the sundries are laid on, including clingfilm, foil, tea and coffee and sugar. (More often than not we're caught out by this, right?) Plus there's locally-sourced milk in the fridge for that all-important cuppa for the weary travellers.
A welcome hamper of other local produce, including cake, eggs and chocolate, also got our stay off to an seamless start.
And, whilst not bemoaning the fine weather we were lucky enough to be blessed with, we did miss the opportunity of cosying up in front of the inviting log burner – literally the only thing that could have possibly made this stay even more relaxing. Perfect for the colder months. Certainly not needed however with underfloor heating that kept us toasty throughout.
Although we didn't make use of the barbecue, I can see why this would be a popular choice here. Sizzling sausages in a sunset like that one would be unbeatable.
We discovered that the optimum vantage point from which to soak up the scenery was the supremely positioned hot tub, overlooking the acres of fields and valleys below.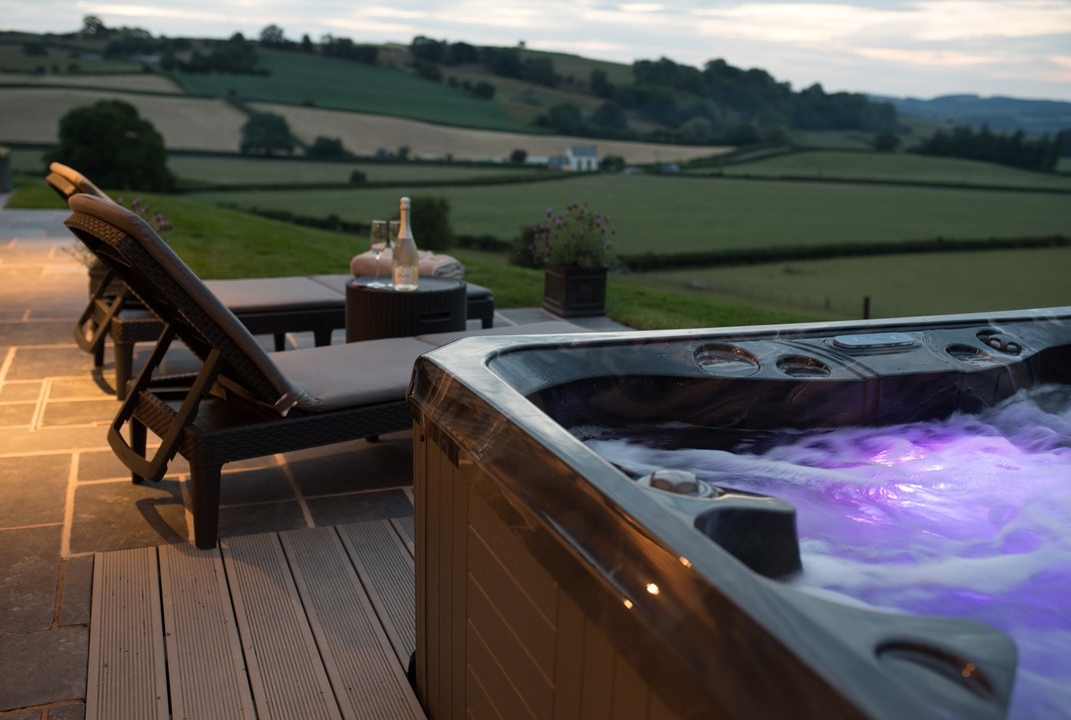 How much?
Between £1,400-£2,100 per week. – Not just premium accommodation but premium views. If you can afford it – and you want the best, this is worth the price tag for the full package!
Kerry Vale Vineyard Photo by author
What's nearby?
While it wasn't easy leaving this beautiful property and view behind, we decided it would be a shame not to explore the area.
Within a short four-mile drive of Plas Robin, is the pretty little town of Montgomery. It was a delight to while away a couple of hours in the beautiful timber-framed shops and tearooms while also picking up some local produce.
Kerry Vale Vineyard is a also well worth a visit, whether for afternoon tea, a light bite or vineyard tour. Why not? Here you can experience a Vineyard Tour with Wine Tasting, Cheese and Wine or Sparkling Afternoon Tea.
This wonderful family-run business, just over the border into Shropshire, grew on the six-acre site of great archaeological interest and once part of the ancient Roman site of Pentreheyling Fort, a vicus (provincial civilian settlement), is on the edge of a number of Roman marching camps. It is now home to 6,000 vines of four varieties of wine – Rondo, Pinot Noir, Phoenix and Solaris, ideally suited for the English climate.
As we were celebrating a friend's 'special' birthday, it seemed fitting to partake in Afternoon Tea – and at Kerry Vale our culinary and cultural appetites were left extremely well satisfied.
We were very well looked after from start to finish as we devoured our fresh and delicious selection of sweet and savoury treats, beautifully presented and accompanied by a flight of wines for our mini tasing experience. (Available at an additional charge.)
My friend and I we were guided through our experience of these locally grown wines with helpfully provided tasting notes to hand. And we both purchased a bottle of or self-declared favourites before leaving.
For those looking for a lighter bite, there is a tasty lunch menu offering a selection of hot dishes and daily specials all made from the quality locally-sourced ingredients.
You'll enjoy browsing the Cellar door gift shop for some unusual local souvenirs too.
Whether you are enjoying a whistle-stop tour of the area or lingering longer courtesy of the idyllic Plas Robin Rural Retreats, Kerry Vale is a must-do while in the area.
How to book
Find our more about Kerry Vale Vineyard at: https://www.kerryvalevineyard.co.uk/
Kerry Vale Vineyard, photo by author
How to book Plas Robin Rural Retreats
Book Plas Robin through WanderlistUK here