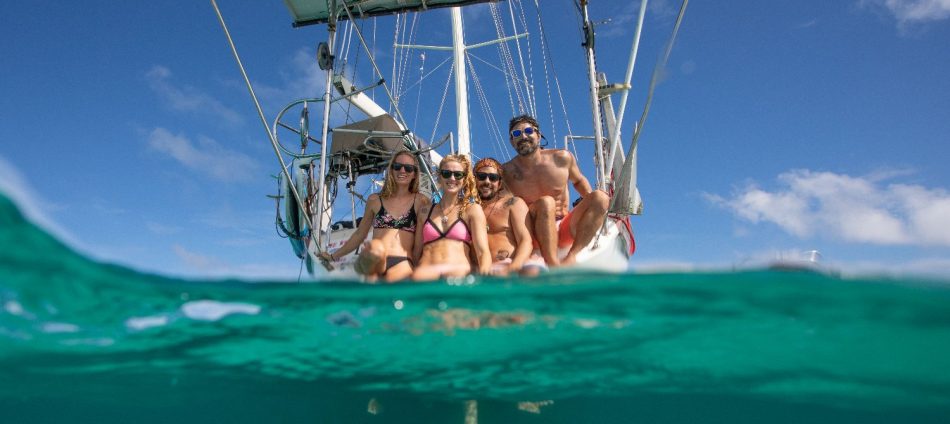 Q. Please introduce yourself to our readers.
Hi, guys, my name's Brady Trautman, I'm 33 years old, and I'm originally from Florida, USA. For the past ten years, I've been part of The Delos Project, a YouTube sailing channel which started out as a bit of fun but has grown into a way of life and sustainable business.
Sailing across 75,000 miles of the world's oceans aboard our sailboat 'Delos' and visiting 45 countries, has inspired us to create over 240 episodes, with a billion minutes of content watched. With the support of our YouTube subscribers and the loyal Delos Tribe on Patreon, we have managed to create a sustainable lifestyle that allows us to show people the beauty of the world, above and below the waterline.
Q. Tell us about your first sailing trip and what hooked you on sailing?
My life as a full-time liveaboard started in 2009 when my big brother Brian decided to buy an ocean going yacht to sail from Seattle to Tahiti, in the Pacific. He asked me to join him on the trip which was supposed to last a month, that was 10 years ago. After that first month passed I sold everything I had, took out my student loans and just set my sights on getting to Australia and getting a job. I had always been interested in nature and animals, I considered becoming a veterinarian once, so the idea of living on a boat, and being able to dive in some of the richest waters on earth called to me. As we progressed through the Pacific islands it became clear that this was where I wanted to be, so I deferred the Environmental Engineering Degree I was studying at University and continued the trip.
Q. What do you enjoy about sailing – and touch upon the sailing lifestyle and freedom of being able to sail around the world?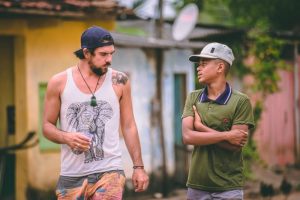 One of the best things about sailing is that you get to take your home with you wherever you go. We're able to travel the world, meeting people from all walks of life. The feeling of travelling thousands of miles by the power of the wind is something most people never get to experience, life slows down and you can take the time to reflect on where you are and what's important. Often our plans change at the last minute, as we hear about a place that has great diving, or a part of the world that's really untouched and isolated. If you ask a sailor what their plans are next month, they can never tell you, I think this freedom is what has kept me on the water all these years.
It's also about the people you meet. Travelling by boat gives you the opportunity to really get to know a place from the locals perspective. The amount of amazing people we have met around the world is incredibly humbling! We have also visited places that were in desperate situations, like the Caribbean island of Dominica, after it was hit by hurricane Irma in 2017. Through our YouTube channel and our website, we were able to raise money to help rebuild a school in the area. The ability to use our story as a medium for people to help others is an amazing thing.
Q. Describe one of your favorite sailing experiences.
This is such a hard question! Exciting for culture? For diving? For sailing? I think for me there is one place we have sailed to that really stands out. In the middle of the Southern Indian Ocean is an atoll called Chagos. It has been literally abandoned with no people living there for 50 years or so. Chagos is about as remote as you can get in the world… Crystal clear lagoons filled with fish, coral and warm water. On the outside reefs of the atoll are huge drop-offs for diving. These coral walls are covered in life and visited frequently by sharks of all sizes. The land surrounding the lagoon is filled with coconut trees and one of the craziest animals on the planet, the giant coconut crab. These guys would come out at night to feed on the fallen coconuts. The scary part? They are the size of small dogs! Some reached almost a meter in diameter when their arms were outstretched. We stayed in this crazy place for about a month, being completely self-sufficient.
Q. Tell us about one of your least favorite sailing experiences.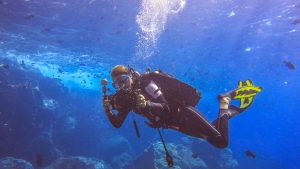 Living on a boat brings challenges that are very different to those on land, and they vary from little annoyances like getting wet during a dinghy ride to shore, to life-threatening weather systems that bring big wind and seas. Things happen that you don't expect, like boats dragging anchor onto you in the middle of the night, or having to go to the hospital to get stitched up after getting bitten by a monster Barracuda at the back of the boat, but you take it all in your stride. We have been in anchorages where the boat is so rolly you wake up with a sore back or a rough passage that lasts for days on end, and I would think to myself, why am I doing this? The days that are tough, help you to appreciate the days that are spectacular, and on a boat, you will experience both and everything in between.
Q. Where did you experience the worst weather and how did you handle it?
When we were sailing across the Indian Ocean we were hit by a very intense low-pressure system. It was blowing 50+ knots with seas of over 7 meters for about 24 hours. We were heading for the northern cape of Madagascar. The last day of that passage was incredibly challenging and frightening, with waves crashing over the boat in the pitch-black dark, and the wind howling through the rigging. Brian and I took 1 hour shifts to steer the boat, when we weren't at the helm, wet and cold, we were down below, wedging ourselves in a corner somewhere, riding a roller coaster we couldn't get off. Once we rounded the cape and made it behind the lee of Madagascar the seas flattened and the wind was blocked, we all breathed a sigh of relief.
Q. From my experience with sailing, it seems like things are always breaking. How to manage this on such an extended trip?
Yes, this is definitely true, things break on the boat all the time, it just becomes part of your life. It's one of those situations where you have to learn a little bit about a lot. One day you are an electrician, the next a plumber, the next a rigger, a diesel mechanic and on and on. Like anything, it seems daunting at the beginning but after a while, you get to know your boat, and you know what spares to carry. The cruising community is a great group of people, there is always someone willing to help you out, be it hands-on or advice on how to fix something, you only have to ask. Problem solving is a huge part of cruising, you will always be missing something you need and will have to go to town to find 'the guy', this often leads to making new friends who can tell you about the best local spots to hangout, an awesome beach or a hike with a view, so it's a win-win.
Q. What has been your longest nonstop sail to date?
When we left Mexico in 2010 we set sail for the Marqueses in French Polynesia. That specific sail was just over 3000 Nautical miles and took us 19 days. Being at sea for that long is an incredible experience we often refer to as Seahab. The first 3 or 4 days are for sleeping and adjusting to life at sea. And then it all starts to fade together. There is something magical and healing about being at sea with no land in sight for a week or more.
Q. What advice can you give those looking to make a career/lifestyle of what they want to do instead of being torn by what they feel they have to do to earn money?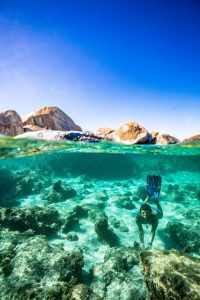 I am very fortunate to be a part of the Delos project. There are few who can say they love what they do while earning a living. I think the best advice I can give is to find what you are passionate about and to go after it. Money is important to a certain level, it definitely affords you the freedom to chase your dreams, but if you are not passionate about what you do it will show in other areas of your life. I think one of the reasons we have been able to sustain this lifestyle through YouTube, is that our passion comes through in our videos if it didn't people would have tuned out a long time ago. If you are looking to start a YouTube channel, business or any new venture, if you are passionate, it will shine through and people will engage with you, they will want to support you on your journey. This is what will motivate you to move forward, to put in the endless hours that are needed. Just because you love what you are doing doesn't mean it comes easy, and without a love for what you are doing, it won't last. Follow your heart and I can guarantee it will lead you the right way.
Q. What can people do to help protect the marine environment?
There are so many things that people can do to help protect the marine environment, but to be honest, the most vital is education. By learning how humans are impacting the oceans, we inevitably pick up everyday habits we can implement that will help to protect them. Understanding why we need to reduce our carbon footprint, by using public transport or car pooling, will give us the motivation to do it. Reading about the massive amount of plastics in our oceans and how they filter down to the smallest creatures will remind us to reuse shopping bags and to recycle properly. Taking care of our beaches and waterways by being responsible with our trash comes naturally when you have learnt about microplastics. As with anything, little steps in the right direction is how we bring about lasting change, let's aim to leave the earth in better shape than when we arrived!!
Biography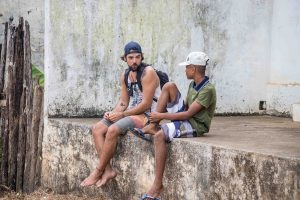 Brady is a charismatic and funny guy, kind of the 'joker' of the Delos crew and he brings laughter, love and an easy-going flow to the boat. He's a keen-as sailor and a cracker-jack diver. Originally from Florida, he got more than half way through his Environmental Engineering degree before fully making the transition into the sailing and cruising life. He's lived and sailed on Delos since 2010 after hopping on in Mexico. He was only supposed to come for a month to help sail to Tahiti, but somehow those months slipped on by, and now its five years and thirty something thousand miles later. And he's still loving it!
Not only is Brady a Dive Master, Dive Instructor, and Rescue Diver but he can also whip up a mean Pico De Gallo or Ceviche, all while filleting a Tuna or Mahi with the other hand. On the off seasons, Brady used to spend his time rolling burritos and more recently working on superyachts to save money to continue sailing. Brady now lives and breathes the Delos vibe, his love for sailing and sharing this adventure shows in his passion for life! His amazing ability to connect with people, no matter where in the world we are, has really helped spread the love of Delos.
On top of that, his marketing ideas and video editing skills are a huge part of what Delos has become. When not sailing, diving or fishing Brady enjoys eating, drinking Scotch, and sleeping. Brady's an interesting guy where everything is not always quite as it seems.
Follow along on their travels:
Sailing Vessel Delos