In the July 2018 edition, Travel and Leisure voted the charming Mexican city of San Miguel de Allende the best city in the world for the 2
nd
year in a row! I've been dying to visit San Miguel de Allende and when I recently had the wonderful opportunity to attend a destination wedding
on
New Year's Eve in this city, I couldn't refuse! It was a blessing to be able to celebrate a dear friend and her fiance in one of the best cities in the world! So here are my tips for spending 4 days in San Miguel De Allende.
Getting In
San Miguel is about 3 to 4 hours from Mexico-City depending on what mode of transportation you choose to take. By first-class AC bus it can be about 3-4 hours and by car it's just a little over 3 hours, depending on traffic. You could also fly into Leon airport and take a short one hour fifteen-minute drive into the city. It is probably however cheaper to fly into Mexico City and then take one of these modes of transportation to spend 4 days in San Miguel de Allende. In 2008, San Miguel de Allende was designated as a UNESCO World Heritage Site under the Historical City category. Wander through the historic downtown and you will see the excellent condition of Centro Historico, key elements that contributed to the prestigious designation. The UNESCO historic district includes 64 blocks that covers certain homes, public squares, and of course the not to be missed 17
th
century cathedral, La Parroquia, famous for its neo Gothic design. Here's how I would recommend dividing up your time if you decide to spend 4 days in San Miguel de Allende:
Day 1
Sunset at Luna Rooftop Tapas bar
We arrived by car into San Miguel de Allende just in time to watch the sunset from one of the many rooftop restaurants in the historic center. Luna Rooftop Tapas Bar located inside the beautiful Rosewood Hotel boasts spectacular views over San Miguel. Their red snapper tacos are supposed to be a signature dish.
Pro Tip:
Try to visit for lunch, you'll still see the views. They do not take reservations and there is always a one hour+ wait during sunset time.
Dinner at La Posadita
One of my favorite spots for dinner is the La Posadita. Not only does it offer close up views of La Parrochia (imagine its Gothic spires looming overhead), it also overlooks the hills and valleys below. I tried a traditional dish called the Pozole. The standard version contains hominy (Mexican corn), chicken or pork, onion, coriander, cabbage, sliced radish and lime juice. The soup is a hearty portion, more than enough for one person. This restaurant is perfect if you're looking for a rooftop vibe and traditional Mexican cuisine.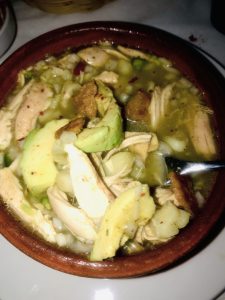 Pro Tip:
Get the shrimp ceviche, tacos and the pozole.
El Jardin
After dinner, walk off your meal with a stroll around the El Jardin, the central plaza. This appears to be the social heart of the city, with the towering pink La Parroquia that reminded me of a castle, all lit up at night. The plaza has a number of benches and there are many people sitting with their families. I even caught an impromptu hip hop dance performance by some youngsters. I was frankly surprised to see so many people hanging around, socializing in this small town. Any visit to San Miguel de Allende must include this central plaza, and if you have 4 days in San Miguel de Allende, then all the more reason to people watch in this part of the town!
Day 2
Since the wedding festivities weren't slated to start until day 3, we decided to spend day 2 getting acquainted with the city. We started by walking over to El Jardin and specifically La Parroquia. But first a brunch stop at Ki'bok!
Pro Tip:
This is a walking city with lots of cobblestones so bring comfortable shoes.
Ki'bok
Ki'Bok is a tri-level casual café with a bohemian vibe and entrees like avocado baked eggs, and grain bowls. The café also serves coffee sourced from the town of Coatepec, Veracruz grown by a co-op of organic farmers. A Tulum original, I loved the healthy options on the menu!
La Parroquia
Walk towards El Jardin and you'll be greeted by the sight of the Parroquia. You might even weep with joy or exclaim in excitement at the fairy tale like iconic pink church in front of you! I couldn't stop gazing in delight at its neo-gothic spires looming into the sky. The 17
th
-century church reminds me of a layered cake. The pink color can also shift hues, depending on the sun. At night the church looks like a Disneyland castle. Start your visit to San Miguel de Allende with a look inside this church to admire the architecture and the altar.
Pro Tip:
There's a note outside that says not to take photographs and not to attend service if you are a tourist, but during the time I went, I saw many taking photos, but be aware and respectful if there is a service underway.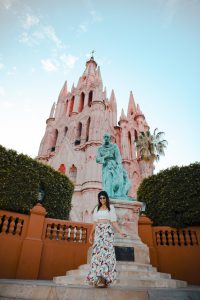 Aldama Street
If you're facing the entrance to La Parroquia, walk toward the right. You'll see a statue with the church behind it. This is a great photo spot but if you continue walking further toward Aldama Street you can get the iconic view of the church and the street as seen below, plus some super cute door shots, which I'm personally a fan of!
Pro Tip:
 Try to go at sunset for better lighting, else it's usually shrouded in shadows and is not the best light for photography.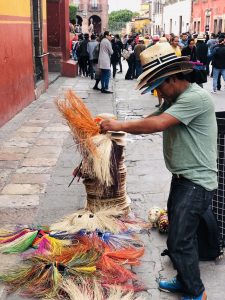 Mercado de Artesanias
A quick walk away from the church brings you to the Artisan Market open daily from 9am until 7pm. I enjoyed browsing through the various fruit and vegetable stalls, the souvenir stalls, the food vendors and the clothing section. You will find jewelry stalls selling pendants and rings, hand-painted traditional Mexican ceramics piled on top of one another offering a splash of color, and hanging lamps alongside Oaxacan rugs. The had painted ceramic day of the dead dolls are my favorite pieces of souvenir I purchased here, as I collect miniature dolls and little pots from my travels. Corn with chili and lime seems to be popular here, as are other fruits such as guava. 4 days in San Miguel de Allende must include at least one visit to a mercado.
Our next stop was a 15-minute walk to the Fabrica La Aurora, a renovated textile mill that now houses cafes, shops, galleries and numerous artisan shops selling everything from home décor, furniture, and clothes to art by local artisans. This indoor/outdoor complex is huge that as soon as you enter, you must look at the map and figure out which shops/galleries you want to hit up. They also have workshops so sign up ahead of time if you want to participate in a specific art related workshop. This is a great place to buy local, high-quality things like home goods, jewelry, furniture, clothes and paintings on your visit to San Miguel de Allende. After all that walking you may want a café break so we decided to step into a charming little store that opened into a courtyard out in the back for a cup of hot tea. We found several Mexican pastries and juices but my husband and I opted to eat our guavas that we had picked up from the Mercado earlier.
Dinner
For dinner that evening, we met up with the bride and her friends at a local Mexican restaurant called Kaban. The name threw me off at first, I thought it was Middle Eastern cuisine but it turned out to be a Mexican place offering traditional dishes such as shrimp ceviche, a curried fish that was delicious, salads and other seafood.
Pro Tip:
The nightlife is quite buzzing here so follow the music to experience one of the local bars, some even have live bands!
DAY 3
Hot Springs
Did you know San Miguel de Allende is a hotspot for wellness? The city was founded on the edge of an extinct volcano, and the last time it erupted was 12,000 years ago. It's said that that this subterranean volcanic activity resulted in dozens of nearby healing thermal waters and hot springs.  
Escondido Place
 is just 10 minutes away from the city and you can find swimming pools to relax in, hot springs
and
a hotel if you wish to stay the night. If you have 4 days in San Miguel de Allende then you can devote at least half a day to one of the hot springs near town. La Gruta is also known for its healing properties, particularly a traditional healing ceremony in the ancient temazcal. The historic temezcal tradition has roots from ancient Mexican cultures and is a spiritual journey within an igloo-shaped structure where visitors can heal. I'm not sure about the process since I didn't go to La Gruta but I can tell you about La Escondido Place.
La Escondido Place – My Experience
Not everyone speaks English here but the guy at the entrance and the woman in the main office speak English so before you enter make sure you get all your questions out of the way.  What we learnt was that there are two thermal springs on one side of the complex, with several swimming pools strewn about the property. The place in general is full of shade, trees and lounge chairs and cabanas by each pool. However, we weren't dying to hang out poolside, as the chairs were mostly occupied, and the pools were noisy. We spotted lockers on the way but realized we had to purchase a lock in order to leave our stuff. A kind soul who was just leaving donated her lock so we were able to store our phones and wallets before heading down to the hot springs. We quickly realized these were not open-air hot springs.  The hot springs are located inside a submarine type looking device on the ground. You walk down some steps and step into the "submarine" into what appears to be a cave. We immediately noticed a few things: it was super noisy inside with people and kids. Some people were leaning against the walls relaxing while kids splashed up and down shrieking. We felt claustrophobic in the heat and the water was also only luke warm. To my discomfort, the water was also dirty with stuff floating around in it.  We sat inside for about few minutes and moved toward the next chamber but there was a traffic jam of people and kids waiting in the narrow passage, so we just gave up and waded back out. Overall, we found the experience so unpleasant we just decided to leave. We then thought we'll get a massage but was told at the spa that we would need to make a reservation at the office in front where we had checked in. Frankly at that point we decided to just head back and lounge in our own pool at the resort. Where I really wanted to go was Grutas Tolantongo, the infinity pools located about three to four hours northeast of Mexico City in a picturesque canyon! Due to lack of planning (this requires an overnight stay) this will have to wait until my next visit to Mexico City!
Pro Tip:
If you do visit San Miguel de Allende and decide to go to the hot springs, take your own towel, buy a lock, prepare to be surrounded by plenty of kids and adults in the hot springs and the pool, and make reservations at the front desk if you want a massage treatment.
The Wedding Procession
The wedding procession began at 4pm and was the most unique aspect of a wedding I had ever seen! Tradition says bride and groom parade through the streets of San Miguel with larger than life papier-mache mojigangas, a mariachi band, a donkey carrying tequila (in this case water bottles because the tequila tradition is now banned), and the wedding guests. This was such a fun procession walking/dancing through the streets celebrating the lovely couple, and we are so happy to have been a part of this tradition on our 4 day visit to San Miguel de Allende. San Miguel de Allende is a city of many traditions, whether you're there for a wedding, New Year's Eve, Christmas or Dia de los Muertos, so make sure you have your camera to capture these special and unique moments.
  
Rooftop Sunsets
Post procession we went up to one of the many private rooftops (through a store) for sunset, drinks and Mexican street food such as tacos and the delicious gorditas. It was a wonderful opportunity to mingle with the bride, groom and their families. The bride's cousin, a mezcalier, walked us through the differences between mezcal and tequila and we were treated to a mezcal tasting at the end of the night. Be sure to include a mezcal tasting if you have 4 days in San Miguel de Allende.
Pro Tip:
Mezcal and Tequila, according to the locals, are only meant to be sipped and savored, not to be downed as shots! You also don't have to attend a wedding to see the mojigangas, they are usually around during any festive occasion including Christmas and New Year's Eve!
DAY 4
Wedding & NYE
The day of the wedding and New Year's Eve turned out to be sunny and beautiful. We decided to spend the morning lounging by the pool at our hotel, the Live Aqua Urban Resort, located about 10 minutes away from the center. We wanted to walk over to the mask museum, but never heard back from the administrative office for an appointment. Apparently visits to the mask museum are only by email appointment so be sure to email them ahead of time as responses can be slow. Around 4pm we went to the Iglesia San Francisco church to attend the wedding. Once the wedding portion was over, everyone assembled outside the church in the plaza for a dancing celebration with a mariachi band, and we all walked together the streets of San Miguel toward the hotel where the evening reception was taking place. Sunset viewing was at the rooftop, followed by dinner and fireworks for New Year's eve. The fireworks are right behind the Parroquia church and is absolutely magical to witness.
Other possibilities for day 4:
Juarez Park
This is a beautiful park with French style gardens, water fountains, sculptures and play areas.
History Museum
This is a 18
th
century home and museum to Ignacio Allende, a leader of Mexico's Independence movement. There's also an art school in a former convent, an art museum in a historic building and a cultural museum with Mexican folk toys.
SAN MIGUEL DE ALLENDE – MY VERDICT
San Miguel de Allende is beautiful any time of the year, even in winter when the days are warm and the evenings can get chilly. If you plan to spend 4 days in San Miguel de Allende during winter, bring layers and you'll be fine. The city has a certain effect on visitors, many tend to buy apartments and settle down here. The attraction started when a Chicago native became the director of the Escuela Universitaria de Bellas Artes, a local art institute, with the idea of wanting to turn San Miguel into an international arts colony. After World War II, veterans were able to come study here on the G.I. Bill and pretty soon were spreading word back home about this town. It soon rose to international fame and became a top vacation and retirement destination for Americans. While San Miguel is known for its art scene, workshops, galleries etc, the appeal also lies in the world class food that you will find here amongst budding chefs. From fancy resorts to charming "casas", accommodations are plentiful and come in various forms to suit your budget. I stayed in a resort with a pool because I also wanted to relax. And in San Miguel, the urge to constantly get lost in the colorful alleys is high, so consider what type of vacation you're looking for and accordingly choose your hotel. I would highly recommend spending 4 days to soak up the city as well as making it part of a larger Mexico itinerary, including Mexico City or the coastal town of Tulum. Overall, maybe because I visited during Christmas and New Year's Eve, the city felt touristy. I noticed a lot of local Mexican tourists but also saw quite a few Americans so the city has definitely been discovered. And in a small town, when enough people gather for a festival like Christmas or NYE, it tends to perhaps feel crowded. It also reminded me of other cobblestone cities such as
Bogota
and Cartagena so this was not my first colonial city. Overall my verdict is to make it part of a larger Mexico itinerary and to go off season to fully experience the beauty of this town.