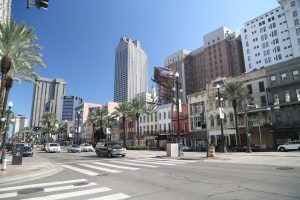 John M. Edwards discovers New Orleans unique cuisine to be out of this world, not just Creole and Cajun clichés ("Gumbo" and "Jambalaya"), but also, well, nothing beats an Oyster Poboy!
At the legendary Napoleon House in New Orleans, Lousiana, I found myself expectantly dreaming of a dressed "Oyster Poboy," especially since they had not even one of them on their menus. (Hurricane Katrina had literally wiped out many of the oyster beds way back when).
This way historic Vieux Carré inn is "in," decorated with hanging pots of plants weeping with wisterias and whathaveyous. Here was also the site of a famous nefarious plot. Once upon a time, the "Yats" (New Orleans elite) hatched a plan in the inner courtyard sanctum to return their Emporer Napoleon Bonaparte to the so-called Louisiana Purchase (brokered between the Little Colonel and Thomas Jefferson for only several mil). Even though the plan failed, this French Quarter maison was still a standout dining adventure for anyone looking for the New Orleans of the movie Cat People, if not The Big Easy.
And so I sat munching on a muffalleta (ham, salami, provolone, and olives on a pressed roll), drinking copious cups of café du lait spiked with anisette spirits. But what I was really here for was the recently decriminalized old absinthe (a liquor made from brain-damaging "wormwood" which is lit up by fire and sweetened with sugar cubes).
As a descendant of Mad Anthony Wayne, who saved the big white fat asses of both the Revolutionary Patriots and the Red Coats during a severe winter at Valley Forge by stealing cattle from the British, I had every right to claim familial heritage (albeit tenuous at that) also to the Corsican Emporer (buried in Les Invalides in Paris). Both were enigmatic tricorn-capped figures wrapped in the cloak of the fake wars of enlightenment principles. (I think the Revolutionary War was a cover for colonization, with show battles similar to today's reenactments.) Indeed, at first, many thought they were both one and the same.
Magnetic loci like The Napoleon House selling fine dining and drink are a dime a dozen here in the Crescent City, birthplace of "Dixieland Jazz" and "A Streetcar Named Desire"; home of the "Superdome" (with its New Orleans Saints football team) and "Café du Monde" (with its beignets and chicory coffee); and venue of "Tipitinas" (starring Professor Longhair, The Neville Brothers, and The Radiators) and the "Riverboat President" (starring Men at Work, The Talking Heads, and Frankie Goes to Hollywood).
While enrolled at Tulane University in The Garden District (right on the St. Charles Streetcar line and across the street from a Zoo containing a genuine white tiger), as an English and History major, I was also in a pretty good band called The Dingleberries—a grotesque name if you know what they really are—which we later changed to High Entropy. The band consisted of Jim on vocals, George on rhythm guitar, Dave on lead guitar, Larry on drums, and yours truly on bass guitar. (Most college kids go only by their first names, no surnames supplied.) We practiced more than we played out, but we did manage some live shows at Der Ratskeller, Tupelos, The Quad, and The F & M Lounge.
What I liked best about the band was that they bent over backwards in allowing me to play whatever I wanted, ranging from "The Whipping Post," by the Allman Brothers to "She's Not There," by the Zombies. But my favorite tunes were my own original songs, such as "Arthritis," within which I could wail on long bass solos, including a purloined riff from Albert Collins and the Ice Breakers: the theme to "Popeye."
(Incidentally, I played in a high school garage band with Page McConnell, now the keyboardist of Phish, and I turned down a job as lead bassist for STP [The Stone Temple Pilots] way back when before they were big. Plus, I helped write "PLUSH" [the opening chords], voted The Best Song of the 20th Century by Rolling Stone Magazine.)
One of my favorite friends back then on campus was the much-older-than-me "pretend student" Bruce Chatwin, who crashed one of my graduate level Archaeological classes presided over by a prof with an amusingly antique mustache reminiscent of Charlie Chaplain's "Little Tramp."
Or, Hardy.
Or, Hitler.
Anyway, Bruce got an A-plus and I got a C-minus, since in the long flowery essay on "Dominance," the prof had circled one line on how "In the primate world, dominance is achieved when the alpha males blank the most females." The prof amusingly addended: "This, and only this, is relevant to the topic!"
I remembered after the course became a denouement going to a Vieux Carré carnage splurge at "Mr. B" with Bruce where he tried such original dishes as "Oysters Rockefeller," "Blackened Redfish," and "Bananas Foster" for the nth time. While I tried "Turtle Gumbo," "Crawfish Etouffé," and "Boudin Blanc" for the nth time. All on my nickel.
Now years later at the Windsor Court Hotel, filled with nostalgia, I wrote a note to the chef suggesting a dish name for their pastry chef: "The Windsor Court Linzer Torte."
I also revisited my favorite shop for cheap eats, "The Camelia Grill," where Jimmy Buffet (often confused with Warren Buffet) supposedly wrote "A Cheeseburger in Paradise." But I was there for the aptly named "Cannibal Special"—a cheesey omelette covered in chili con carne.
New Orleans has the largest number of bars per square mile of any place in United States. Almost everybody, except some college students cramming for final exams (these hipcats, of course, prefer poudre), can be found almost every night at places like The Boot, Tin Lizzie's, Miss May's, and Fat Harry's guzzling fifty-cent highballs and one-dollar drafts, trying to pick up anything that moves in what is surely America's largest party pileup. The only thing that beats it is Mardi Gras itself, and perhaps also Spring Break in Florida's Fort Lauderdale.
However, probably the best event in this Deep South den of iniquity, purported land of Les Bons Temps Roulés, is eating alligator and drinking Dixie beers at the annual Jazz Fest staged at the New Orleans Fair Grounds, where I one year saw Stevie Ray Vaughn and the Texas Flood, before the guitar maestro sadly perished in an airplane crash—they say so, at least.
Also a number of good bands played right on our campus: The Eurythmics, Mick Fleetwood, Joe Jackson, and Frank Zappa, whose dressing room I guarded. (After his show, Mr. Zappa invited me inside his dressing room for some cake). Also here, I saw gonzo journalist Hunter S. Thompson, who refused to talk about drugs, only politics, booed and razzed off the stage by an angry student body.
Now back to the unique food of New Orleans–influenced by Creole and Cajun cooking from the colonizing Spanish "Criolles" and refugee French and Basque "Acadians" expelled from Nova Scotia, Canada–such as "Crawfish Etoufé" and "Oysters Rockefeller." Popeye's Fried Chicken originated here, as did master chef Emeril Lagasse and Paul Prudhomme. But still, the two most famous restaurants are still Commander's Palace (often confused with Brennan's) and Antoine's (often confused with Arnaud's). One of my personal favorites, however, was the now long-gone Christians, staged like overt blasphemy in a renovated converted church, with a little spicy voodoo thrown in for good measure.
Everyone's favorite haunt for Oyster Po Boys, washed down with local draft Dixie Beer, is Casimentos on Magazine Street, near a long line of nifty antique shops. Inside, with the turn-of-the-century tiles and pressed molded tin roof, you feel that you have walked into The Kingfisher's private bathroom, but indecent décor aside, this is still the place to shuck oysters and let them slide down your throat—with, of course, a little hotsauce and lemon squirt to kill all the icky bacteria, if not the poisonous horseradish.
Unfortunately, I have only been back this once to my alma mater since Hurricane Katrina ruined New Orleans for everybody, but I hear it is coming back. I've heard rumors that the French Quarter is completely intact: the tourists once again wander around Bourbon Street with "go cups" from Pat O'Brien's, asking for directions to The Dungeon, where the Grateful Dead got busted for drugs in the 1960s: "Busted down on Bourbon Street . . ."
Anyway, after having lived in this mostly Catholic centrum in a mostly Protestant state for five years, I'll never forget what this sin city used to be like. Now almost all of my fellow classmates are successful at something, whatever their chosen métier, be it BA or BS.
One of my favorite drinking buddies in New Orleans became a very famous fellow indeed. One night outside The Boot, right on campus, I met a dangerously funny guy with a well-timed burlesque delivery from Knoxville, Tennessee, named "Quentin Tarantino," who claimed to be an (already) independent film director. If I remember correctly, I was even almost one of his roommates, except I showed up at his classic shotgun stoned and flubbed my interview. Also I don't think he liked my friend with demonic red hair, "Chris from Rahway," and maybe resented my instinctual glance at his girlfriend's pert tatas. "Edwards, you are out of here!"
I was laughing so hard I could hardly stand up, not because I didn't believe he was a genuine filmmaker but because this was so clearly already the case. His smile vanished when I insisted on calling him "Tarantula"—a nickname that probably plagued him his entire life. I think one of my then roommates, Chris, and I were supposed to be ""introduced" as British mafia members in a film before Reservoir Dogs, but we probably ended up immortalized on the cutting room floor instead.
Aw, shucks!
Oh well, maybe next time.
Now let Les Bons Temps Roulés!
Recipe for "Dressed" Astro Poboys"(™)
1. 5-10 freshly shucked raw oysters
2. 1 cup bread crumbs
2. 1 French-style baguette
3. ½ tablespoon of Miracle Whip mayonnaise
4. ½ tablespoon of Grey Poupon mustard
5. 1 large tomato
6. 1 cup lettuce
7. 3 dashes of Tobasco hot sauce
* First lightly fry a handful of freshly shucked raw oysters covered in bread crumbs, while carefully slicing a New Orleans baked baguette. Make the bread "dressed" with a light coating of mayonnaise, mustard, tomato, and salad, with a dash of native Tobasco. Then carefully place the still-hot oysters in the envelope of the baguette and press down with some force majeure, and voila! You have yourself an "Astro Poboy" (™)!