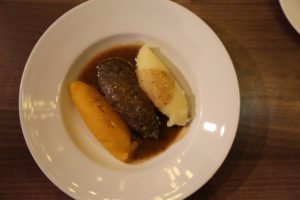 In 2019, over 150 million people visited Scotland bringing around £12 billion into the local economy. To put that in context, the domestic population of this beautiful country is just 5.5 million people.
Visitors travel from all over the world to step through Scotland's city streets and majestic countryside. Many make day trips while staying in England but, on average, eight nights is the most common length of stay.
According to research, scenery, landscape, history, and culture are the main motivating factors for tourists travelling to Scotland. However, with so many millions staying overnight, the country's nightlife is a huge factor in its appeal to tourists.
The capital, Edinburgh, and Glasgow are Scotland's biggest nightlife cities, but Aberdeen in the north also has a strong reputation. Many smaller towns, villages, and islands have plenty to offer too, depending on what any particular visitor is looking for.
From traditional pubs to quirky bars, live music to legendary nightclubs, and theatre to live casino, Scotland has it all. Here is our guide to the best places for Scotland's varied and exciting nightlife.
Drinking
Pubs and bars are plentiful across Scotland with endless opportunities for a few pints or a "wee dram". Every city has a range from cosy and historic to modern and energetic, and there's even room for the quirky.
Glasgow's most famous nightlife space is Sauchiehall Street where the dive-bar Nice 'N' Sleazy had been popular for decades. For calmer evenings, Kelvingrove Cafe on Argyle Street or the Brel beer garden in the West End are common highlights.
Tourists new to Edinburgh will flock to the Grassmarket where a row of pubs and bars offer amazing all-day atmospheres. Highlights include the historic Last Drop, rustic Biddy Mulligans, and Cold Town House with its incredible castle-view rooftop terrace.
Great pubs and bars can be found all over Aberdeen, famous for its transient population of students, riggers, and tourists. CASC craft bar in the Merchant Quarter is a modern favourite, as is Gallowgate, where the Brewdog phenomenon first began.
Dancing
For clubbing, Glasgow is the first place in Scotland most visitors, and residents, will think of. The Garage, Sub Club, and Sanctuary are all institutions in this party city with nightclubs to fit every taste.
Edinburgh is a place where bars become clubs and the nights are fluid and unpredictable. Cowgate, in the belly of the city, is home to a warren of venues carved into the old town's underground.
Aberdeen's Babylon is a club built into an old monastery with decadent and gothic architecture, glam waitresses, and fancy cocktails. For a down and dirty pop party, the gargantuan three-story Espionage is bouncing every night of the week.
A lesser trodden nightclub experience, so far as tourists are concerned, is found in Stirling just outside Glasgow and Edinburgh. Here you will visit the legendary Fubar, where unique drinks and great music have been attracting revellers for generations.
Eating
Another vibrant sector of Scotland's nightlife scene is its huge array of restaurants and evening eating spots. All Scotland's cities, and many of its smaller destinations, have huge reputations for high-quality and memorable dining experiences.
In the shadow of Edinburgh Castle is the gothic Witchery, fine dining in a unique setting that everyone should experience. More modern and quirky in feel, The Bon Vivant, tucked away on narrow Thistle Street, offers innovative small plates.
Glasgow is the king of late-night foods and there is no excuse for any visitor to go to bed hungry. Try 1 am steaks at Porter and Rye, lively Arta tapas, or a 4 am feed at Steak and Cherry.
For fine bistro dining until 10:30 pm in Aberdeen, Café Boheme is the first place worth stepping into. For later eaters, The Tippling House serves high-quality food until midnight in the week or 3 am at weekends.
Entertainment
Eating, dancing, and drinking are big parts of Scotland's nightlife but there is also so much more to experience. Theatre, live music, and comedy can be found everywhere you turn in the vibrant cities of this art-loving nation.
Glasgow has long been the epicentre of Scotland's music scene, birthing artists such as Primal Scream, Franz Ferdinand, and Travis. Incredible venues like King Tut's Wah Wah Hut and the Barrowland Ballroom bring live music to the city every night.
For laugh lovers, the famous Stand Comedy Club has central venues in both Glasgow and Edinburgh with regular famous performers. The newer Monkey Barrel on Edinburgh's Blair Street hill is a nightly showcase for newer acts with many celebrity surprises.
In Glasgow, the Theatre Royal and King's Theatre are the most prestigious of over 20 regular performances spaces. Edinburgh, on the other hand, backs up its August festivals with the Playhouse, the Lyceum, the Traverse, and more.
Of course, no destination's entertainment is complete without offering the more interactive thrill of the casino for visitors and residents. Alea in Glasgow is the biggest casino in Scotland offering a little of Las Vegas for up to 1800 guests.
Also in Glasgow, for a different feel, are the Grosvenor Riverboat Casino and the more intimate Casina at the Corinthian. Those looking for a spectacular setting could do much worse than the Soul Casino inside an old Aberdeen church.
Never Ending Choices
All this is just scratching the surface of what Scotland has to offer after sunset. From its vibrant cities to its postcard villages there is no end to the nighttime fun which can be found.
Huge annual festivals take place in Edinburgh in August which multiply the evening options for visitors tenfold. Similarly, Hogmanay celebrations across Scotland bring New Year's Eve experiences that can be found nowhere else on earth.
So, if you're planning to visit Scotland, at any time, take our advice and book an extra few nights!