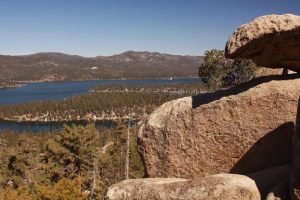 BIG BEAR LAKE, Calif./ August 20, 2014 –Big Bear Jeep Experience is a new adventure that gives its customers the opportunity to get behind the wheel of a fully equipped, high-performance Jeep Wrangler JK and drive it off road on rugged terrain into the backwoods. It's a far-from-ordinary off-road tour because the customer gets to experience firsthand what it's like to steer a 4×4 Jeep over rocks and boulders. Big Bear Jeep Experience provides two Jeeps for the excursion. The lead Jeep is driven by a skilled four-wheel drive expert who guides the driver of the other Jeep over various terrains throughout the trip.
Big Bear Jeep Experience offers a variety of off-road excursions to choose from. There are off-road trails for every skill level such as the Holcomb Valley West to East Ride or the Kid-Friendly Mining Experience for first-time drivers, to more advanced terrain for experienced 4×4 enthusiasts who want to experience crawling over rocks on black diamond trails such as the Gold Mountain Trail or John Bull Trail. Many of the trails will include a large variety of surface conditions from sand and timber to large boulders and rocky drop-offs.
"Every one of my clients has been amazed at what they've been able accomplish, especially those who drive over obstacles for the first time," said Big Bear Jeep Experience Owner and Operator Desi Hauer. "For many people this is an once-in-a-lifetime experience. In a way it's comparable to renting a Ferrari for the day or driving a race car around a NASCAR track. It's about the thrill of doing something most people can only dream of."
Each Jeep is fully equipped with a four-inch Teraflex suspension lift, 35" off-road tires, sway bar quick disconnect system, winches and front and rear lockers. The Jeeps are air conditioned and each Jeep is equipped with a two-way VHF radio providing convenient communication with the guide.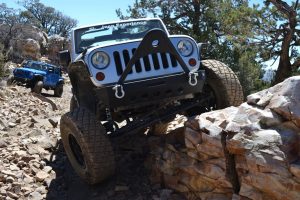 The meeting location for all trips is at the Big Bear Jeep Experience office, located at 42011 Big Bear Blvd. At the office, participating drivers and passengers are instructed on what to expect and drivers are given a driver's orientation. Each driver will learn basic operations of the Jeep including the lockers and two-way VHF radio. Each excursion leaves from the office to the off-road trails in and around Big Bear or to the neighboring Johnson Valley in the Mojave Desert. Once the Jeeps arrive at the trailhead, the guide instructs the driver how to disconnect the sway bar to get the Jeep trail ready. The next step is for the driver to learn how to approach and maneuver over small obstacles. Once the guide deems that the driver understands the nucleus of driving a four-wheel drive vehicle, the tour progresses, and so does the size of obstacles. Throughout the trip the guide regularly gets out of his vehicle to give direction and helps plot the course for the driver. Also, the guide is well-versed in Big Bear historic facts and local flora and fauna, which becomes part of the overall experience.
Big Bear Jeep Experience offers up to 12 different routes to choose from including beginner, intermediate and advanced trails. The minimum age to drive a Jeep is 23 or 19 with a parent on board. Each driver must have at least three years of driving experience. There are no age requirements for passengers. Trips range in length from one and a half hours to five hours. Customized trips are available by request including overnight excursions to Johnson Valley. Big Bear Jeep Experience is open for business seven days a week, all year round.
The cost is per vehicle (not per person). Rates are $150 per hour, per vehicle or $550 per four-hour half day, per vehicle (Some tours have pre-determined times, and the customer only pays for the time that the tour is estimated to take). The guide's Jeep accommodates up to four passengers and the follow Jeep accommodates up to five people, which includes the driver. All trips are done by appointment. To book a trip with Big Bear Jeep Experience call 909-420-5828 or visit online at www.BigBearJeepExperience.com.
For all there is to see and do in Big Bear, make lodging reservations or request a free Visitors Guide log on to www.bigbear.com or call 800-424-4232
https://www.davestravelcorner.com/av/big-bear-jeep.mov
About Dave's Travel Corner

Dave's Travel Corner is a travel content, resource provider and community (founded 1996) providing travel
Guides
written about Dave's personal travel experiences and
Journals
, pages that contain trip summaries and experiences written by fellow travelers. We spotlight locations and attractions with an article linked directly from our homepage including content across our blog, photo and video galleries. We use a combination of social media, written content, photography and videos to promote locations. Not only does the content appear on this site but we have direct partnerships with other well visited travel sites for placement of the content. Since 1996, we have also established hundreds of relevant link exchanges with other travel sites.
Visitors to Dave's Travel Corner will also find thousands of travel related links organized by categories on the
Resources Page
, a
Photo Gallery
containing International travel photos,
Book Reviews
, and
Product Reviews
focusing on products useful for travelers, fully automated
Forums
,
Tour Bookings
offering over 4400 unique tours around the globe,
Interviews
with those making news in the travel industry and
Videos
- specializing in International travel videos as well as home of the
Dave & Jim Show
.
Dave's own travel blog is
Above the Clouds
which focuses on International Travel & Lifestyle.
For information on advertising please choose from a variety of
advertising options here
.
Contributors are welcome

Learn how you can contribute
About

www.davestravelcorner.com/about