10, 9, ignition sequence start,6, 5, 4, 3, 2, 1, zero. All engines running. Liftoff! We have a liftoff! Thirty-two minutes past the hour. Liftoff on Apollo 11!'"
–Jack King, NASA Chief of Public Information, July 16, 1969
'Liftoff! We have liftoff!'
CAPE CANAVERAL – KENNEDY SPACE CENTER – The countdown is on! This July will mark 50 years since the historic Apollo 11 mission launched for its journey to the Moon from LC-39 at Kennedy Space Center. Visitors from around the globe will be able to relive the experience and more at Kennedy Space Center Visitor Complex, through a series of events and celebrations designed to commemorate the anniversaries of the launch, journey and landing.
The Apollo/Saturn V Center, offering an exploration of the Apollo Program from the days leading up to the first launch to the Moon landings that followed, will unveil new upgrades, exhibits and experiences on July 15. Guests will immerse themselves in the stories and history that describe the moments that changed the future of space exploration forever, all surrounding an actual Saturn V rocket. Enhancements include a closer look at Lunar Module 9, projection mapping on the side of the Saturn V rocket, a 1969 period living room and bar scene that recreate what it was like to watch the Moon landing, a Moon Tree Garden made up of trees grown from seeds that orbited the Moon, a Fisher Space Pen legacy display, a closer look at the Command and Service Module 119, and more. The Apollo/Saturn V Center remains open during these updates, but guests may be subject to Moon dust during the process.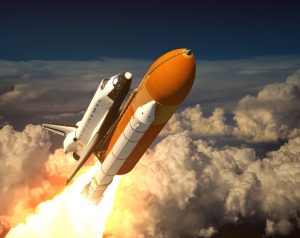 On July 16 at exactly 9:32 a.m., guests will be able to relive the excitement of watching Apollo 11 lift off. A "flashback" event will take visitors through the launch sequence in real time by showcasing original footage at the Banana Creek viewing area, which offers an amazing view of the launch pad that Apollo 11 lifted off from 50 years ago. Before and after, guests will enjoy breakfast and other refreshments, have the chance to experience the Apollo/Saturn V Center, and be enlightened by expert commentary, astronaut interviews and more.
During a special "Moon Landing" event on July 20, Kennedy Space Center Visitor Complex will honor the Moon landing and the moment that Neil Armstrong took his first steps on the Moon 50 years ago.
After completing the monumental Apollo 11 mission, Neil Armstrong, Buzz Aldrin and Michael Collins safely splashed back into the Pacific Ocean on July 24, 1969. As the final anniversary event in the timeline of the mission, Kennedy Space Center Visitor Complex will host "Splashdown" in the Rocket Garden on July 24.
At a glance:
July 15: Apollo/Saturn V Center Transformation Celebration
July 16: Relive the excitement of watching Apollo 11 lift off through the launch sequence replayed in real time.
July 20: Moon Landing – Join Kennedy Space Center Visitor Complex in honoring the unprecedented moment not only experienced by Neil Armstrong and Buzz Aldrin, but the entire world.
July 24: A welcome home celebration exactly 50 years later to the date that Neil Armstrong, Buzz Aldrin and Michael Collins safely splashed back into the Pacific Ocean.
Kennedy Space Center Visitor Complex brings to life the epic story of the U.S. space program, offering a full day or more of fun, inspiration and educational activities. This includes the Apollo/Saturn V Center, which features an actual Saturn V Moon rocket, and is currently being upgraded and expanded in celebration of the 50th anniversary of the Apollo 11 launch and Moon landing. Also included with admission are Heroes & Legends, featuring the U.S. Astronaut Hall of Fame®, presented by Boeing, the Kennedy Space Center Bus Tour, Space Shuttle Atlantis®, Shuttle Launch Experience®, IMAX® A Beautiful Planet 3D and Journey To Space 3D films, Astronaut Encounter, Journey To Mars: Explorers Wanted, Science on a Sphere®, and the Rocket Garden. Add-on experiences available for an additional fee include the new Astronaut Training Experience® Exploring with Lockheed Martin, Cosmic Quest®, Dine With An Astronaut and special interest bus tours. Only 45 minutes from Orlando, Fla., Kennedy Space Center Visitor Complex opens daily at 9 a.m. with closing times varying by season. Admission is $57 + tax for adults and $47 + tax for children ages 3 – 11. Kennedy Space Center Visitor Complex offers annual passes starting at $82 + tax for adults and $67 + tax for children ages 3 – 11. For more information, call 877-313-2610 or visit www.KennedySpaceCenter.com.
Twitter: @ExploreSpaceKSC
facebook.com/KennedySpaceCenterVisitorComplex
#LookUp
About Dave's Travel Corner

Dave's Travel Corner is a travel content, resource provider and community (founded 1996) providing travel
Guides
written about Dave's personal travel experiences and
Journals
, pages that contain trip summaries and experiences written by fellow travelers. We spotlight locations and attractions with an article linked directly from our homepage including content across our blog, photo and video galleries. We use a combination of social media, written content, photography and videos to promote locations. Not only does the content appear on this site but we have direct partnerships with other well visited travel sites for placement of the content. Since 1996, we have also established hundreds of relevant link exchanges with other travel sites.
Visitors to Dave's Travel Corner will also find thousands of travel related links organized by categories on the
Resources Page
, a
Photo Gallery
containing International travel photos,
Book Reviews
, and
Product Reviews
focusing on products useful for travelers, fully automated
Forums
,
Tour Bookings
offering over 4400 unique tours around the globe,
Interviews
with those making news in the travel industry and
Videos
- specializing in International travel videos as well as home of the
Dave & Jim Show
.
Dave's own travel blog is
Above the Clouds
which focuses on International Travel & Lifestyle.
For information on advertising please choose from a variety of
advertising options here
.
Contributors are welcome

Learn how you can contribute
About

www.davestravelcorner.com/about