Jerk Trail and Jerk Festival Offer Visitors Unique Ways to Sample Island Spice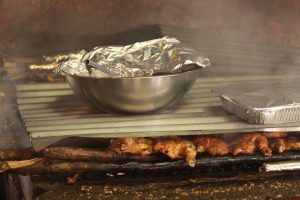 KINGSTON, JAMAICA (June 11, 2013) – Jamaica is known for several distinct flavors, but jerk truly sets it apart. Jamaican jerk is world famous and can now be found in cities across the globe. But the best place to taste it is always at the source.
Jerk is a style of cooking (native to Jamaica), in which meats are rubbed with a spice rub made from allspice (pimento), cinnamon, peppers, onion, thyme and garlic and marinated for hours before cooking. After marinating, the meat is placed on raised platforms of pimento wood over hot coals to slowly roast for hours.
Jerk had its genesis in the hilly interior of the island. The Maroons (freed slaves who settled in the mountains) devised this cooking method to preserve meats. Today, jerk is found in a multitude of forms: from the traditional jerk pork or chicken to jerk sausage or jerk lobster and crab. You can even find jerk ackee (Jamaica's national fruit) or tofu at some restaurants.
There are dozens of restaurants and cook shops across the island that either specialize in jerk cuisine or include it on their daily menu. However, if you want to participate in the jerk experience, here are some options:
Jerk Trail:
The jerk trail was created to assist visitors with navigating the island's many jerk stops, from favorite roadside stands to more traditional restaurants. This island-wide culinary tour is self-guided and includes 22 spicy stops from Negril at the western tip of the island to Port Antonio in the east.
Portland Jerk Festival:
The parish of Portland is the birthplace of jerk, which makes the Portland Jerk Festival the best way to celebrate this spicy food in its many forms.
Now in its 14th year, this year's festival is scheduled for July 7 at the Folly Ruins in Port Antonio. In addition to the culinary side, Jamaican music and entertainment for kids are also featured.
Boston Bay: Jerk Capital of Jamaica
Located in the parish of Portland, Boston Bay is where jerk first became popular. Year-round, Boston Bay and the surrounding roads are lined with a variety of jerk stalls. A visit here is a great way to rub shoulders with locals and grab a picnic before heading down to the beach.
For more information on events in Jamaica or to book a vacation, go to visitjamaica.com or speak to your local travel specialist.
About Jamaica Tourist Board
The Jamaica Tourist Board (JTB), founded in 1955, is Jamaica's national tourism agency based in the capital city of Kingston. The JTB was declared the Caribbean's Leading Tourist Board by the World Travel Awards (WTA) from 2006 to 2012. Also in 2012, Jamaica earned the WTA's vote for the World's Leading Cruise Destination, Caribbean's Leading Destination and Caribbean's Leading Cruise Destination for the sixth consecutive year. Additionally, the Historic Falmouth Cruise Port was recognized as the World's Leading Tourism Development Project for the second year, while Ocho Rios was named the Caribbean's Leading Cruise Port, Sangster International Airport was voted the Caribbean's Leading Airport and Montego Bay Convention Centre named Caribbean's Leading Meetings & Conference Centre. The destination also received recognition as the World's Most Romantic Destination and Caribbean's Leading Sports Tourism Destination.
JTB offices are located in Kingston, Montego Bay, Miami, Toronto and London. Representative offices are located in Düsseldorf, Barcelona, Rome, Amsterdam and Tokyo.
For details on upcoming special events, attractions and accommodations in Jamaica go to the JTB's Web site at www.visitjamaica.com, or call the Jamaica Tourist Board at 1-800-JAMAICA (1-800-526-2422). Follow the JTB on Facebook at www.facebook.com/visitjamaica, on Twitter at www.twitter.com/visitjamaicanow
About Dave's Travel Corner

Dave's Travel Corner is a travel content, resource provider and community (founded 1996) providing travel
Guides
written about Dave's personal travel experiences and
Journals
, pages that contain trip summaries and experiences written by fellow travelers. We spotlight locations and attractions with an article linked directly from our homepage including content across our blog, photo and video galleries. We use a combination of social media, written content, photography and videos to promote locations. Not only does the content appear on this site but we have direct partnerships with other well visited travel sites for placement of the content. Since 1996, we have also established hundreds of relevant link exchanges with other travel sites.
Visitors to Dave's Travel Corner will also find thousands of travel related links organized by categories on the
Resources Page
, a
Photo Gallery
containing International travel photos,
Book Reviews
, and
Product Reviews
focusing on products useful for travelers, fully automated
Forums
,
Tour Bookings
offering over 4400 unique tours around the globe,
Interviews
with those making news in the travel industry and
Videos
- specializing in International travel videos as well as home of the
Dave & Jim Show
.
Dave's own travel blog is
Above the Clouds
which focuses on International Travel & Lifestyle.
For information on advertising please choose from a variety of
advertising options here
.
Contributors are welcome

Learn how you can contribute
About

www.davestravelcorner.com/about