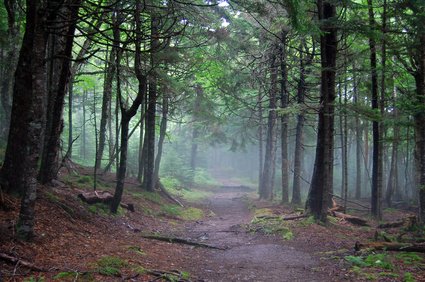 Ancient Portage Trails Restored; New Package Along Fundy Footpath;
Tracking Wildlife Along the Miramichi River
NEW BRUNSWICK, Atlantic Canada, February 10, 2015 – Next year, visitors to New Brunswick will have the chance to explore more of this Atlantic Canadian province's pristine interior with
the opening of ancient portage trails that have been restored and via a new trekking package along the Fundy Footpath.
Forests of spruce and fir and stands of poplar and maple cover 15 million acres, or 83 percent of the province. Eighty four thousand deer, 30,000 moose and 16,000 black bear meander through the woods. At one time within its forested landscape, New Brunswick was crisscrossed with more than 80 ancient portage trails originally used by the Mi'kmaq and the Maliseet.
Dedicated volunteers from Canoe Kayak New Brunswick (CKNB) with a passion for understanding the province's history, have spent the last six and a half years restoring six of these ancient trails. Last summer to celebrate the restoration, teams of paddlers traveled a 500-mile circular canoe route using only three of these newly-refurbished routes.
Thousands of years before roads, New Brunswick's rivers and coastal waterways were the "highways." Many of these ancient portage trails served as bridges between the province's extensive waterways allowing ease of travel. Some portage trails also allowed aboriginal peoples to travel safely by bypassing rapids and other dangerous waterways and by avoiding rough seas along the coast.
"These portage trails represent a link between peoples and cultures across time," said Tim Humes, co-leader of the CKNB project. "Through the restoration of these six
historically-important trails, we wanted to honor the aboriginal peoples, highlight provincial history and underscore the importance of proper stewardship of our waterways and forests through effective environmental practices," Humes explained.
Today, when travel is so easy, the portage trails illustrate the difficulties the aboriginal peoples and early settlers overcame to move around the province.
One of the ancient portage trails, the McKay Brook-Gordon Meadow Brook Portage, allows passage to Metepenagiag, an important Mi'kmaq archaeological site, via several waterways. Here, the Augustine Mound is a cemetery that dates back to 600 B.C. and the Oxbow, now a National Historic Site, is the largest prehistoric village ever found in the Maritimes. Once a vibrant and thriving fishing community, Oxbow encompassed villages, food storage cellars, almost 100 ancient campsites and cemeteries and provides a unique cultural record of a flourishing Mi'kmaq community that has endured for 3,000 years.
New Brunswick lies on the Bay of Fundy, one of the world's natural wonders. The Bay has the world's highest tides at up to 50 feet high and is home to 12 species of whale, including the endangered North Atlantic Right Whale. A challenging wilderness trail, The Fundy Footpath is a unique 30-mile section of the Trans Canada Trail, a country-wide network stretching from the Atlantic to the Pacific. Hugging the cliff tops above the Bay of Fundy, the Footpath winds along one of the last remaining coastal wilderness areas between Florida and Labrador. World Expeditions is offering an eight-day "Bay of Fundy Trek" with a professional wilderness guide that takes hikers up and down a series of 330- to 985-foot cliffs and across creeks and tidal crossings. Ordinarily hikers would have to carry a full pack, but Great Canadian Trails, a division of World Expeditions, will arrange daily luggage transfers to each beach-side campsite. On the first day, the trek starts at the renowned Hopewell Rocks, sometimes referred to as "flowerpots" and continues along the coast to the 129-acre Fundy National Park.
Also new in 2015, Rapid Waters Camp is offering a three-day "Retreat to Nature." An experienced guide will lead travelers into the woods to learn how to track and identify local wildlife including moose, bear, fox and eagle. They will stay in a rustic lodge made of logs next to the Miramichi River. When they are not tracking moose, they can swim, canoe and immerse themselves in nature.
For information about the province, go to New Brunswick Tourism or call 1-800-561-0123.
About the Atlantic Canada Tourism Partnership
This project has been made possible through funding provided by the Atlantic Canada Tourism Partnership (ACTP). ACTP is a nine member pan-Atlantic partnership comprised of the Atlantic Canada Opportunities Agency, the four Atlantic Canada Tourism industry Associations and the four Provincial Departments responsible for tourism. For further information about the other three provinces, contact your travel provider or go to, Newfoundland and Labrador (1-800-563-NFLD), Nova Scotia (1-800-565-0000) and Prince Edward Island (1-800-463-4PEI).
About Dave's Travel Corner

Dave's Travel Corner is a travel content, resource provider and community (founded 1996) providing travel
Guides
written about Dave's personal travel experiences and
Journals
, pages that contain trip summaries and experiences written by fellow travelers. We spotlight locations and attractions with an article linked directly from our homepage including content across our blog, photo and video galleries. We use a combination of social media, written content, photography and videos to promote locations. Not only does the content appear on this site but we have direct partnerships with other well visited travel sites for placement of the content. Since 1996, we have also established hundreds of relevant link exchanges with other travel sites.
Visitors to Dave's Travel Corner will also find thousands of travel related links organized by categories on the
Resources Page
, a
Photo Gallery
containing International travel photos,
Book Reviews
, and
Product Reviews
focusing on products useful for travelers, fully automated
Forums
,
Tour Bookings
offering over 4400 unique tours around the globe,
Interviews
with those making news in the travel industry and
Videos
- specializing in International travel videos as well as home of the
Dave & Jim Show
.
Dave's own travel blog is
Above the Clouds
which focuses on International Travel & Lifestyle.
For information on advertising please choose from a variety of
advertising options here
.
Contributors are welcome

Learn how you can contribute
About

www.davestravelcorner.com/about