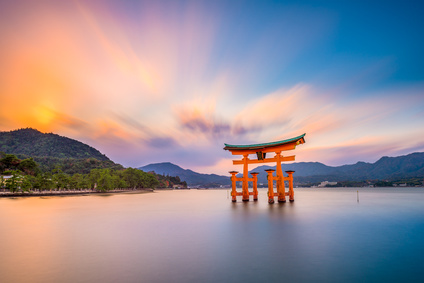 (June 1, 2010) Hiroshima City is located in Western Japan. It is easily accessible via rail (Shinkansen, JR), air and highway network. It fronts the Seto Inland Sea which is famous for beautiful sight of many islands surrounded by calm sea. Hiroshima city is also referred to as the 'City of Water' for six beautiful rivers running through it. There are number of sightseeing spots, such as two World Heritage Sites (Atomic Bomb Dome and Itsukushima Shrine in spectacular Miyajima), and Peace Memorial Park. This is the most up-to-date information about Hiroshima.
Sightseeing guide maps are available for download from the website below.
Basic Information
Signature craftworks
In Hiroshima, traditional craftmaking have flourished since the olden time. The art of craft making in Hiroshima survived the atomic bomb and it has been inherited to modern artists. We recommend you to enjoy admiring and touching signature craftworks made by traditional craftspeople.
Kumano brushes
In Kumano town, bordered on the west by Hiroshima City, brush industry was established in 1830's. Kumano town produces 80 percent of Japanese brush. Not only traditional calligraphy-brushes but also painting brushes and cosmetic brushes are produced by blending various animal's hair depending on the intended use. Especially cosmetic brushes are applauded globally. Famous cosmetics makers and top artists in and out of Japan are using Kumano Brushes. Some of the artists work in Hollywood also use them. STUDIO GHIBLI, which is famous for its animation film such as 'spirited away (Sen to chihiro no kamikakushi)' and 'Princess Mononoke (Mononoke hime)', is also using Kumano brush when making films. In Kumano town, there is a museum on the subject of brush, called 'Fudenosato kobo'. In this museum, you can study the history of brush making and related culture, admire works of brush painting, and buy various brushes.
Miyajima craftwork
Without disturbing warm wooden feature, artisans make artworks such as tray, vessel for confectioneries, tea utensil etc. The most attractive feature of those crafts is that their beauty only increases along the usage. It has roots in techniques of carpenters who reconstruct Itsukushima shrine. There are two kinds of Miyajima craftwork, Lathe craftwork which bring out the grains -and the true beauty- in wooden items, and wood engraving which has elaborate carvings. Both of them are said to have started in 1800's. When strolling in Miyajima island, you can find many shops in which you can look at and buy various Miyajima craftworks both big piece and affordable works.
Miyajima Sand Pottery
Long ago, travelers carried sand taken from underneath the main hall of Itsukushima Shrine as a charm to protect them on their travels. They used to return the sand upon their safe home coming. From this practice it became a trend to add such sacred sand into pottery. Various idyllic and warm works are produced, such as cups and vases. There are two potteries that produce Miyajima Sand Potteries in the traditional methods, and sell them at their shops located between Miyajimaguchi Pier and JR Miyajimaguchi station.
Takamorie
The "Takamorie" style is exceedingly rare among all the Japanese lacquering techniques. It utilizes colored lacquers to create vibrant raised layers. A special feature of "Takamorie" is used to create an expression of picturesque softness and sculpted layers within the same work. These techniques and the pseudonym, Kinjoikkokusai, are passed down to only one successor each generation. At present, the seventh Kinjoikkokusai produces Takamorie. Unfortunately, they are not available in the market. You can appreciate the works of former Kinjoikkokusai at Hiroshima Prefectural Art Museum.
Takamorie Gallery
Kagura(ceremonial dances of Shintoism)
Kagura is a Japanese traditional agricultural rite which is undertaken to thank for blessings of nature. It's performers wear decorative kimonos and masks. Dancing to the tune of flute and drum, they show the story such as 'Yamata no Orochi(A big snake with eight heads)', one prince beat a big snake who oppresses ordinary people and help them on his wondering journey. Kagura's artistic and dramatic quality is highly appreciated. Kagura is prospering in Hiroshima, it is often presented in various events or festivals. In 'Kagura Monzen Toji-mura', located 1 hour north by car from Hiroshima city, there are regularly-scheduled performances for visitors to enjoy Kagura. They also have a hot-spring, restaurants, and hotel facilities.
Kagura performance in 'Kagura Monzen Toji-mura'
Apr. – Nov. Sunday and National holiday 12:30- and 14:30- 700Yen/adult
Jun. – top of Sep. Saturday 20:00- 700Yen/adult
Animation, Manga(comic)
Hiroshima City focuses on promotion of one of the contemporary culture, Animation/Manga. Besides holding International Animation Festival every other year, Hiroshima City established permanent space where visitors can see animation films and read comics.
The Hiroshima City Cinematographic and Audio-Visual Library is located at the south of Central Park. As the first local government specialty of this kind, it collects and stores movie films, videotapes, records, cassette tapes, and compact discs. It also stores many animated programs. If you love to watch Japanese animated programs in your country, how about watching the original version of the programs here? You can watch the programs on video equipment.(100Yen / 30minutes)
Open hours 10:00 a.m. – 8:00 a.m.
(Sunday, National Holiday, August 6th : 10:00 a.m.-5:00 p.m.)
Closed -Monday(Excluding August 6th.)(Open when Monday falls on a national holiday)
    -Days following national holidays.
-December 29 – January 4
'Hiroshima City Manga Library' is the only public library that specialize in comics in Japan, and it is located in Hijiyama park. It stores nearly 100 thousands of comics, and anyone can read them. By registering at the counter, visitors can enjoy reading them under the trees or benches outside the library. It also stores comics translated into foreign languages.
Open hours 10:00 a.m.-5:00 p.m.
Closed -Monday (Excluding August 6th.)(Open when Monday falls on a national holiday)
Days following national holidays.
The last day of the odd months
Year-end and new year
-Seasonal Information ―Summer and Autumn―
The Peace Memorial Ceremony, Lantern Floating (Toro-nagashi)
The Peace Memorial Ceremony is held on August 6 each year, to comfort the souls of the many atomic bomb victims and to pray for lasting world peace. About 50,000 people from both home and abroad attend the ceremony at the Peace Memorial Park and offer a one-minute silent prayer for the victims at 8:15 a.m. Then, the year's Peace Declaration and Commitment to Peace are read by the mayor of Hiroshima and children's representatives respectively. After the ceremony, you can see an endless line of visitors to pray in front of Cenotaph for the A-bomb Victims throughout the day
At Peace Message Lantern Floating (Toro-nagashi), a lantern floating ceremony on that night, some 10,000 colorful lanterns bearing prayerful words for peace are released upon the rivers in the city. Anyone can take part in this event. Your lantern will be floated from a boat by the executive committee of Toro-nagashi. You can float your own lantern by yourself if you like. In both case, applications is accepted from 6 p.m. on that day at reception tents in the Peace Memorial Park. Participation fee is JPY600 per a lantern.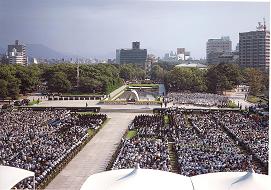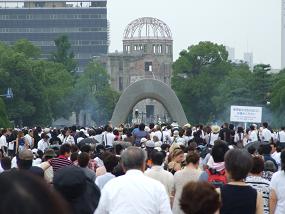 International Animation Festival
International Animation Festival is the event which seeks 'Love and Peace'. Animation arts is the media which transcends national boundaries and language differences. Through the animation arts, International Animation Festival unite the spirit of ASIFA(Association Internationale du Film d'animation), which pursue the peace of humankind, and the spirit of Hiroshima, which seeks everlasting world peace
Because this year is the 25th anniversary of Hiroshima International Animation Festival and the 50th year anniversary of ASIFA, various special program will be held.
* Screening films which won the prize in the past festival(1st to 12th), including films which won or nominated the Academy award.
* Screening 11 outstanding works of Belgian master animation director Raoul Servais, who won the Grand Prix in famous film festivals such as Cannes and Venice.
* Screening films of Japanese master puppet animation director Kihachiro Kawamoto, his talk show and exhibition of puppets and storyboards.
* Screening 4 outstanding works of the Father of Chinese animation Te Wei, who is famous for his ink-wash painting animaion.
* The first screening in Asia of Disney's newest short film 'Tick Tock Tale', and talk show by the director Dean Wellins.
* Screening films of Jimmy T Murakami, known for his works 'When the Wind Blows' and 'The Snowman', and his talk show.
* Screening films of Dutch author Gerrit van Dijk, his talk show and exhibition of photos taken by him.
* Screening films share a sense of humor by Hungarian author Alexey Alekseev.
Date : Aug. 7-11, 2010
Place : Aster plaza (4-17, Kakomachi, Naka-ward, Hiroshima)
International Animation Festival Website
Three biggest festivals in Hiroshima
* Jun. 4-6 Tokasan Festival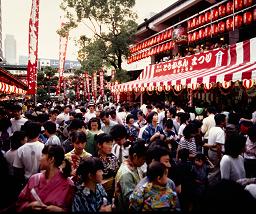 The Tokasan festival, being held in June, marks the beginning of summer in Hiroshima. It has more than 390-years history. The festival attracts about 450,000 people. Chuo street near the Enryuji-temple, site of the festival, is turned into vehicle-free promenade. Not having many festivals in this season in Japan, many street traders from all over the country come to Hiroshima. Both sides of the street is filled with stalls. On Jun. 4 and 5, in Central Square of Shareo Underground Shopping Mall, you can buy Yukata, and staffs help you dress. How about changing into a yukata here and join the festival?
* Jul. 25-26 Sumiyoshi Festival
This is a summer festival which is held at Sumiyoshi shrine, 15-minute walk south across Honkawa-river from the Peace Memorial Park. Visitors can enjoy Japanese atmosphere such as Kagura, Gagaku(Japanese traditional music) performance on ships, classic rowboat, and etc. 'Hitogata nagashi', an event that people transfer their sins onto the dolls and threw them in the river, is also held.
* Nov. 18-20 Ebis Festival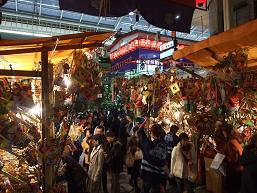 Ebis Festival starts from 1603, when Ebis shrine was built at its current location, the south side of Mitsukoshi department store. It continues more than 400 years, even in the year of Atomic bombing the festival was held.
In time for the festival, shopping street near the shrine starts a sales campaign. It's specialty is 'Komazarae', rake made with bamboo featuring gold coins, a ship full of treasures, Seven Gods of Good Fortune etc.
About Dave's Travel Corner

Dave's Travel Corner is a travel content, resource provider and community (founded 1996) providing travel
Guides
written about Dave's personal travel experiences and
Journals
, pages that contain trip summaries and experiences written by fellow travelers. We spotlight locations and attractions with an article linked directly from our homepage including content across our blog, photo and video galleries. We use a combination of social media, written content, photography and videos to promote locations. Not only does the content appear on this site but we have direct partnerships with other well visited travel sites for placement of the content. Since 1996, we have also established hundreds of relevant link exchanges with other travel sites.
Visitors to Dave's Travel Corner will also find thousands of travel related links organized by categories on the
Resources Page
, a
Photo Gallery
containing International travel photos,
Book Reviews
, and
Product Reviews
focusing on products useful for travelers, fully automated
Forums
,
Tour Bookings
offering over 4400 unique tours around the globe,
Interviews
with those making news in the travel industry and
Videos
- specializing in International travel videos as well as home of the
Dave & Jim Show
.
Dave's own travel blog is
Above the Clouds
which focuses on International Travel & Lifestyle.
For information on advertising please choose from a variety of
advertising options here
.
Contributors are welcome

Learn how you can contribute
About

www.davestravelcorner.com/about