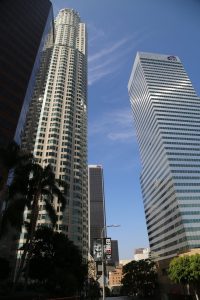 WHAT: The first publication in fifty years of lost 3-D color photographs of the historic Bunker Hill neighborhood taken by vaudeville star George Mann in the 1950s and 1960s
WHERE: www.onbunkerhill.org/georgemann
LOS ANGELES- The lost Victorian neighborhood of Bunker Hill was demolished fifty years ago in a misguided urban renewal project, but a newly discovered set of incredible color photographs taken shortly before the bulldozers came has local history buffs all a-buzz. They're featured only on L.A.'s time travel blog, On Bunker Hill.
Taken in 1958 and 1962 by former Vaudeville star George Mann (half of the comedy acrobatic dance troupe Barto & Mann) for placement in the 3-D viewing machines he manufactured and distributed to Southland bars and restaurants, the 21 stunning Bunker Hill images include several photographs of the Angels Flight Railway in its original location, iconic Grand Avenue mansions-turned-rooming houses The Richelieu and The Castle, and everyday scenes of Bunker Hill residents combing their cats and enjoying the sunshine against a backdrop of gorgeous Victorian architecture.
George Mann's Bunker Hill photos were discovered in his archives by daughter-in-law Dianne Woods, who says, "I manage the George Mann Archive full time, I love his images — it's personal. When I recently stumbled upon the photographs that George shot of Bunker Hill it was so clear that I had 'something.' I was on the internet looking for a home even before I had them scanned. Kim Cooper's blog On Bunker Hill is, of course, that home. I'm almost never wrong when it comes to the impact of George's photographs, and the Bunker Hill images have been no exception. It is a complete thrill for us, and we know it would have been for George, to contribute this bit of time-travel to the Bunker Hill community."
On Bunker Hill contributor Nathan Marsak (author of "Los Angeles Neon") raves, "Any new collection of Bunker Hill images would be an important find, but the scarcity of color images means historians will see the Hill with fresh eyes. Of course the vibrant beauty and immediacy of Mann's work will lead new folk to the subject, further widening the scope of people who discover Los Angeles's lost acropolis," while Jim Dawson (author of "Los Angeles's Angels Flight") calls them, "A photographic trove of breathtaking new angles of Bunker Hill that brings its Victorian and early twentieth-century neighborhoods alive again."
And John H. Welborne, president of the Angels Flight Railway, notes, "The George Mann color photographs of Bunker Hill, like the colorful 1960s paintings by Leo Politi, record a now-lost neighborhood of classic architecture and diverse and interesting residents. In the post-1980s world, so many of these buildings and people would not have become the victims of 'urban renewal,' as happened in the 1950s and 1960s. Today, the best of the past more often can be incorporated into 'redevelopment.' But our original — and real — Bunker Hill is gone. Today, the little Angels Flight Railway, also well depicted by George Mann in his photographs, is all that remains."
To see George Mann's rediscovered Bunker Hill photographs and learn about his fascinating career that took him and his diminutive sidekick Dewey Barto (real-life pop of TV's "Rhoda's" mom Nancy Walker) from the stages of west coast vaudeville to the Great White Way, including a featured place in the smash show "Hellzapoppin'" and rare film of their act, visit the On Bunker Hill blog at http://onbunkerhill.org/georgemann
Also featured in the blog post are film noir-style photographs of George Mann's model bride Barbara Bradford, and links to Mann's collection of historic theatre marquee photographs (many featuring his name) and stunning photos taken all across mid-century America and Europe.
ABOUT BUNKER HILL and the ON BUNKER HILL blog: Bunker Hill in the 1870s was early Los Angeles' most distinguished address, an enclave of grand Victorians, gorgeous gardens and clear-skied views out to Catalina and beyond. By the 1910s the wealthy had moved on, and the Hill's mansions became rooming houses. Up on the Hill, life moved at a different pace. Writers Raymond Chandler, John Fante and Charles Bukowski came and were captivated by the place. Painters Leo Politi, Kay Martin and Millard Sheets made its rotting hotels and sad-eyed residents the subject of their art. And down at City Hall, planners schemed about how Bunker Hill could be declared a slum, its old houses pulled down, its people moved along, leaving a blank slate where skyscrapers could grow. By 1970, Bunker Hill was a field of dirt. In 2008, the time travel bloggers of 1947project turned their attention to Bunker Hill. Over a year, the blog grew into a house-by-house survey of the great old downtown residential neighborhood that was demolished to create the high rise district that shares its name, but none of its charms. The blog's contributors, including authors, historians, librarians and tour guides, delved deep into historic archives to uncover the most fascinating tales of more than a century of life on Bunker Hill. 1947project is the brainchild of Kim Cooper, pop music historian ("Bubblegum Music is the Naked Truth"), tour guide (Esotouric bus adventures) and preservation activist (Save the 76 Ball). She was joined ON BUNKER HILL by author Nathan Marsak, LAPL history librarian Mary McCoy, Esotouric's Joan Renner, LAPL photo collections manager Christina Rice, Esotouric's Richard Schave and author John Toomey.
For more info about ON BUNKER HILL, please visit www.onbunkerhill.org
Explore Lost Downtown Los Angeles on these upcoming Esotouric bus adventures: Hotel Horrors & Main Street Vice (June 12, September 11); Raymond Chandler's Los Angeles (July 10); The Lowdown on Downtown (August 28); The Real Black Dahlia (September 25). More info at www.esotouric.com
On Bunker Hill founder Kim Cooper and the blog's contributors including Nathan Marsak are available for interviews, as is historian Jim Dawson, John H. Welborne of Angels Flight Railway, and George Mann's archivist daughter-in-law Dianne Woods and his son Brad Smith. To schedule interviews, contact Kim Cooper, amscray@gmail.com, 323-223-2767.
About Dave's Travel Corner

Dave's Travel Corner is a travel content, resource provider and community (founded 1996) providing travel
Guides
written about Dave's personal travel experiences and
Journals
, pages that contain trip summaries and experiences written by fellow travelers. We spotlight locations and attractions with an article linked directly from our homepage including content across our blog, photo and video galleries. We use a combination of social media, written content, photography and videos to promote locations. Not only does the content appear on this site but we have direct partnerships with other well visited travel sites for placement of the content. Since 1996, we have also established hundreds of relevant link exchanges with other travel sites.
Visitors to Dave's Travel Corner will also find thousands of travel related links organized by categories on the
Resources Page
, a
Photo Gallery
containing International travel photos,
Book Reviews
, and
Product Reviews
focusing on products useful for travelers, fully automated
Forums
,
Tour Bookings
offering over 4400 unique tours around the globe,
Interviews
with those making news in the travel industry and
Videos
- specializing in International travel videos as well as home of the
Dave & Jim Show
.
Dave's own travel blog is
Above the Clouds
which focuses on International Travel & Lifestyle.
For information on advertising please choose from a variety of
advertising options here
.
Contributors are welcome

Learn how you can contribute
About

www.davestravelcorner.com/about