The World's Largest Most Intense 3-D Experience, Opens At Universal Studios Hollywood, The Entertainment Capital of L.A.SM With 3D Press Briefing by Peter Jackson and Star-Studded Premiere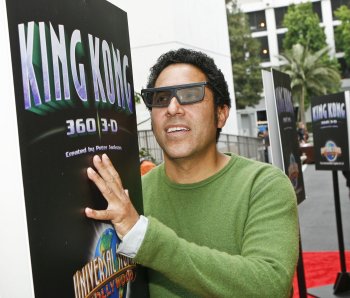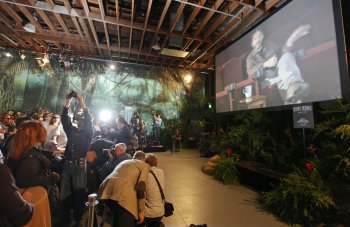 Universal City, CA — 'King Kong 360 3-D' created by Peter Jackson, the world's largest most intense 3D experience, made its debut today on the famed Universal Studios HollywoodSM Studio Tour, combining a ground-breaking use of Surround Digital 3D film and thrilling visceral effects to create a next-generation theme park experience.
The world premiere of the attraction featured a star-studded guest list and an innovative '3D press briefing' by the attraction's creator, Peter Jackson. 'King Kong 360 3-D' is the first theme park attraction to be directed by the three-time Oscar-winning storyteller and filmmaker.
In the new attraction, guests aboard Studio Tour trams are given special 3-D glasses as they enter an enormous soundstage larger than a football field. Once inside, the trams are enveloped within enormous screens, their size equaling an area equivalent to 16 conventional movie screens and rest atop steel platens that provide a powerful motion base. Via the magic of Surround Digital 3D projection, guests are transported deep into a tangled jungle location. There, they survive a close encounter with a swarm of hungry raptors, only to be confronted by the terrifying presence of 35′ tall dinosaurs. Suddenly, the 25′ tall Kong gorilla appears. The trams roll and shudder as the guests find themselves caught in the middle of a titanic struggle between the great ape and carnivorous reptiles.
The enormous scale and the cutting edge technology employed by the designers elevate the powerful, iconic storyline to a new level. The vivid realism of the 3D immersion and the synchronized motion of the tram combine to produce a sense of immersion without precedent in a theme park attraction.
Peter Jackson, director of the Oscar-winning 2005 Universal Pictures film upon which the attraction is based, said: "As a filmmaker, you're hoping to have the audience step inside your movie and become part of the experience to create the illusion of reality in a way that is much more tactile and profound than can be done in the cinema environment of a normal theatre. The new `King Kong 360 3D' at Universal Studios Hollywood provided us with a unique opportunity to really push film and theme park technology to create that illusion. Our intention was to create a spectacular and immersive 3D experience and we're confident that we've achieved that. King Kong 360 3D is the largest most intense 3D experience on the planet."
Larry Kurzweil, President, Universal Studios Hollywood, said: 'After a two-year absence, King Kong has returned with a vengeance never before seen. Guests from around the world will feel as if they are completely immersed in Peter Jackson's 3D storytelling. King Kong 360-3D is the fight of the century and a highly repeatable breakthrough thrill ride, taking theme park and movie making experiences to an entirely new level.
King Kong, known as 'the eighth wonder of the world,' has been called 'the experience for which movies were invented.' Since first appearing on the screen in the 1933 original classic, 'King Kong' has been re-made twice, each time on a tremendous scale, earning a total of seven Oscar' and three Golden Globe' nominations. Most recently, Peter Jackson's 2005 version took classic elements of the original 'King Kong' story and adrenalized them with up-to-the-minute effects magic and the alchemic talents of a superlative group of filmmakers, cast and crew. Released to critical acclaim in late 2005, 'King Kong' was a worldwide hit.
The arrival of the new 'King Kong 360 3-D' experience coincides with major enhancements to the iconic Studio Tour. The most extensive backlot construction ever in the history of Universal Studios, which includes re-creations of legendary Hollywood sets and the introduction of brand-new shooting locations, was recently completed and the renowned studio will soon buzz with star-studded film and television production as never before
Universal Studios Hollywood is a unit of Universal Parks & Resorts, a division of NBC Universal, one of the world's leading media and entertainment companies in the development, production, and marketing of entertainment, news, and information to a global audience.
About Dave's Travel Corner

Dave's Travel Corner is a travel content, resource provider and community (founded 1996) providing travel
Guides
written about Dave's personal travel experiences and
Journals
, pages that contain trip summaries and experiences written by fellow travelers. We spotlight locations and attractions with an article linked directly from our homepage including content across our blog, photo and video galleries. We use a combination of social media, written content, photography and videos to promote locations. Not only does the content appear on this site but we have direct partnerships with other well visited travel sites for placement of the content. Since 1996, we have also established hundreds of relevant link exchanges with other travel sites.
Visitors to Dave's Travel Corner will also find thousands of travel related links organized by categories on the
Resources Page
, a
Photo Gallery
containing International travel photos,
Book Reviews
, and
Product Reviews
focusing on products useful for travelers, fully automated
Forums
,
Tour Bookings
offering over 4400 unique tours around the globe,
Interviews
with those making news in the travel industry and
Videos
- specializing in International travel videos as well as home of the
Dave & Jim Show
.
Dave's own travel blog is
Above the Clouds
which focuses on International Travel & Lifestyle.
For information on advertising please choose from a variety of
advertising options here
.
Contributors are welcome

Learn how you can contribute
About

www.davestravelcorner.com/about