Pacific Park Launches Its First-Ever Inkie's VIP Pass For The 2010 Season; Now On Sale For A Limited Time
The All-New Inkie's VIP Pass, Named For Pacific Park's Loveable And Fun Octopus Mascot, Also Features A Package Of Specials And Discounts For Family Members And Friends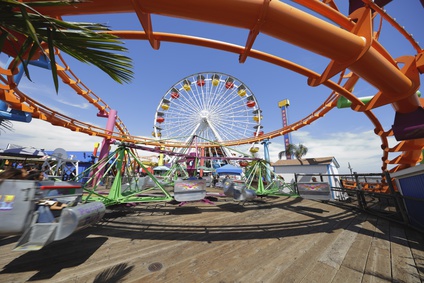 SANTA MONICA, Calif., (March 30, 2010) — Pacific Park has announced the launch of its first-ever Inkie's VIP Pass; now on sale for a limited time or while quantities last. The specially priced Inkie's VIP Pass packages are $125 for ages 7 and under or $175 for ages 8 and over and can be purchased at any Pacific Park ticket booth or on Pacific Park's web site.
The Inkie's VIP Pass package features several exciting specials and discounts along with the unlimited ride wristband that's valid through January 2, 2011, including:
* One unlimited ride wristband for daily personal use. (Valid on full and limited operating days for rides in service. No black out dates)
* Two Free family or friend wristband vouchers. (Wristbands can be used for family members or friends; retail value up to $44)
* Four meal vouchers for use at Pacific Park's oceanfront food plaza.
* Twenty dollars in Game Bucks for use at any of the 21 midway games.
* Twenty percent off any food purchase at Pacific Park's oceanfront food plaza.
* Twenty percent off any merchandise purchase in Pier Gear at Pacific Park.
* Two free ride tickets on the world-famous Santa Monica Pier Carousel.
* Fifteen percent discount on any one birthday party package at Pacific Park.
"The Inkie's VIP Pass is a program that we've wanted to implement for a very long time. The challenge has always been on how to best provide the guest with an exceptional experience in a non-gated venue where the options are a single unlimited ride wristband purchase or on a pay-as-you-go experience," says Jeff Klocke, director of marketing and sales at Pacific Park on the Santa Monica Pier. "We believe we have created a package that offers a variety of items that will far exceed guests value expectations."
Pacific Park on the Santa Monica Pier, LA's only admission-free amusement park, offers 12 amusement rides, 21 midway games and an oceanfront food plaza.
"We have been visiting Pacific Park ever since our daughter, who's now four, was born and have always found the family rides, park atmosphere and beachside setting a great way to spend a day," says Rollin A. Ransom, frequent guest at Pacific Park. "We typically purchase unlimited ride wristbands during our visits, so the new Inkie's VIP Pass package will be a huge benefit for our family. We look forward to taking advantage of all it has to offer right away."
In addition to the all-new Inkie's VIP Pass package, it's also two new rides for tots – and their families – in 2010 at Pacific Park on the Santa Monica Pier. The extremely popular two-acre amusement park is adding Inkie's Pirate Ship and Inkie's Wave Jumper to its roster of family-share rides that also includes Inkie's Air Lift, SIG Alert EV, and Sea Planes.
Also joining the retail mix at Pacific Park this season is Pier Gear Jr. and Pacific Park Gifts and Goodies. Each location offers a unique blend of merchandise with Pier Gear Jr. located in the Kids Area of the Park and features kids beach apparel and accessories along with sundries, which can also be found at the original Pier Gear outlet.
Pacific Park Gifts and Goodies features a wider range of souvenirs, candies and refreshments including the all-new ICEE Mix-It-Up Station that provides guests the opportunity to purchase a 16 ounce cup or 32 ounce cup; to fill up themselves; and to mix and match any of the four tasty flavors including cherry, blueberry, sour apple and lemonade.
Pacific Park on the Santa Monica Pier, LA's only admission free amusement park, offers 12 amusement rides, 21 midway games and an oceanfront food plaza. Signature rides include the Pacific Wheel, the world's first solar-powered Ferris wheel and The West Coaster, a steel roller coaster that races 55 feet above the Santa Monica Bay. For additional information and hours of operation, call (310) 260-8744 or visit www.pacpark.com. To purchase Inkie's VIP Pass online, go to www.pacpark.com.
About Dave's Travel Corner

Dave's Travel Corner is a travel content, resource provider and community (founded 1996) providing travel
Guides
written about Dave's personal travel experiences and
Journals
, pages that contain trip summaries and experiences written by fellow travelers. We spotlight locations and attractions with an article linked directly from our homepage including content across our blog, photo and video galleries. We use a combination of social media, written content, photography and videos to promote locations. Not only does the content appear on this site but we have direct partnerships with other well visited travel sites for placement of the content. Since 1996, we have also established hundreds of relevant link exchanges with other travel sites.
Visitors to Dave's Travel Corner will also find thousands of travel related links organized by categories on the
Resources Page
, a
Photo Gallery
containing International travel photos,
Book Reviews
, and
Product Reviews
focusing on products useful for travelers, fully automated
Forums
,
Tour Bookings
offering over 4400 unique tours around the globe,
Interviews
with those making news in the travel industry and
Videos
- specializing in International travel videos as well as home of the
Dave & Jim Show
.
Dave's own travel blog is
Above the Clouds
which focuses on International Travel & Lifestyle.
For information on advertising please choose from a variety of
advertising options here
.
Contributors are welcome

Learn how you can contribute
About

www.davestravelcorner.com/about