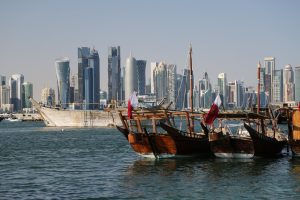 QTA Opens Representative Office in New York
Qatar Tourism Authority (QTA) is extending its global footprint by opening a representative office in New York to cover the USA, one of the Gulf state's fastest growing visitor source markets.
"The number of USA arrivals in 2015 totaled 93,174 and this year, numbers have remained steady with 50,243 visitors as at end June. We are confident that this market has great potential for growth with 11 flights daily from 10 USA gateways and an innovative activities plan in place to build both trade and consumer awareness of Qatar" said Rashed AlQurese, the Chief Marketing & Promotions Officer QTA.
The presence of an office in New York will greatly enhance QTA's on-the-ground presence and capabilities, introducing and developing awareness and knowledge on Qatar as a quality destination through pro-active marketing to tour operators, travel agencies, hospitality partners and media, as well as targeting consumers.
Mr AlQurese explained that, in recent years, Qatar has successfully built on its reputation as a business travel destination by diversifying their approach to attract increasing numbers of leisure tourists as well. Total international visitors have soared by 91% since 2009, with an average annual growth rate of 13.8%, making Qatar one of the fastest growing destinations in the world.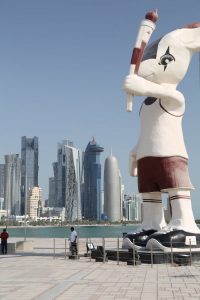 "New economic realities have underscored the importance of developing tourism products in Qatar that can attract and retain leisure visitors, and increase the average length of stay of business visitors," said Rashed AlQurese, Chief Marketing and Promotion Officer. "QTA is actively engaged on many fronts to build a sustainable tourism industry and maintain visitor flow into the country."
Qatar's marketing campaign in the USA will cover a wide range of promotional initiatives, including workshops, sales visits, travel agents' e-learning TAWASH destination training, tour operator partnerships, familiarization trips, media campaigns and a variety of innovative activities targeted towards generating consumer drive.
"Our focus will be on projecting the message that Qatar combines top quality accommodation and superb leisure facilities in a clean and safe environment, together with an authentic taste of traditional Qatar hospitality and a range of cultural experiences unmatched in the region," Mr AlQurese noted.
"Americans are sophisticated, discerning travelers and we believe Qatar to be a destination that will live up to and exceed their highest expectations," he said. "We offer year-round sunshine, spectacular desert scenery, and great facilities for recreation, sports, shopping and dining. But the key attraction is that visitors have the opportunity to savor a new cultural experience while enjoying the highest standards of luxury, exclusivity and elegance."
The USA office is the seventh office location worldwide. It joins an international network currently covering the UK, France, Germany, Italy, the GCC (Gulf Cooperation Council) markets and South East Asia.
About Qatar Tourism Authority (QTA)
Long-recognised by the country's leadership as an avenue to further Qatar's development, tourism has been designated a priority sector by the government. Qatar Tourism Authority's mission is to firmly establish Qatar on the global map as a world-class tourism destination with deep cultural roots. In 2014 QTA launched the Qatar National Tourism Sector Strategy (QNTSS), which seeks to diversify the country's tourism offering and increase the sector's contribution to Qatar's economy by 2030.
QTA works in partnership with public and private stakeholders to achieve this mission by planning, regulating and promoting a sustainable and diverse tourism industry.
As part of its planning efforts, QTA identifies types of tourism products and services that will contribute to the Qatar tourism experience, and works to attract investment for their development.
Regulation efforts involve ensuring tourism sector establishments operate at the highest standards while perpetuating Qatar's culture.
QTA promotes Qatar as a destination around the world, through its destination branding, international representation and participation at trade shows, and by developing a rich calendar of festivals and events. With a growing international presence, QTA's representative offices in London, Paris, Berlin, Milan, Singapore, Istanbul, New York and Riyadh support QTA's promotion efforts.
Since launching QNTSS, Qatar has welcomed over 7 million visitors, and achieved an average annual growth in arrivals of 11.5% between 2010-2015. The economic impact of the tourism sector in Qatar is becoming increasingly visible with 2014 estimates showing a total impact on Qatar's total GDP of 4.1%.
About Dave's Travel Corner

Dave's Travel Corner is a travel content, resource provider and community (founded 1996) providing travel
Guides
written about Dave's personal travel experiences and
Journals
, pages that contain trip summaries and experiences written by fellow travelers. We spotlight locations and attractions with an article linked directly from our homepage including content across our blog, photo and video galleries. We use a combination of social media, written content, photography and videos to promote locations. Not only does the content appear on this site but we have direct partnerships with other well visited travel sites for placement of the content. Since 1996, we have also established hundreds of relevant link exchanges with other travel sites.
Visitors to Dave's Travel Corner will also find thousands of travel related links organized by categories on the
Resources Page
, a
Photo Gallery
containing International travel photos,
Book Reviews
, and
Product Reviews
focusing on products useful for travelers, fully automated
Forums
,
Tour Bookings
offering over 4400 unique tours around the globe,
Interviews
with those making news in the travel industry and
Videos
- specializing in International travel videos as well as home of the
Dave & Jim Show
.
Dave's own travel blog is
Above the Clouds
which focuses on International Travel & Lifestyle.
For information on advertising please choose from a variety of
advertising options here
.
Contributors are welcome

Learn how you can contribute
About

www.davestravelcorner.com/about