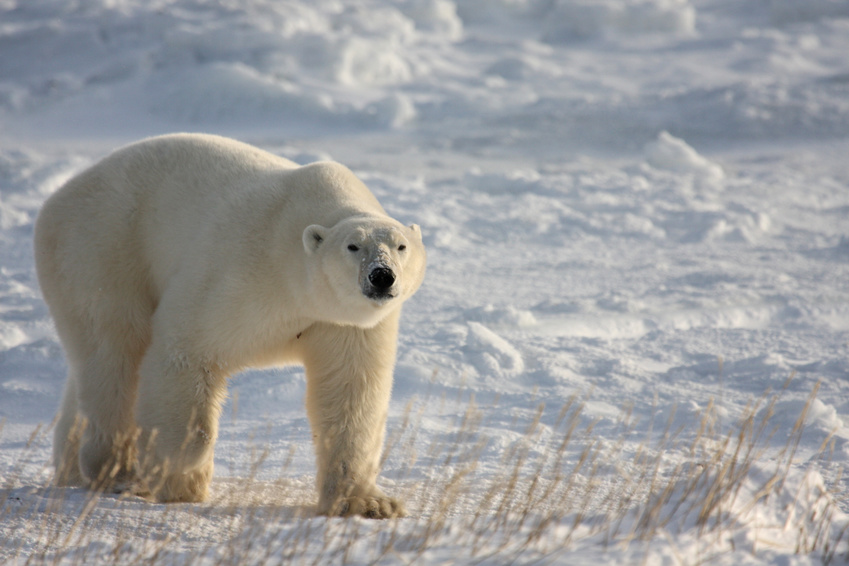 NEW YORK, OCTOBER 4, 2016 — Every fall, approximately 10,000 tourists from around the world descend on "The Polar Bear Capital of the World," Churchill, Manitoba. This community of about 800 people on Hudson Bay in Northern Canada is home to the annual migration of more than 1,000 hungry polar bears that pass through town as they wait for the Bay ice to return. The new Smithsonian Channel docu-series POLAR BEAR TOWN documents a season in Churchill, following this extraordinary migration of human and four-legged animals as they collide in unexpected and sometimes dangerous ways. This six-episode series premieres Wednesday, November 16 at 8 p.m. ET/PT.
The series takes viewers close to the enormous creatures known as the "Lords of the Arctic." These polar bears can grow to be 10 feet tall and more than 1,300 pounds. They are also skilled hunters that can detect the presence of seals beneath three feet of snow and ice and can pick out scents from nearly 20 miles away.
Churchill is one of the few human settlements where polar bears can be observed in the wild and prime viewing happens in October and November. POLAR BEAR TOWN captures that moment when tourists from around the world fly into town in hopes of getting up close and personal with a polar bear. Professional guides Dennis Compayre and Kelsey Eliasson have a delicate mission: the get their clients close, but keep them safe.
In the series premiere, POLAR BEAR TOWN: WELCOME TO CHURCHILL, the town prepares for the fall migration. As the season opens, tensions are higher than usual. Last Halloween, a surprise late-night encounter with a polar bear left a local woman seriously injured and the bear dead, the nightmare all in Churchill strive to avoid. Officer Bob Windsor of Manitoba's Department of Natural Resources, who leads a team of conservation officers, is stepping up efforts to make the town safer, even if it means increasing challenges for guides like Dennis and Kelsey. Among the bears closing in on Churchill is a Polar mom with two cubs to protect and a 1,000 pound male known as Big Bear. Churchill resident Brian Ladoon, who owns and operates the Miles 5 Dog Sanctuary, braces for bear interlopers who try to poach food from his pack of endangered Canadian Eskimo dogs.
The subsequent episodes of POLAR BEAR TOWN include:
POLAR BEAR TOWN: PAPARAZZI ALERT
Premieres Wednesday, November 23 at 8 p.m. ET/PT
A mother bear is leading her nine month-old cub back from his first hunting season on the ice. Now, they'll face an even more daunting challenge: throngs of tourists descending on Churchill, which could put the cub and themselves at risk. Veteran guide Dennis Compayre takes on an apprentice, Andrea Dillon, but an aggressive client might complicate her "baptism by bear." And fellow guide Kelsey Eliasson flips the script and takes up a camera himself to assist in a groundbreaking research project that identifies bears through their unique whisker patterns.
POLAR BEAR TOWN: RUMBLE ON THE TUNDRA
Premieres Wednesday, November 30 at 8 p.m. ET/PT
Polar bear season has reached its peak and Brian Ladoon is looking for help at his Mile 5 Dog Sanctuary. Brian can't be in two places at once – feeding his Canadian Eskimo dogs and on the lookout for polar bears. Luckily, volunteer Russell Hausler has traveled from Australia to give Brian a hand. But Russell is not experienced in the dangers of Polar Bear Town and he may end up doing more harm than good for Brian and the dogs. Meanwhile, bear guide Dennis Compayre and regular client, California photographer Andrew Bazeley, are looking for the perfect shot to complete Andrew's book. They encounter a pair of polar bears that locals call the Scrappy Brothers, because they wrestle each other to hone their skills for mating battles to come. And a cub called Curious ventures away from its mother and finds itself on a dangerous collision course with a hungry but elderly male known as St. Pete.
POLAR BEAR TOWN: HALLOWEEN HORROR STORY
Premieres Wednesday, December 7 at 8 p.m. ET/PT
Halloween has arrived in Polar Bear Town. It's the worst day of the year for bears in Churchill and the busiest for conservation officers. Children are trick-or-treating and people like Erin Greene are attending parties. Last year, Erin was on her way home from a party when she was attacked by a polar bear. Erin survived the attack but is afraid that it could happen again. Erin enlists her friend, bear guide Karine Genest, to confront her fears by getting close to a polar bear for the first time since the attack. While humans are understandably fearful, the bears are even more at risk. New Mom follows her nose into a bear trap and separates herself from her cub, whose very survival may depend on Kelsey's intervention. And a roaming Big Bear is headed directly toward the army of guards protecting town.
POLAR BEAR TOWN: PAROLE DAY
Premieres Wednesday, December 14 at 8 p.m. ET/PT
Winter has settled in on Churchill. It's the time of year when conservation officers release bears from its polar bear holding facility, which the locals call "Polar Bear Jail". A special release sees a mother polar bear and her cub airlifted out of town, to be safely released in the wilderness. Kelsey has special access for the release and follows along in a chase helicopter. But the tranquilizers that conservation officers use on bears wear off quickly and the helicopter pilots need to find a place to land before the bears wake up. Meanwhile, Dennis Compayre enlists some friends to help him find a special bear called Dancer, who he's known for over 20 years.
POLAR BEAR TOWN: QUEST FOR CUBS
Premieres Wednesday, December 21 at 8 p.m. ET/PT
It's spring in Churchill. While most polar bears are now hunting for seals on the frozen Hudson Bay, pregnant females have migrated south to their ancestral dens to give birth. The race is on for guides, photographers and scientists to find hidden denning sites outside of Churchill, in hopes of seeing mothers and cubs emerge. Inside one of those dens, a mother bear has spent three full months nursing her cubs. At around 20 pounds each, they're nearly ready to leave the den and embark on the epic trek to their icy hunting grounds. And a team of biologists, including Don Moore of the Smithsonian's National Zoo, make an astonishing discovery – a maternity denning complex that a group of polar bears has used for generations.
POLAR BEAR TOWN was produced by Merit Motion Pictures in association with Earth-Touch for Smithsonian Networks. Executive Producers are Merit Jensen Carr and Phil Fairclough. Charles Poe and David Royle serve as Executive Producers for Smithsonian Channel.
Smithsonian Channel™, owned by Smithsonian Networks™, a joint venture between Showtime Networks Inc. and the Smithsonian Institution, is where curiosity lives, inspiration strikes and wonders never cease. This is the place for awe-inspiring stories, powerful documentaries and amazing entertainment across multiple platforms. Smithsonian Channel combines the storytelling prowess of SHOWTIME® with the unmatched resources and rich traditions of the Smithsonian, to create award-winning programming that shines new light on popular genres such as air and space, history, science, nature, and pop culture. Among the network's offerings are series including Aerial America, Million Dollar American Princesses, The Weapon Hunter, Mighty Ships, Mighty Planes and Air Disasters, as well as critically-acclaimed specials that include Civil War 360, 9/11: The Heartland Tapes; MLK: The Assassination Tapes and The Day Kennedy Died. Smithsonian Networks also operates Smithsonian Earth™, through SN Digital LLC., a new subscription video streaming service delivering spectacular original nature and wildlife content. To learn more, go to www.smithsonianchannel.com, or connect with us on Facebook, Twitter, and Instagram.
About Dave's Travel Corner

Dave's Travel Corner is a travel content, resource provider and community (founded 1996) providing travel
Guides
written about Dave's personal travel experiences and
Journals
, pages that contain trip summaries and experiences written by fellow travelers. We spotlight locations and attractions with an article linked directly from our homepage including content across our blog, photo and video galleries. We use a combination of social media, written content, photography and videos to promote locations. Not only does the content appear on this site but we have direct partnerships with other well visited travel sites for placement of the content. Since 1996, we have also established hundreds of relevant link exchanges with other travel sites.
Visitors to Dave's Travel Corner will also find thousands of travel related links organized by categories on the
Resources Page
, a
Photo Gallery
containing International travel photos,
Book Reviews
, and
Product Reviews
focusing on products useful for travelers, fully automated
Forums
,
Tour Bookings
offering over 4400 unique tours around the globe,
Interviews
with those making news in the travel industry and
Videos
- specializing in International travel videos as well as home of the
Dave & Jim Show
.
Dave's own travel blog is
Above the Clouds
which focuses on International Travel & Lifestyle.
For information on advertising please choose from a variety of
advertising options here
.
Contributors are welcome

Learn how you can contribute
About

www.davestravelcorner.com/about