New York, NY June 3, 2013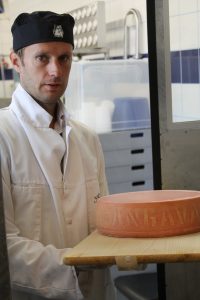 American travelers who dream of being truly immersed in one of Sweden's most idyllic regions in summer, should look no further than the southern region of Skåne or Scania where they'll find the 400-year old Ängavallen estate that features the award-winning eco- restaurant chosen by the Swedish White Guide, a quintessential 19th century style Countryhouse Hotel, a dairy, bakery and a stunning park designed in the 1880s. A short bike ride takes guests to nearby beaches, all less than an hour from its next door big-city neighbor of Copenhagen, Denmark.
Families and experiential travelers seeking to spend their vacations as they were intended – enjoying true time together rather than just grabbing a quick meal – will truly enjoy Ängavallen where a full program of options for children of all ages such as a tour of the farm and its animals, or guests can try their hand at cheesemaking, bread baking, shnapp sipping, golf, camping and fabulous nature walks. Packages include overnights with breakfast, mini vacations, and golf vacations.
Owned since 1971 by Rolf Axel Nordström, a visionary in applying the principles of ecologically-sound farming to create a sustainable and successful entity, the estate also includes a shop that sells a line of the farm's own cured meats sold under their registered trademark all raised and produced according to his strictly-followed ethics of providing a top-to-bottom organic experience from farming to hospitality for the past 42 years.
Nordström, who started off with a sympathetic ear to the plight of pigs raised in poor farming conditions, began feeding his animals with whole feed decades before it was a buzzword among foodies. Today, the staff at Ängavallen provides visitors with a robust organic experience that begins from the moment one steps on the grounds of the estate, and extends to the fresh, seasonal menu that reflects four decades of an uncompromising yet sustainable lifestyle.
"Everything we serve is prepared from 100 percent organic raw materials from our own farm. What we can't produce ourselves — tea, coffee, beer and wine, we buy from sources that produce organic too. We never compromise on our conviction that the best food is made from the best organic raw materials," says Nordström.
Rather than requesting other farmers to grow Ängavallen's produce to order, Nordström's team grows and prepares food by hand, in small amounts according to sustainable principles and breeds their own livestock. "As much as we would like to, we can't grow and rear everything, but we rely on sources within 15 miles of at Ängavallen to supplement the products," he said.
The crops consist of old, native varieties that have adapted to the Swedish climate and soil over decades resulting in resistant varieties that grow more slowly than modern varieties, but provide more taste. Among the crops are white asparagus, purple cabbage, turnips, parsley root, parsnips, various kinds of carrots and beetroots, garden cress, sweet corn, onions, squash and pumpkin plus a wide variety of fruits indigenous to Scandinavia: gooseberries, currants (white, red and blackcurrants), bilberries, raspberries, quinces, peaches, apricots, plums, rhubarb, raspberries, apples and pears.
Relying on its heritage, Ängavallen nurtures native livestock breeds such as Swedish Red Poll cattle, Swedish Forest Sheep, Linderöd pigs have lived a good life and have been raised on the farm's vegetable fodder – a mixture of beans, peas, barley and oats: Ängavallen animals are all strict vegetarians, and all-organic. Naturally you don't have to be a gourmet to know that happy, healthy creatures are bound to yield better quality meat and eggs, more flavorful and nutritious than foods produced on factory farms according to this ardent advocate for humane treatment of animals.
As much as is grown on the premises, Ängavallen's chefs and sommalier take liberties with their organic wine list, offering an international spectrum of the best varieties matched with the seasonal dishes.The restaurant's wine list is extensive with 120 different organic wines, just one reason the restaurant was chosen as the "Eco Restaurant of the Year" by the White Guide, Sweden's leading restaurant guide. Ängavallen features three, four and five-course dinners with wine pairings and sometimes a lovely organic Champagne for an apertif.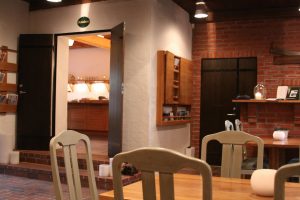 For starters, the suggestion for a confit of salmon, apple and celery was a 2011 Bonterra Chardonnay from Mendocino County and pairing Ängavallen's organic smoked veal with horseradish and fennel is a 2008 Axabache Crianza, which is a rare blend of Tempranillo, Garnache and Graciano from Rioja, Spain. While Ängavallen's other organic veal dish for a particular evening was served with turnip and winter truffles was matched with a 2010 Novas Winemakers selection (a blend of Syrah and Mourvedre) from the Colchuaga Valle of Chile. Entrees are followed by cheeses made at the Ängavallen dairy from grass-fed cows.
Guests staying at the Hotel will find comfort in the 19 rooms in a genuine Scandinavian atmosphere where the smallest details have been attended to with care – from the handmade bricks on the facade to vintage bathroom fittings and well-dressed beds — covered with 100 percent organic linens.
Visit the shop for snacks and vittles for picnics and a supply of Ängavallen's cured meats, cheeses, breads and jams.
For more information on packages, space for conferences or intimate reunions, call Ängavallen 011-46-040-42 32 50; or visit: www.angavallen.se
About Dave's Travel Corner

Dave's Travel Corner is a travel content, resource provider and community (founded 1996) providing travel
Guides
written about Dave's personal travel experiences and
Journals
, pages that contain trip summaries and experiences written by fellow travelers. We spotlight locations and attractions with an article linked directly from our homepage including content across our blog, photo and video galleries. We use a combination of social media, written content, photography and videos to promote locations. Not only does the content appear on this site but we have direct partnerships with other well visited travel sites for placement of the content. Since 1996, we have also established hundreds of relevant link exchanges with other travel sites.
Visitors to Dave's Travel Corner will also find thousands of travel related links organized by categories on the
Resources Page
, a
Photo Gallery
containing International travel photos,
Book Reviews
, and
Product Reviews
focusing on products useful for travelers, fully automated
Forums
,
Tour Bookings
offering over 4400 unique tours around the globe,
Interviews
with those making news in the travel industry and
Videos
- specializing in International travel videos as well as home of the
Dave & Jim Show
.
Dave's own travel blog is
Above the Clouds
which focuses on International Travel & Lifestyle.
For information on advertising please choose from a variety of
advertising options here
.
Contributors are welcome

Learn how you can contribute
About

www.davestravelcorner.com/about