There will be three days of thought provoking presentations and discussions by world recognized hummingbird and conservation experts on a variety of topics: how to attract them, how to garden for them, and efforts to protect endangered hummingbirds.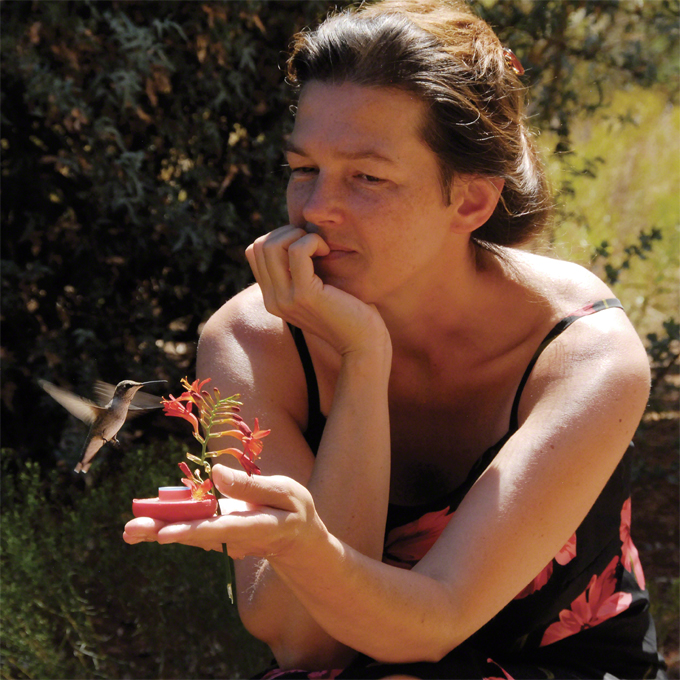 Photo Credit: Beth Kingsley Hawkins. Hummingbird being hand-fed by Sabine Pool. View Larger Image
Sedona, Arizona, June 15, 2015 – The 4th Annual Sedona Hummingbird Festival invites residents and visitors alike to the Sedona Performing Arts Center and the greater Sedona area on July 31st and August 1-2 for three enchanting days of hummingbird presentations, banding demonstrations, sunrise breakfasts with the hummingbirds, shopping at the Hummingbird Marketplace, a hummingbird art exhibit, as well as hummingbird garden tours, birding trips, and more. The Sedona Performing Arts Center is located at 995 Upper Red Rock Loop Road, Sedona, AZ.
The Festival is sponsored by the International Hummingbird Society, a Sedona-based nonprofit education and conservation organization formed in 1996. The purpose of the festival is to promote the understanding of hummingbirds and to raise funds to protect some of the endangered hummingbird species.
The festival is timed to coincide with the presence of large numbers of southbound migrating hummingbirds which pass through Sedona on their way to wintering grounds in southern Mexico, with some coming from as far away as southern Alaska. The influx raises the local hummingbird population hundreds of percent, and increases the number of hummingbird species from 2 to 5 or even 6. Some local residents report having seen 500-2,000 hummingbirds every day. This is based on nectar consumption, as there are far too many of them to count manually!
There are several free events where attendees can come to experience hummingbirds first hand by visiting several identified "hummingbird hotspots" where there are large numbers of hummers. They can also watch individual birds be "banded" with unique identifying anklets for on-going scientific research.
One of the more popular events requires a ticket purchase and advanced reservations. People are encouraged to sign up early for the "Sunrise Hummingbird Breakfasts," enjoying the wonder of watching hummingbirds having their breakfast in a beautiful garden setting designed for the hummers.
The core platform of this event is the Symposium which presents the opportunity for attendees to learn about all things hummingbird. Held at the beautiful Sedona Performing Arts Center, there will be three days of thought provoking presentations and discussions by world recognized hummingbird and conservation experts on a variety of topics: how they are cared for in aviaries, how to attract them, how to garden for them, and efforts to protect endangered hummingbirds (tickets required).
The keynote speaker this is year is Julie Zickefoose, a world renowned author, blogger and naturalist. She will make two presentations. On Saturday she will explore the intersection of birds and spirituality in our lives. On Sunday, she will lead a presentation on how nature has the power to heal us and bring us closer to the creative power that resides inside us, waiting to be released. George Fenwick, a recognized author and authority on conservation, is the president of the American Bird Conservancy. He will discuss how we can work together to encourage and enable conservation as well as how he has been helping to lead these efforts for over 30 years.
Noelle Johnson, is widely recognized horticulturalist, landscape designer and author. She will present a fascinating talk on "Creating a Mini-Hummingbird Garden in a Container." Lisa Tell is the Director of the UC Davis Hummingbird Health and Conservation Program as well as a full-time faculty member in their School of Veterinary Medicine. She will do a presentation on how the UC Davis program is helping protect hummingbirds and their habitat.
Learning extends to gardens, first with hummingbird presentations but also with self-guided Garden Tours to private gardens in the greater Sedona area.
Of course, attendees come to experience Sedona. No wonder the festival's tagline is "The Most Beautiful Place in America to See Hummingbirds." Located at 4,500 feet, Sedona largely escapes the extreme temperatures of southern Arizona. And its "red rock" beauty is known around the world.
Finally, attendees come to meet other hummingbird lovers and create friendships that can last a lifetime.
Tickets: 3-day pass to all daytime presentation sessions, July 31 – August 2: Adult $50 ($55 at the door). Children under 12 free when accompanied by an adult. 1-day pass to daytime presentation sessions: Adult $18 ($21 at the door).
For more information, call the Hummingbird Society at 1-800-529-3699 or (928) 284-2251.
About Dave's Travel Corner

Dave's Travel Corner is a travel content, resource provider and community (founded 1996) providing travel
Guides
written about Dave's personal travel experiences and
Journals
, pages that contain trip summaries and experiences written by fellow travelers. We spotlight locations and attractions with an article linked directly from our homepage including content across our blog, photo and video galleries. We use a combination of social media, written content, photography and videos to promote locations. Not only does the content appear on this site but we have direct partnerships with other well visited travel sites for placement of the content. Since 1996, we have also established hundreds of relevant link exchanges with other travel sites.
Visitors to Dave's Travel Corner will also find thousands of travel related links organized by categories on the
Resources Page
, a
Photo Gallery
containing International travel photos,
Book Reviews
, and
Product Reviews
focusing on products useful for travelers, fully automated
Forums
,
Tour Bookings
offering over 4400 unique tours around the globe,
Interviews
with those making news in the travel industry and
Videos
- specializing in International travel videos as well as home of the
Dave & Jim Show
.
Dave's own travel blog is
Above the Clouds
which focuses on International Travel & Lifestyle.
For information on advertising please choose from a variety of
advertising options here
.
Contributors are welcome

Learn how you can contribute
About

www.davestravelcorner.com/about