Local Travel Experts Team -Up with Sit 'n Sleep to Provide Tips on Jetlag Free Travel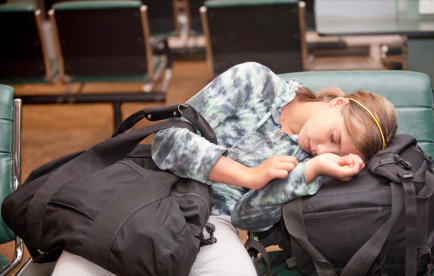 Spring break and summer vacation are just around the corner, which means there will be thousands of jetlagged travelers who are woefully sleep deprived. To help better prepare travelers this year, Southern California mattress retailer Sit 'n Sleep has teamed-up with two nationally-known travel experts, Dave Thompson of Dave's Travel Corner and travel blogger Jessica Gottlieb to provide their top 10 tips on how to make this year's vacation the best, most restful yet.
"One of the most important parts of having a great travel experience, especially if you are traveling a long distance, is to make sure you are getting enough sleep," said Dave Thompson. "The last thing you want to feel is sleepy when you are on a vacation of a lifetime."
"I couldn't agree more," said Jessica Gottlieb. "When you're traveling remember that you are supposed to be enjoying it. Avoiding jetlag is simple; you just have to be informed. The last thing you want to do is spend three days of your fabulous trip jetlagged. That would be a terrible waste."
Thompson and Gottlieb joined forces with Sit 'n Sleep to provide their top 10 tips to help you avoid jetlag and sleep better when on vacation. To read more about getting a good night's sleep visit www.sitnsleep.com.
Top 10 Travel Tips to Stay Jetlag Free and Well Rested:
1.Prepare: Start adjusting your sleep schedule slightly a few days before a long trip to help move your sleeping hours in-line with your destination. If you are taking a short trip, do everything you can to stay on your home schedule when you arrive to your destination.
2.Get your ZZZ's: Before you leave on your trip, make sure you are getting a good night's sleep. A supportive mattress at home will help your body get the rejuvenating sleep it needs and better prepare your body for travel.
3.In-Flight: If possible, try to sleep during your flight, especially if it is a long flight. Bring your own head or neck pillow or head hammock.
4.Opt For Overnight Flights: You'll have dinner at a normal time and be much more likely to sleep than on an afternoon flight. This is the best way to replicate your normal schedule, and it'll be easier for you to reset your internal clock.
5.Hydration: Stay hydrated during your flights and don't be afraid to ask flight attendants for extra water. Also, stay away from alcohol.
6.Diet: On the flight, restrict your diet to foods that are easily digested, like those that are relatively high in fiber but not too rich. Fats tend to keep you awake, while carbs usually put you to sleep.
7.Get Physical: Whether you are on vacation, or traveling for work, it is important to exercise in some capacity. Even a walk around the block will make you feel refreshed and will help you sleep better that night.
8.Light Therapy: Some researchers recommend simply spending 15 – 20 minutes in direct sunlight without sunglasses as soon as possible after landing. This will help your body reset its natural time clock to coincide with your new surroundings.
9.Mattress: At your hotel, be sure to check your mattress. If it feels lumpy or non-supportive ask for a new one. If you ask nicely, most hotels will accommodate you by changing your room or changing out your mattress.
10.Back Home: When you get home from a long trip, you may feel like a nap is the best idea; however, you will actually get over jetlag faster if you wait until your regular bedtime.
About Dave's Travel Corner

Dave's Travel Corner is a travel content, resource provider and community (founded 1996) providing travel
Guides
written about Dave's personal travel experiences and
Journals
, pages that contain trip summaries and experiences written by fellow travelers. We spotlight locations and attractions with an article linked directly from our homepage including content across our blog, photo and video galleries. We use a combination of social media, written content, photography and videos to promote locations. Not only does the content appear on this site but we have direct partnerships with other well visited travel sites for placement of the content. Since 1996, we have also established hundreds of relevant link exchanges with other travel sites.
Visitors to Dave's Travel Corner will also find thousands of travel related links organized by categories on the
Resources Page
, a
Photo Gallery
containing International travel photos,
Book Reviews
, and
Product Reviews
focusing on products useful for travelers, fully automated
Forums
,
Tour Bookings
offering over 4400 unique tours around the globe,
Interviews
with those making news in the travel industry and
Videos
- specializing in International travel videos as well as home of the
Dave & Jim Show
.
Dave's own travel blog is
Above the Clouds
which focuses on International Travel & Lifestyle.
For information on advertising please choose from a variety of
advertising options here
.
Contributors are welcome

Learn how you can contribute
About

www.davestravelcorner.com/about