What if I told you we have an overall population density of 1,98 persons per square kilometer, which is one of the lowest in Europe, more reindeer then people, the cleanest air and waters in the world. Yet we live in a modern city filled with services and even luxury. Our summer nights are light like the most romantic pink twilight, and that our summer temperatures are mild like the birds milk, as we Finnish people like to say. Would you believe me? Well you should because the list goes on.
Rovaniemi is situated on the Arctic Circle in Finnish Lapland and despite our remote Arctic location we are easy to access yet undiscovered by many. This is a booming yet relaxed summer city with plenty of local life experiences like yoga and husky hikes, brewery visits, berry picking, gold panning and not to mention arctic culture to explore. Rovaniemi is a hidden gem, offering experiences tasty local food and activities with nature hikes just around the corner. And to blow your mind I´ll give you the presence of Christmas all year round as a bonus, for Rovaniemi is the Official Hometown of Santa Claus®.
LIGHT – Here we have no night just light
I promised you The Midnight Sun so get ready to stay up trough out the night and marvel the light in the "nightless night". Like we Finnish people call this period, when the sun doesn´t go below the horizon. This is the phenomena you must experience, to understand us people of the north. When it is enough cuddling inside, in front of the fireplace, after a long cold snowy winter, and time to get ready to tune in to summer. Staying up trough white summer nights and getting happy with people. Outside in the Midnight Sun, biking, golfing, horseback riding and doing water sports on the arctic waters.
Everywhere on and above the Arctic Circle the sun doesn´t go below the horizon during the summer months, because the Earth is slightly tilted on its axis. Rovaniemi gets to enjoy the days of the Midnight Sun between 6th June and 7th July. This time is for enjoying Lapland´s beautiful nature, fresh and clean arctic waters and yes the cleanest air in the world. Just breathe and take a river cruise or a photography tour, or why not jump on the sauna ferry m/s Erkin Arkki and have an exclusive sauna experience on the Ounasjoki river. Or rent a SUP board and explore the sandy beaches of Ounasjoki rivers deltas.
Rovaniemi Arktikum Summer Visit Rovaniemi The Official Hometown of Lapland
ARCTIC – City surrounded by the woods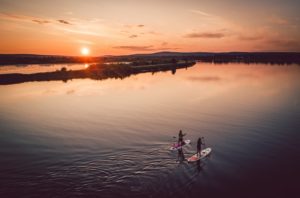 We Northern people sure appreciate our nature. Since the overall population density is truly only 1,98 persons per square kilometer, we are used to our solitude and our moments in nature. With a population of only 180 000, Lapland truly offers the space to breathe. The amount of reindeer, 200 000+, surpasses the amount of people, and we love it that way. We get to enjoy the wilderness destinations nearby like Vietonen, Ranua and Pyhä-Luosto with Bliss Adventures. We get to have adventures up north and visit Aurora Village in Ivalo and Wilderness Hotels in Inari, and to have shorter daytrips at the Amethyst Mine of Lampivaara, and spend a night at Pyhä Igloos or Pyhän Asteli.
We northern people are active hikers and many of us spend nights outdoors annually even in the changing seasons. The beauty of Rovaniemi is that you do not need to be born with hiking boots to experience Lapland nature here and truly have moments of green safe solitude. You can roam the woods in the morning sun just a short walk from the city centre and be back for a Lappish dish served in a fine dining restaurant by lunchtime. The Lappish superfood cuisine is a phenomenon itself, and it celebrates the best that our nature provides like mushrooms, game, fish and berries. Tip: do not forget to order some of our local water, the crystal clear taste will blow your mind!
Rovaniemi is proud to carry a Reindeer Antler Town Plan designed by Alvar Aalto. Reindeer have always been a big part of livelihood and culture here in the northern regions for the herders and locals. Summer is the best time to see the offspring of these beautiful Arctic Animals at reindeer farms. How about a hike with reindeer or huskies? If you love huskies then summer is your season here at the Arctic Circle, because in most farms it is husky-baby season at its best!
COOL – Dip in the cool arctic waters after a hot cleansing sauna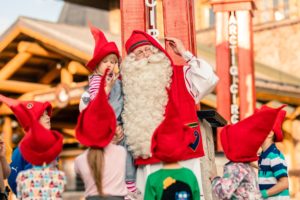 Can't stand those hot summers, constantly trying to search for shade and somewhere to cool down? Look no further Lapland´s cool summer breeze awaits! Imagine the cool Arctic forests filled with pine woods covering the landscapes, and the cool dip into one of the purest lakes or rivers in the world. In Lapland even the accommodation is built to free flow the natures cool vibes between spaces. If your vegan or into food experiences or hip rustic indoors with a thought, then the award-winning Rovaniemi accommodations and versatile restaurants are just up your alley.
It wouldn´t be a cool Arctic summer without sauna. To live like us locals you must do Sauna. You have to experience the amazing cleansing effect of a hot sauna and a dip in the cool pure lake. This is a country up here on the Arctic region, a country where almost every home has a sauna, imagine that, or better yet come and see!
I still have one more thing to share with you, and it is Christmas in the middle of the summer <3 We just love Santa Claus and all the sweet kindness that surrounds him and Christmas. Rovaniemi is the Official Hometown of Santa Claus® and also a city where new stories are created every day. Here you can visit Santa Claus and the magic of Christmas all year round. Be a part of the Arctic Phenomena and add Rovaniemi to your bucket list! Not sure how to get here? Read below: Rovaniemi, the Official Hometown of Santa CLaus Visit Rovaniemi Nature Lapland Fly to Rovaniemi with Finnair who operates via Helsinki to Rovaniemi. Or get groovy with our Railroads and jump in the train by VR or bus by Onnibus or Matkahuolto. By renting a car, it's easy to move around in Rovaniemi and make even road trips to destinations close by. And to ensure a cool place to get cozy, you can choose from various types of Rovaniemi Accommodation and contact the companies directly to make reservations.
About Dave's Travel Corner

Dave's Travel Corner is a travel content, resource provider and community (founded 1996) providing travel
Guides
written about Dave's personal travel experiences and
Journals
, pages that contain trip summaries and experiences written by fellow travelers. We spotlight locations and attractions with an article linked directly from our homepage including content across our blog, photo and video galleries. We use a combination of social media, written content, photography and videos to promote locations. Not only does the content appear on this site but we have direct partnerships with other well visited travel sites for placement of the content. Since 1996, we have also established hundreds of relevant link exchanges with other travel sites.
Visitors to Dave's Travel Corner will also find thousands of travel related links organized by categories on the
Resources Page
, a
Photo Gallery
containing International travel photos,
Book Reviews
, and
Product Reviews
focusing on products useful for travelers, fully automated
Forums
,
Tour Bookings
offering over 4400 unique tours around the globe,
Interviews
with those making news in the travel industry and
Videos
- specializing in International travel videos as well as home of the
Dave & Jim Show
.
Dave's own travel blog is
Above the Clouds
which focuses on International Travel & Lifestyle.
For information on advertising please choose from a variety of
advertising options here
.
Contributors are welcome

Learn how you can contribute
About

www.davestravelcorner.com/about