"Do not start climbing over there – that seal is in the way". Were we mountain climbing or clambering over cliffs at some sunny beach in California somewhere? I've done a bit of mountain climbing around the world but have never heard a seal referenced as we are about to start a climb!
The reason for this, is we are mountaineering in Antarctica as part of an Oceanwide Expedition Antarctica cruise. Climbing here is surreal – the amount of ice and glacier walls that one can climb is overwhelming – really in all directions. Starting an ice climb directly from the beach is a a unique and memorable experience. Waves are lapping on the icy shoreline as you step into your crampons. The wall of ice is directly in front of you – small chunks of clear ice have drifted onto shore, icebergs are floating just off shore and icicles hang down from the lip of the glacier on the shoreline that has been carved during high tides.
The last time I climbed up a vertical glacier wall was at 5,300+ meters on Pastoruri Glacier in the Cordillera Blanca in Peru (unfortunately this glacier is retreating quickly due to rapid melting in the past few years and where we climbed is bare rock now). While that was at high altitude which presented a real challenge – this was at sea level and I was able to scamper up this steep ice wall like a monkey climbing a tree.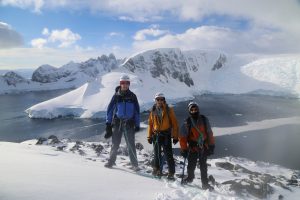 Jagged, steep and sharp cliffs rise directly from the lapping shoreline. A rocky ridge crests the back of the mountain, broken at times by ice and snow with strong spin drift visually blowing off its spine as we watch from the shoreline. The summit of this prominent mountain is our goal – Spigot Peak. After a slow but determined march up this mountain we reach the summit ridge which is covered in blown ice with a dramatic drop off on the other side. There are four of us, all roped up and treading carefully on the steep ice.
We finally reach the top; splayed out in all directions is an impressive gathering of glaciers, calm waters, and snow capped rocky mountains. On a day such as this one, with nearly perfect weather conditions, to reach the top was a perfect validation of why we climb. Teamwork combined with visual inspiration creates an emotional pinnacle culminating at the summit. We stay as long as we can, taking photographs and enjoying this amazing view.
Looking to do this cruise, or a similar cruise from Oceanwide Expeditions? visit their Antarctica Cruises page here.