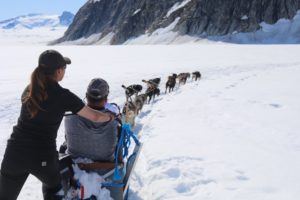 Arguably this experience is one of the most memorable on shore excursions offered by Holland America on a visit to Alaska's Inside Passage. I always gravitate towards unique experiences and this one is truly special, featuring stunning visuals of the mountainous interior from a helicopter including the Juneau Icefield, a landing directly on a glacier and dog mushing, all in the same afternoon.
Northstar Helicopters (founded 1998) is located on Douglas Island, a short van ride from the ferry terminal in Juneau. After checking in at the terminal, we soon boarded a helicopter piloted by Christina, a blond woman originally from Denmark but had previously flown copters in New York and Hawaii. During the summer she makes up to 10 round trips to the glacier daily.
The scenery is absolutely beautiful and one quickly gets an idea of just how remote and difficult to access the terrain would be overland; we flew low over glaciers, close to steep rock walls plunging hundreds of feet below, above glacier fed lakes with ice sheets just beginning to melt, ice falls and next to steep snow-covered mountain tops with the cornices glistening in the bright sunshine. And we also flew close to the famous Mendenhall Towers, a series of imposing granite spires in part featured in the film, The Alpinist and is where climbers Ryan Johnson and Marc-Andre Leclerc tragically died after pioneering a new route. Total flying time round trip was at least 30 minutes.
As we approached Norris Glacier, Christina asked us if we could spot the dog musher camp. We could not until we made the final approach as the camp was white, completely blending in with the vastness of the glacier. Everything at this seasonal camp is brought in by helicopters including the bathrooms and temporary housing. This camp houses approximately 175 sled dogs who were all barking as loudly as they possible could upon our arrival.
It was clear the mushers develop a very strong and personal connection to all their dogs; prior to our mushing trip we were introduced by our musher, Elke to each one of her Alaskan huskies. Based on their excitement and affection for us, one would think they had not seen other humans for weeks! But most likely they were just anxious to begin running across the glacier. Another highlight of our interaction with the dogs was meeting and holding little pups who had been born only two months prior. Other mushers we met race in Alaska's famous Iditarod every winter but spend their summers here returning to Juneau every approximately 7 days for much needed visits as there are no showers at the camp.
Mushing was clearly a highlight for these animals. Prior to departing they continued to bark in anticipation and strain at the ropes. But as soon as our musher gave them the ok to leave and released the brake, they went silent; and the silence was a welcome relief leaving only the soothing sounds of the ice under the sleds accompanying us on our journey over the glacier. Only four or five passengers are allowed on each musher 'train' and stops are made so each of the guests can trade seats.
For more information about this on-shore excursion offered through Holland America, click here.