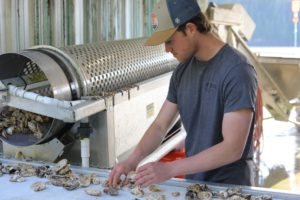 Hump Island Oyster Company is located about a 30 minute drive from Ketchikan. This visit and on-shore experience was arranged through a Holland America Inside Passage cruise. This business was founded in 2010 by civil engineer Trevor Sande whose family has lived in Alaska since the early 1920s. He located an ideal place along Clover Passage on the shores of Hump Island, only a few miles from his family home – an area that takes full advantage of tidal fluctuations twice a day. Incidentally the island directly across from Hump is called Back Island. The farm has grown significantly since its early days and is now among Alaska's largest oyster farms.
Because the waters are so cold the oysters are not able to spawn, rather all oyster 'seeds' (or spat) are brought in from Hawaii and raised to maturity in these Alaskan waters. This aquaculture farming suspends oysters in cages at various depths, but they never touch the bottom. Raising oysters here is challenging as their are a number of predators including starfish. If somehow a tiny starfish becomes trapped inside one of the oyster cages over winter (and when they are small they are easy to miss seeing), in spring all the oysters will be eaten.
Groups are kept small; tours start on the mainland where Hump Island Oyster Company maintains additional operations. In 2019 the Sande family began a tour company (Bonfire Bay) to showcase their operations to the general public including passengers on cruise ships who sign up for a visit. Visitors will board a Bonfire Bay boat for an approximately 15 minute ride to the oyster aquaculture farm. Tours of the operations are highly educational and personalized. During our visit, Trevor's son Shawn gave us an inside look at their family business including walking us through the primary operations of raising and harvesting oysters.
Shawn told us that he suspected his father began this business to provide work for his idle children. Regardless of his intent, his kids work here helping farm the oysters, providing personalized tours to curious visitors and operating the gift shop and website. On Sean's 16th birthday his father invited him to come outside to see his birthday present. Sean thought for sure it was going to be a new car, but in reality it was a new oyster tumbler. He has since become intimately familiar with this machine, spending hundreds of hours inspecting oysters passing by on a conveyor belt, carefully removing small starfish and other marine life – some of which end up in a small petting pond which are available for guests to touch and closely examine.
A highlight of a visit here is a sit down at the oval shaped Hump Bay Oyster Bar with other visitors. Several sample oysters are served including both raw and grilled along with a tasty Miso soup. Shawn told us that because oysters don't spawn, the extra sugars and fats are stored within the meat creating their own unique flavor. Certainly the glacial cold and clean waters help in this regard. Hungry oyster enthusiasts can order additional plates of oysters along with wine and a variety of Alaskan made local beverages. In 2016, in addition to oysters, the company began raising Bull kelp and have since partnered with Juneau based Barnacle Foods to produce several kelp based products including, drumroll … salsa. Chips are provided at the bar for guests interested in trying these various salsas.
A small giftshop is stocked with interesting and intriguing products; the items here are much different from generic gift shops often located near cruise ship terminals. And they can take orders from their website and can ship both souvenir products and oysters. For more information, visit: www.humpislandoyster.com