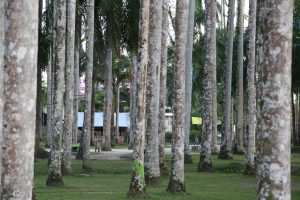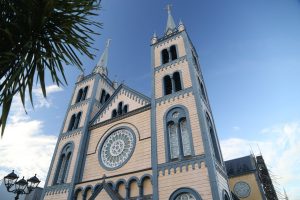 After a nearly 13 hour car + van ride from Georgetown in Guyana which began at 4am and included a 4 hour border crossing (slow ferry a big part of this), I arrived in Paramaribo in the late afternoon. Exhausted after eating only an energy bar I found tucked away in my backpack given to me weeks ago by Jacki Ueng I checked into the Guesthouse Zin & Grand Cafe. For only $23/night it included a private room with AC and use of their pool.
I soon hooked up with Orange, a tour operator based in Paramaribo a few blocks from the guesthouse whose slogan is, "don't worry, we'll make you happy". I signed up for a day trip to Brownsberg National Park – a rain-forest destination about 3 hours drive from Paramaribo.
The next day we arrived in the park, our destination was a waterfall about an hour hike from the park headquarters. Only four people were part of this tour – the guide, myself and a couple from Antwerp Belgium. The woman was apparently on the wrong tour – as we hiked we often were subjected to loud screams, frantic jumping up and down, and wild waving of her walking sticks whenever an insect came close to her. I would venture a guess that perhaps the jungle hike should not have been her first choice of experiences. She later admitted that insects freak her out but that she likes the idea of visiting jungles – and apparently had done so in numerous countries around the world.
The waterfall a little more then a drip and the pool below was completely empty, not surprising since this is dry season but we made due by taking a rain shower underneath and a quick peek into a nearby natural cave to see a number of bats circling. But perhaps the highlight of the hike was seeing a giant spiderweb – one would think this would be woven by enormous spiders but in fact it was the cumulative efforts of numerous tiny spiders.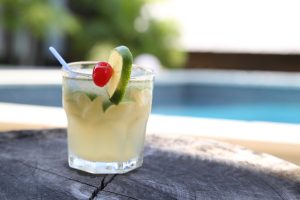 And the next day I secured much needed rest – I spent the full day at the Houttuyn Wellness River Resort located only about 35 minutes from Paramaribo but worlds way from that city's traffic. Not overly luxe, but perfect in its own way, this resort is exactly what I was looking for after the past 10 days of nonstop movement.
Opened only several years prior one comes here to escape and rejuvenate. Located along the green river banks of the Suriname River, one is taken by the quiet and peacefulness of the location. A 90 minute massage followed by a delicious seafood lunch followed by 2 scoops of Rum Raisin and Mocha ice cream, followed by an afternoon dipping into and out of one of their tiny pools, a cold Jacuzzi (great in the tropical heat) and quick dips into the sauna – greeted by a Caipirinha after exiting – was the perfect recipe for absolute relaxation.