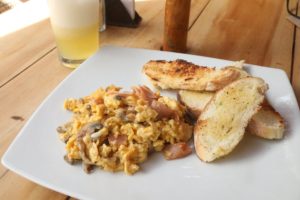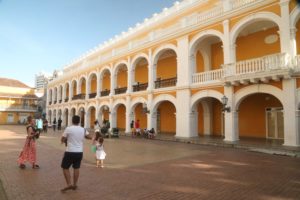 Darkness has fallen in Cartagena and the buzzing sounds of the motor bikes with their bright lights passing constantly are rattling my senses. I am now wandering the busy streets searching for the soul of this city. I'm pretty sure I've found it inside the city walls of old Cartagena. I soon spot paintings of people smoking cigars hanging on the walls inside a building; the interior immediately appeals to me from the curb so I enter the dimly lit Bar Tabaco y Ron. Soon I find myself deeply ensconced in an old leather chair chewing on a Cubano while simultaneously washing it down with a Caipirinha.
The conversation flows easily from a fellow American who quickly spots me across the room; I don't have to speak; I simply listen to his stories of his daily visits to this bar and his intention of going home every night with a different exotic woman. He is a traveler who pursues experiences and perspectives, and he easily shares his stories. He is traveling with his brother and they are off to Rio de Janeiro in a couple of days for more adventures. I would love to go to Rio now but I'm just beginning to discover this country.
The old town is a beautiful grid of old Colonial buildings, many with colorful exterior walls, cafes, plazas, vendors, boutique hotels and plenty of attractive people, seemingly primarily from around Latin America. Even the most hard-core people watcher will be satisfied here.
Still not tired, I stumble over to the corner located Gelateria Paradiso for some of the most delicious coffee ice cream I've ever experienced.
The indoor spaces are just as charming as some of the exterior streets. Wanting more, I head over to Abaco Libros y Cafe – a place where one might imagine Ernest Hemingway sharing a cup of coffee with F Scott Fitzgerald and each crafting some intriguing prose. Or perhaps more appropriately, a place where Colombia's own, author Gabriel García Márquez might have enjoyed.
A gravity flow drip system on the tiny bar greets visitors as does the smell from various patrons enjoying Colombian coffee. But so to does the lovely smell of old parchment paper from hundreds of books lining the walls, floor to ceiling. For authors, this space is one that is clearly conducive to tapping into ones' creative side.
Old town Cartagena is ideal for those who aren't in a hurry and a stay here is best absorbed with a curious mind.