Boyd was the British High Commissioner to Malaysia when I worked as Contact Database Officer at the High Commissioner Kuala Lumpur in 2009. Despite his high- profile status and prominent role, there was never a barrier between him and the rest of the staff.  He is a highly charismatic leader with a fun-loving sense of humor. He always dropped by our office and chatted us up, and the conversation always ended with a good hearty laugh.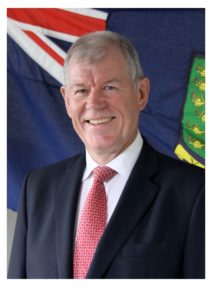 Coincidentally, towards the end of my tenure, he was appointed as Governor of British Virgin Islands. We were both in our last monthly staff meeting during which he delivered one final emotion packed farewell speech to everyone before leaving for the pristine gem in the Caribbean where he called home for four years.
I recently had an opportunity to reach out to him for an interview.
Q. After leaving Malaysia, you arrived in Tortola on 20 August 2010 to assume the position of Governor in the British Virgin Islands. Can you share with us what was your first impression of the islands and how did you ease into the role switch from High Commissioner to Governor?
My first impression of the British Virgin Islands was of spectacular natural beauty. Many of the countries I had lived in previously – Malaysia, Turkey, Korea, German and Canada had wonderful scenery in parts. But, almost everywhere you go in British Virgin Islands, there are great beaches, crystal clear seas and wonderful coral reefs. The other thing that struck me on arrival was how small the place was – only 30,000 inhabitants, no bigger that a small town in England. And yet it has all the functions of a much larger jurisdiction. Switching from the role of High Commissioner to Governor was quite an exciting challenge. As High Commissioner, it was my job to comment on local political events and try to influence decisions of the local government. As Governor, I was very much part of Government, I chaired Cabinet, was in charge of the public service and had direct responsibility for external and security affairs.
Q. British Virgin Islands achieved Tsunami Ready recognition in 2014 while you were the Governor. The recognition was awarded by the US-based National Weather Service (NWS) through a joint US National Oceanic Atmospheric Administration (NOAA) and UNESCO Pilot Project to strengthen tsunami preparedness efforts – a major milestone for disaster risk management in British Virgin Islands.
What were other island's transformations or achievements resulting from your administration and leadership? Share with us your memorable moments during your tenure as Governor.
I was very proud of what British Virgin Islands achieved in the field of disaster management during my tenure. Much of this was down to the outstanding team at the Department for Disaster Management, who did a great job in ensuring that the islands were as ready as possible to meet the many threats to which they were exposed, in particular the threat from hurricanes and other major tropical storms.
I was also proud of the work we did during my tenure as Governor to professionalize the police force and to strengthen the criminal justice system, for example, by introducing a parole board.
Amongst the many unforgettable moments were the arrest of those involved in a major drug smuggling operation. I won't forget playing beach tennis with Novak Djokovic on Neckar Island. And I can't think of any better place to relax than on Cow Wreck Beach on Anegada, where the Hurricane Rescue directions say, "Grab Beer and Run like Hell!"
Q. Not long after you arrived in British Virgin Islands, the territory was ravaged by Hurricane Earl. Was that the first hurricane you experienced? Take us back to the moment when Earl rolled in and how did you and your team respond to the aftermath?
Earl was indeed my first experience of a hurricane. What I remember was not only the sheer violence of the storm, which caused flash floods and ripped the tarmac off roads, but also the eerie silence when you were in the "eye" and waiting for the second wave of wind and rain to hit. Memorable too was the resilience of the islanders and the way in which everyone came out to help with the clean-up and get the territory back to its feet. The staff in the Governor's Office, the Department for Disaster Management and across the public service, were terrific.
Q. Being a tax haven or offshore financial hub, British Virgin Islands offers low or no corporate taxes that allow outsiders to easily set up businesses there. As governor, what could be the challenges and dilemmas of managing an offshore financial territory?
As Governor, I was not directly responsibility for financial services. But I did have overall responsibility for the good governance of the territory and strongly encouraged the local authorities to greater transparency in managing this sector which is crucially important to the BVI economy.
Q. Seafood is a big part of the dining scene in British Virgin Islands . Fish and fungi – the national dish that traces back to the slavery era and Roti (an Indian flatbread) –  a popular Malaysian breakfast you might be familiar with, are commonly consumed there. And let's not forget about the finely crafted rum too.
Share with us your best dining experiences and what local delicacy do you miss the most and why?
One of the most interesting local dishes was "goat water", a local curry delicacy made with goat meat and Scotch bonnet chilis. The Chef at Government House grew the hottest chilis and the best proponent of the dish was the Governor of HM Prison at Balsam Ghut. Another great specialty is the "Painkiller", a cocktail made of rum, pineapple juice, orange juice, coconut and – not to be forgotten – freshly grated nutmeg. And the best place to savor this is the Soggy Dollar Bar on Jost Van Dyke, so called because the only way to get there is by wading or swimming ashore from your boat, thus getting your dollars wet.
 Q. British Virgin Islands is teeming with fun local activities. For instance, stilts playing on the beach, the hermit crab's race and of course, sailing, which is popular around the islands. I know you love playing tennis, photography and theater. How did you spend your leisure time on the islands? Are there any local cultural events/interaction with local people that left you with great memories?
I managed to play tennis in the British Virgin Islands and took lots of wonderful photographs. But there weren't many theaters there, as you can imagine. What I did enjoy was the local festivals, where I could take the chance to mingle with the stilt dancers and have fun. I also loved sailing round the islands and participating in the wonderful British Virgin Islands Spring Regatta. This included a race against the Premier in traditional "Tortola Sloops" – 100-year-old boats, which encapsulate the maritime heritage of the British Virgin Islands.
Q. Can you share with us some interesting facts or insights that outsiders might not know about British Virgin Islands?
I'll give you three facts.
One, British Virgin Islands has one of the largest barrier coral reefs in the Caribbean -18 miles (29 km) long, off the coast of the island of Anegada.
Two, Anegada and Guana Island are the only places in the world where you can find one of the oldest species of lizard in the world, the Anegada Rock Iguana, which is critically endangered, with a total population of less than 300.
And three, the recipe for BVI's Pusser's Rum is based on the formula used in the daily tot of rum issued traditionally to British sailors. For every bottle of Pusser's Rum sold, a contribution goes to the Royal Navy Benevolent Fund.
Q. In a few words, how would you describe British Virgin Islands?
The locals call them "Nature's Little Secrets". I think that suits the islands very well.
Q. You were based in several countries while serving numerous diplomatic roles for the Foreign and Commonwealth Office – Turkey, Germany, South Korea, Malaysia etc. In what ways has your extensive experience with diversity and inclusivity abroad shaped your worldview?
As the old saying goes: "Travel broadens your mind". Living and working in a wide range of countries, each of which has a very distinct culture or cultures, makes you realize on the one hand that we're all very different, but on the other that, underneath it all, we're all pretty much the same. I am reminded of the medallion designed by Josiah Wedgewood and issued by the anti-slavery movement in Britain in the late 18th century, on which there was an image of a black man kneeling, with his two hands shackled; he was clearly a slave. The inscription beneath read: "Am I not a man and a brother?".  Black lives mattered then and still do today.
Q. Over the course of your political career, you have played several key leadership roles, including the highly distinguished roles of governor and high commissioner. What does leadership mean to you and how would you describe your leadership style?
I found leadership both a challenge and a privilege. A challenge because the buck stops with you. A privilege because you can make a difference. I would describe my leadership style as consultative. The more questions you ask and the more you listen when you have decisions to make the better. Listening is one of the most important characteristics of a good leader.
Q, Tell us about your current life, what do you miss most about living abroad all those years?
Since retiring from the Diplomatic Service, I have done some consultancy work, but I have also served as a school governor and as a trustee. I am still involved in Malaysia through my membership of the Council of the South East Asia Rainforest Research Partnership. I am also chair of CPRE Hampshire, the Countryside Charity. Inevitably, after a life on the road, I miss some aspects of living abroad. But getting to know the UK and explore the beautiful countryside around me in Hampshire has been great fun. There's still plenty more to see and do.
Biodata:
Boyd McCleary was the Governor of the British Virgin Islands from 2010 to 2014.
Boyd has worked for the Foreign and Commonwealth Office since 1975. During his career he has served in Germany (twice), Korea, Turkey and Canada. From 2006 to 2010 he was British High Commissioner to Malaysia.
Boyd was born in Northern Ireland and studied German Language and Literature at Queen's University Belfast. Boyd is married to Jenny and has three daughters. His interests include reading, walking, photography and tennis.
images from December 9-13 at the Necker Cup Tennis Tournament at Richard Branson's Necker Island in the British Virgin Islands. Images from Little Dix Bay resort on Virgin Gorda- End of the World party 12/12/12


Photograph credit: Boyd McCleary