Husband and wife Jo Carroll and Steve Taylor run Winchcombe Farm, a unique collection of six luxury holiday lodges in Upper Tysoe, Warwickshire. For more information, visit www.winchcombefarm.co.uk or call 01295 680190.
Q. How did this business come about?
We built our first holiday lodge, Will's Treehouse, on the site of our former private nursery business, in 2017. We decided to go in a complete change of direction due to the financial pressures imposed by The Childcare Act 2016 which committed to giving families with working parents an entitlement to 30 hours free childcare for three- and four-year-olds. We took a huge gamble to start our business and crossed our fingers! Thankfully it really took off.
Q. How many lodges do you have today?
Six. We opened our newest lodge, Jess' Tree Bach, in June last year. But it was a real challenge because we had the triple threat of Covid, Brexit and the Suez Canal crisis to overcome. Just days before we opened, much of the furniture and fittings had still not arrived. They were stuck on the boat!
Problems included: a bed stuck in France, a slide stuck in China; 19 window blinds still having not arrived; the wrong hot tub being delivered; six replacement outdoor pizza ovens not arriving and furniture turning up damaged.
Plus garden furniture and hot tubs were like gold dust, as more people were buying them and spending time at home doing DIY during the pandemic. But all came good in the end.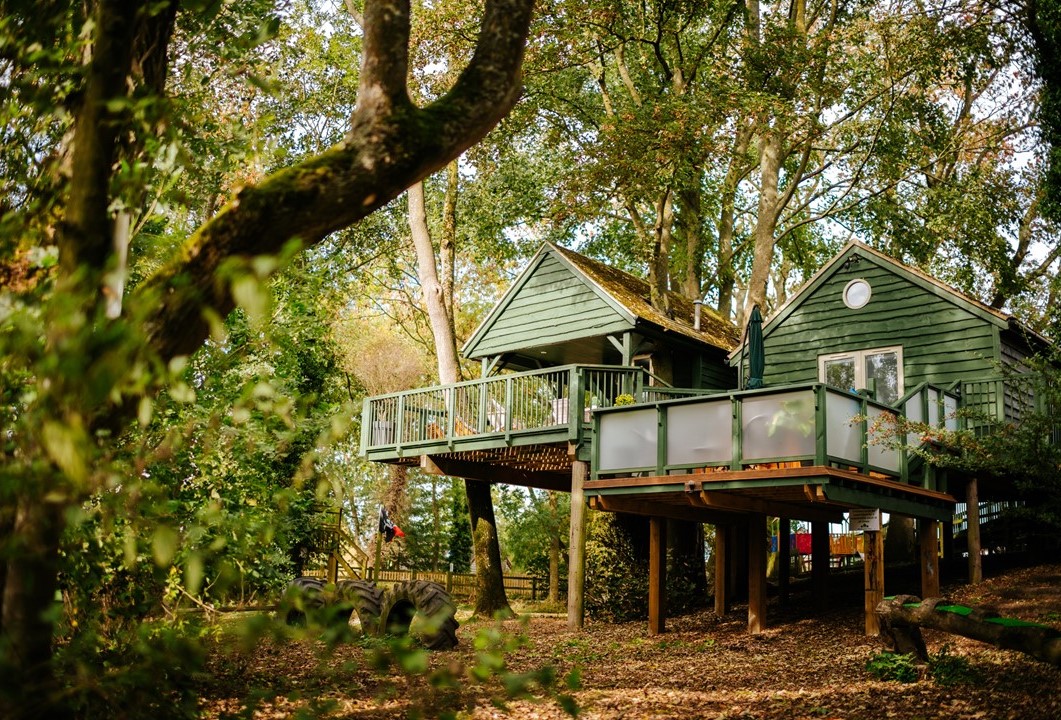 Which is your most popular lodge?
Will's Treehouse is always popular, particularly with families with small children and young couples. We are proud that it is Warwickshire's only authentic treehouse, resting in four sycamore and ash trees. It always wows visitors who love its quirky features such as the tree growing through the kitchen!
Q. What other interesting features do your properties have?
Two of the lodges have slides including Jess' Tree Bach which has a fun four-metre tube slide which takes you down to a woodland play area below. Guests also love the electric skylight in the main bedroom of JTB which allows them to lie back and watch the stars from the comfort of their own bed – with the telescope provided!
Most of the lodges also have geodesic domes with king size circular daybeds, plus telescopes. We know how popular these are so we made sure they were also heated so they can be enjoyed all year round.
All the lodges were designed very much with outdoor living in mind. We know people want to make the most of the idyllic views so we offer as many facilities as possible to enable them to enjoy the great outdoors in comfort, from relaxing – in the private hot tub or on the hammock or swinging chairs – through to dining – thanks to the outdoor pizza oven, BBQ hut and table and chairs. There's even a firepit for toasting marshmallows.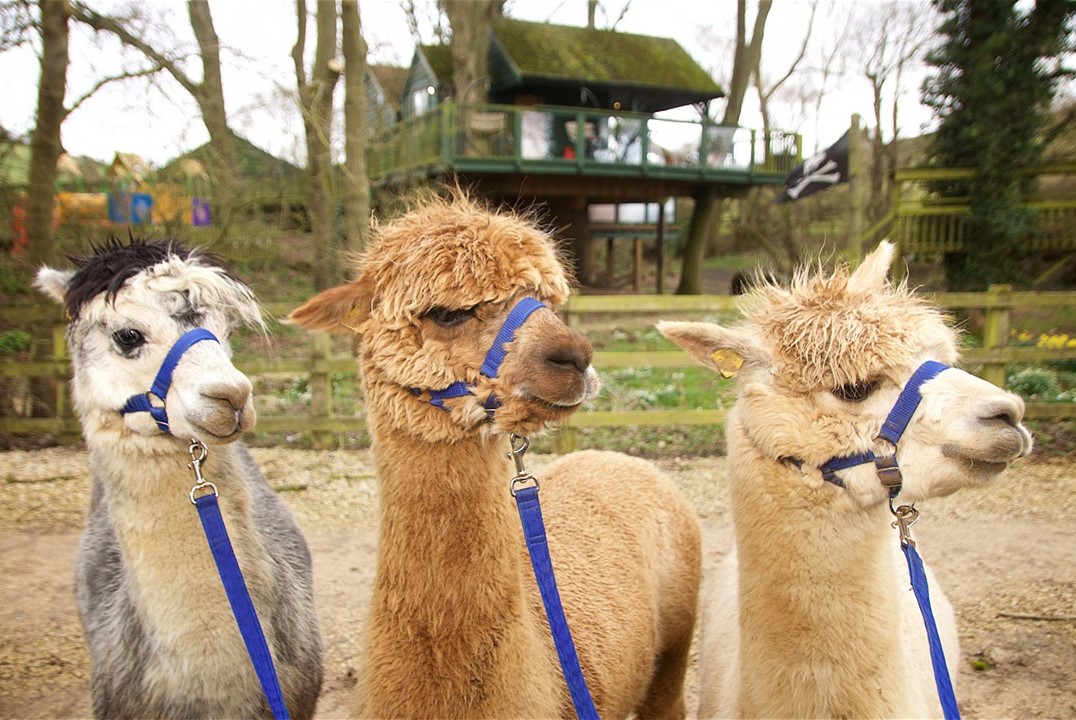 Q. What are the three main things that people say they most enjoy about their stay at Winchcombe Farm?
The views and peace and tranquillity
Our resident alpacas and pony
The attention to detail
Q. Tell us more about the area you're in
Winchcombe Farm is hidden away on a private country estate in the Warwickshire countryside on the north east tip of the Cotswolds in an Area of Outstanding Natural Beauty and beneath the famous battlefield landmark of Edgehill.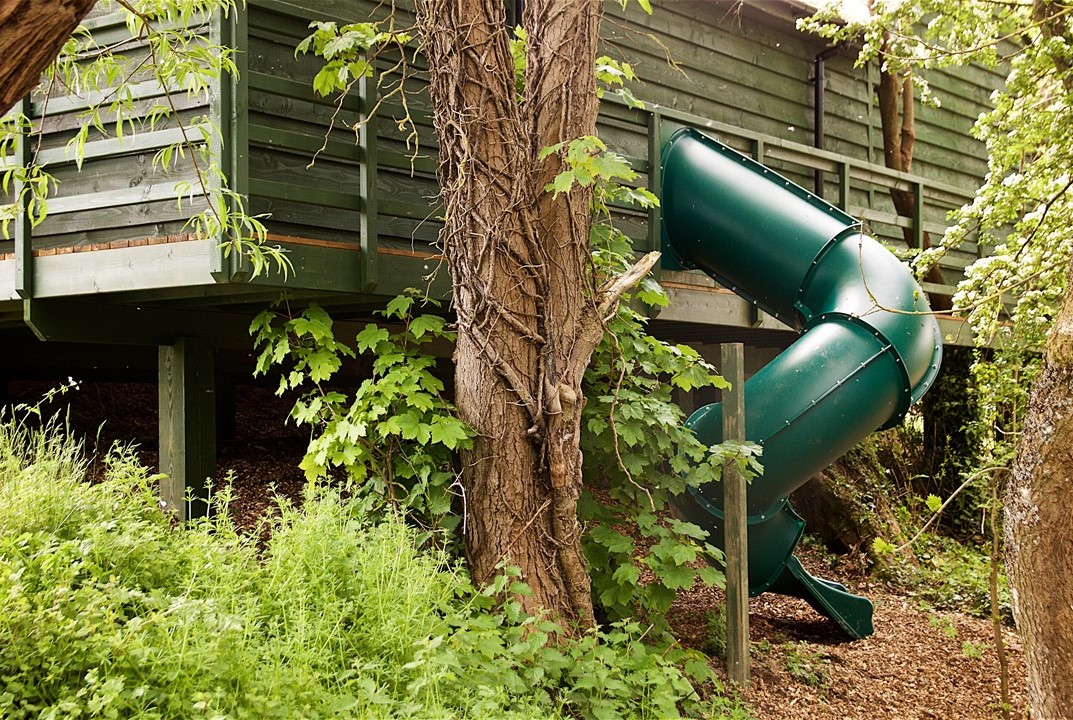 Q. What are your other lodges?
The Chicken Shed (Sleeps up to five); George's Getaway (Sleeps six adults and two children under 12); Bob's Lodge (Sleeps up to eight people -plus one infant in cot) and Ben's Burrow (Sleeps up to 11 people – plus one infant in cot).
All the properties include the latest technology, including a 43" SMART TV, DVD and WIFI speaker for cosy nights in, plus a selection of games to keep the kids entertained on colder days.
The fully equipped modern kitchens come complete with a range of integrated appliances and all the mod cons you need for an effortless stay, including a dishwasher and washer/dryer. And for that extra special personal touch, there's a welcome basket on arrival for all guests, including fresh milk, fruit and delicious cake.
Q. Are the lodges named after anyone in particular?
The first two lodges we built- Will's Treehouse and Bob's Lodge – are named after our sons. The others are named after Steve's older children – Jess, Ben and Gerorge. The only exception is the Chicken Shed Lodge – we used to keep 120 chicken in here and couldn't get used to calling it anything, other than the Chicken Shed!
Q. What is your USP?
It has to be our location – the lodges nestle in the fold of a hillside in an Area of Outstanding Natural Beautiful. It really is a breath-taking spot and We fell in love with it the minute we saw it.
Q. What's the most unusual item of lost property that's been left behind?
There have been a few over the years – a badger's skull and octopus are the main ones which spring to mind!
I can't even begin to count the amount of phone chargers we've had to post back to guests, as well as children's comforters, sunglasses, sun hats, jewellery and even bikes! Guests leave them on the outside decks and forget to load them into their car. Coats is another popular one as people hang them on the back of doors and forget about them when it comes to packing up to leave. There are also a lot of wine bottles left in the fridges – but we're careful to 'dispose' of those carefully!
Winchcombe Farm reviews: A touch of luxury – and then some! – Dave's Travel Corner (davestravelcorner.com)
Winchcombe Farm in Warwickshire – Dave's Travel Corner (davestravelcorner.com)