Q. Traveling is a universal experience that everyone takes pleasure in, but being a gay traveler comes with its own set of complexity and challenges. How do you define LGBTQ travel and why LGBTQ travel matters in your opinion?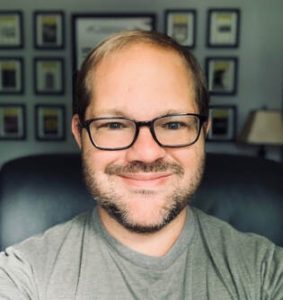 I think the definition of LGBTQ travel is constantly evolving, and that's a great thing. Twenty years ago, being a gay traveler meant I only felt comfortable going to certain spots, like San Francisco or Miami, where I knew I could find gay bars, social acceptance, and people like me.
Nowadays, I think LGBTQ travel is more nuanced. I feel like it's about enjoying a vacation while being your authentic self, visiting places where you can feel safe and welcome. Whether that means a buzzing gay scene and a party vibe or a quaint small town that's queer-friendly is up to personal preferences, but I love that LGBTQ is no longer limited to a handful of destinations.
I think LGBTQ travel is important because it shows our significant contribution to the industry and the world. We are trailblazers who have a proven history of resuscitating tourism at times when it's the most needed (like now) and I think the more places we can go, the more opportunities we have to build inclusion.
Q. Even though the acceptance of LGBTQ has significantly increased in today's world, there are still as many as more than 70 countries criminalizing homosexuality.  Based on your traveling experience, what are the things that one should keep in mind when traveling as a gay couple or individual?
I am so glad more and more progress is being made around the world but, yes, it does make me sad that some destinations carry far greater risks for LGBTQ travelers.
I think visiting one of these places is a very personal choice that comes with a lot of grey areas. I don't automatically disqualify a country because of its laws against homosexuality (unfortunately, you can also find bias and bigotry even where no official laws are in place), but I'll research how these laws are enforced and carefully weigh any risks.
I don't believe in telling my fellow LGBTQ travelers that they should stay in the closet or not travel as they are. Still, if I'm unwilling to conform to a certain law or custom (like avoiding public displays of affection, for example) then I know this is not the place for me. I think everyone, regardless of their sexuality, should be keenly aware of a different country's laws.
For LGBTQ travelers and couples, I recommend exercising a bit more caution. Ask yourself if this is someplace you absolutely want to see. If so, can you comfortably DIY it or is it better to do a private or group tour? If I go the tour route, I often say up front that we are a married gay couple and make sure that it won't be an issue (and it never has).
When someone asked my husband and me about our relationship, in a place where being gay was illegal, I simply said we were family and left it at that. I didn't feel great about it, but I wasn't lying, either. I love small, locally owned inns, but depending on the destination of interest I might recommend staying in a Western chain where the front desk staff won't typically question your relationship and whether you've booked one bed or two.
Q. As an avid traveler, how often do you travel and what is on your bucket list for 2022?
I try to take a trip every 2-3 months if my schedule and finances allow for it. I tend to have bigger journeys in January, July/August, and November (when my husband, and favorite travel partner, is also able to go), then sprinkle in smaller trips throughout the year. Whether it's a weekend road trip or the adventure of a lifetime in Antarctica, I am happy just to get away!
I confess I don't have bucket list destinations. I feel fortunate every time I'm able to experience a new destination, so I try not to put more value on one place over another or get my heart set on a specific location.
Often, I go wherever I can find the best travel deals and I've found that being flexible has helped me see more of the world. My big dream was to make it to all seven continents and I'm grateful I was able to do that (with my husband).
This year, I'm excited about going to Sri Lanka and the Maldives, as well as a road trip through Idaho, Montana, Utah, and Wyoming. I am on a mission to see all 50 states and only have 12 left to go!
Q. How did you get started globetrotting, and what made you decide to start writing about LGBTQ travels?
It started when I was in college. I had the opportunity to do a summer study abroad in Florence. I'd studied the language for years, and am part Italian, so the thought of going to Italy as my first international destination was incredibly enticing.
I was supposed to go with a friend, but something came up at the last minute. I almost canceled, too, because I had minimal travel experience and was afraid to go to Europe by myself. My parents insisted I still go. It was the days when you could still walk a person to the gate and I remember my mom crying before I got on the plane and I was like, "are you sure this is the right thing to do?" Turns out it was! Going to Italy, and then exploring England, Switzerland, Paris, and Spain on my own, opened me up in ways I never expected. I became more outgoing and more confident in myself. That trip gave me the travel bug for sure!
I started thinking about writing about LGBTQ travels around 10 years ago. I appreciated that certain travel guides had a gay and lesbian section, but I felt like the information was limited to bars and clubs and I wanted more. I believed other LGBTQ travelers felt the same, so I set out to find and write about destinations such as Galena, Illinois, a welcoming town with a thriving LGBTQ community that is a bit more off the beaten path.
Q. What are the qualities you look for in places/attractions/hotels that warrant them a mention in your works?
LGBTQ-welcoming and inclusive for sure, but I do look for specific opportunities to highlight queer-owned hotels, restaurants, and shops. I am drawn to places (and the people that run them) with an interesting history, a surprising fact, or a bit of character. I once did a story on haunted destinations and that was a lot of fun. If I can share something that a reader may not already know, that is very satisfying for me.
Q. I read quite a few of your works – Go beyond the beach at these inclusive coastal destinations (Nat Geo), Best LGBTQ+-friendly small towns in the USA (Time Out), 7 LGBTQ-Owned Hotels, Bars, and More That Are Ready for a Comeback (Thrillist) etc. I particularly love the Nat Geo piece, it's so insightful and comprehensive. 
Were all these written based on your personal experiences or through extensive research? Can you share with us your process of putting all the facts and tips together?
Thank you very much! The process is a bit of a combination. I favor writing about places where I've been so I can include personal experiences, but if it has been a while since I've been there, I will reach out to local business owners and see if there is anything new or exciting happening, and make sure what I'm writing is still accurate.
If I do write about a place that I've never been to, I'll do extensive internet research but also reach out to locals so I can get a sense of what makes their town or city truly special. If I know a friend or family member has been someplace, I'll ask them to share their experiences.
Q. As a gay traveler and writer, what is the most welcoming place you have ever been, and what is your least favorite destination and why?
I've been fortunate enough to find very welcoming places. I think Amsterdam ranks among the top. I immediately felt at ease there and the people were so friendly and inclusive.
I was also deeply affected by my time at the Homomonument, which commemorates those who have been persecuted because of their sexual orientation. The memories would later inspire a play.
I can't say that I have a least favorite destination. Even in welcoming spots like Hawaii and New York (where I live), I've encountered homophobic slurs, while places that are historically less inclusive welcomed me with open arms. So, I think you can encounter good and bad in any given place, but I tend to focus on the positives.
Q. I understand you had leukemia growing up. How has this changed your outlook on your life?
Yes, I was diagnosed with leukemia when I was five and battled the disease for several years. One of the hardest parts was spending my summers in the hospital while my friends went on exciting family vacations.
Yet I knew the "woe is me" attitude wouldn't be very beneficial. From an early age, I gained a level of maturity. I understood that life was frail, and time was a gift. I learned how to advocate for myself and go after what I desired, not wait for the opportunities to come.
I also learned to find humor in things. Even in life and death situations, not everything is all gloom and doom. When I went into remission, I didn't expect every day to be filled with sunshine and puppy dogs. Rather, I was prepared for life's messiness and embraced the unknown.
Q. In your article "The Story of My Life", you recounted your early years at the art school in NYU where you met your professor Venable Herndon whose advice "Great theater happens when an audience makes an emotional connection to your work" inspired you to become an award-winning playwright.
What is your creative process when writing a play and what advice would you give to a beginner playwright?
Venable was the absolute best and I still miss him a great deal. I knew from the time I was young that I wanted to write. It was partially inspired by all the time I spent in the hospital because it gave me something to do, vent my feelings, and distract myself from the pain.
Playwriting was a happy accident. When I was applying to colleges, I knew I wanted to focus on creative writing programs. I saw that NYU's Tisch School of the Arts had a Dramatic Writing program. I didn't know what that was, but it sounded cool. I needed to submit creative material, so I sent a bunch of sad boy poetry. I only later learned it was a playwriting and screenwriting program, and I had never written a script in my life!
I gave it a try but wasn't convinced this was for me until I had Venable's encouragement and saw my words performed with an audience for the first time. When they laughed at a joke or gasped at a dramatic scene, it was such a thrill for me to see. I was hooked!
When I get started with a play, I ask a bunch of questions. Where and when is the play going to take place? How many characters will there be? What do I want the audience to take away from it? Once I have a solid grasp of this, I start developing my characters. I usually think about characters first and let them inform the story.
To flesh them out, I think of how they would fill out an online dating profile. What kind of music do they like? How about their favorite ice cream flavor? Are they the life of the party of someone who is reclusive? The more detail I give someone, the more I can picture who they are. Then I think about their life story, point of view, ambitions, and struggles, and the conflicts and story start to take shape.
For a beginning playwright, I'd say ask yourself what makes this play you want to write relevant, timely, and relatable. Is this story only you can tell and how is different from everything else out there? Most importantly, I would once again echo my great professor and find ways for an audience to connect with your work. That doesn't mean they will agree with your characters' point of view, but there must be an emotional connection, or you will lose your audience.
Q. Are there any other things about yourself that you would like to share with our readers?
I think we've covered a lot here, so let's see. I'm excited to be working on a queer-focused (but also very straight-friendly) travel book with my friend and fabulous author, Amy B. Scher!
Though I've traveled to 45 countries across seven continents, I've only ever lived in the New York area, so I love hearing from people who have lived in various parts of the world. My absolute favorite thing is seeing a new place for the first time and I hope I never lose that curiosity. Yet I also love the moments I spend at home with my husband, Michael, and our 14-year-old Yorkie, Layla.
In addition to playwriting and travel writing, I also write personal essays that are published by the New York Times, Washington Post, Huff Post, Out Magazine, and more. Feel free to visit my website www.markjasonwilliams.com , to read more of my work. Thanks so much for speaking with me!
All photographs credit: Mark Jason Williams
Biography:
Mark's work is published by the New York Times, Washington Post, National Geographic, HuffPost, Out Magazine, Salon, Thrillist, Time Out New York, Rachael Ray in Season, Good Housekeeping, The Globe and Mail, Far & Wide, Denver Post, Cleveland Plain Dealer, and more.
His plays have been produced in New York, Chicago, Minneapolis, and Washington, D.C. Mark has a B.F.A. in Dramatic Writing from NYU's Tisch School of the Arts and is a three-time recipient of the Planet Connections Award for Outstanding Playwriting.
He is currently working on an LGBTQ-focused travel book and an essay collection. He lives in New York with his husband and their 14-year-old Yorkie.