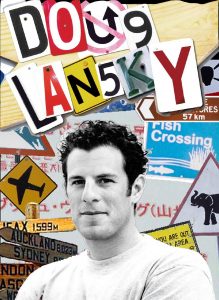 We first heard about Doug's travel adventures a number of years ago through his "Signspotting" website and later his book. This unique ongoing project highlights humorous and engaging signs from around the world. He even has a cool widget which you can embed on other websites displaying any new signs uploaded to his own site. Doug is a busy guy and certainly not one to stand still. He is involved in a number of projects that would make those with less energy quickly tired. Recently we had a chance to ask him about some of his travels and unique experiences while on the road.
Q. When did you discover your interest in travel and describe your first 'job' in the travel industry?
I discovered I loved traveling after my summer backpacking around Europe with a Eurail pass. Then I discovered I wanted travel around the world just about the time I was going to graduate from college and not have a job. Then I discovered that my money would last me a lot longer than I ever imagined if I traveled dirt cheap and took jobs along the way. Then I discovered, after two and a half years bouncing around the world, that I still didn't want to stop and I better damn well try to figure out a way to earn a living to support this habit. I had been writing a newspaper column from my first year of high school until my last year of college and I wanted to put those eight years of experience to use. The writing "voice" I had acquired during that time served me well when trying to find a job.

Q. You've traveled to well over 100 countries – during your travels over the years has there been an "epic" trip that stands out in your mind – perhaps related to an experience or unique part of the world? A trip that caused significant reflection afterwards?
The stuff that went great, was fun, and may have felt epic at the time wasn't the sort of thing that caused much reflection or growth. It was those incidents where everything went to shit or you felt uncertain and uncomfortable, but pushed on and made it through. Everything from a week of not meeting a fellow traveler and feeling lonely to having my head nearly taken off by the blade of an indigenous Amazon basin dweller while sleeping in my hammock.

Q. You have had an amazing diversity of various careers under the auspices of the travel industry. Of these, travel writing, speaking, books & websites about odd signs – crap souvenirs – dubious achievements of travel, TV, Radio etc: which of these outlets gives you the most enjoyment?
Changes all the time… that's why there's such an odd mix of stuff in your list. I enjoy the new challenge.
There are also some others you left out, like curating the Signspotting exhibit and taking it to six different venues. Several million (many of whom are not likely to venture into a museum) have now seen it. And creating an online tool for Visit Sweden to help visitors connect with like-minded locals while in Sweden. Lots of new stuff keeps it interesting. At the moment, the speaking gigs are a fun challenge (and it's a nice change to get instant feedback — as opposed to sitting around in my pajamas writing).

Q. Was there a point when you did something that allowed your career to really take off?
There are little successes along the way, but it never really felt like Apple stock.

Q. Crap souvenirs – now you certainly see a lot of those around the world – especially at airports. Tell us about this and what was the inspiration to start a website and write a book dedicated to these types of kitschy collectibles!?
Exactly as you said… there are a lot at airports. And other places. Instead of just making fun of them, I started taking photos. This was also more convenient than buying them and having no place to put them (or stuff them in already-full carry-on luggage). They may not make much sense to buy, but they're pretty entertaining.

Q. Can you elaborate on why "experiences" are among the most important part of traveling for you?
Well, It's not the souvenirs or the suntan, so I suppose that leaves "experiences." I'm talking about non-packaged experiences here. They are by far the most interesting aspects of travel and nearly always involve meeting the locals.

Q. Can you describe a specific humorous moment (story, happening or other) from some of your travels?
I'd gone up the Amazon on a cargo ship, lain in a hammock elbow to elbow for about nine days, and I was just bored out of my gourd. So I rented a dugout canoe, and two other travelers and I went out to find some headhunters and live with them for a week. At 3 one morning, some drunk guys woke me up by tapping me on the head with a machete. They were shouting at me, and I felt blood running down my face, and I was like, "Wait, wait, wait, take it easy. I got something for you." I fished a can of tuna out of my backpack and gave it to them, and that seemed to satisfy them for the time being. It was just really stupid on my behalf to think I could go and hang with headhunters, and so I guess I was paying the price. But I did get a book out of the experience, Up the Amazon Without a Paddle.

Q. Of all your travels – you must have stayed in some places that have "character" – what is the strangest place that you spent a night in or at?
There have been loads of shitty hotels/pensions/hostels… some that were just a stuffy, windowless shed with a single lightbulb and yoga-pad-like mattress on the dirt floor with a padlock on the door. Most "character" is when you live with the locals. Which is why Couchsurfing/Tripping.com are so great. I remember staying with a poor family in Fez, Morocco — I had met them while asking directions and got an invite back for dinner, then ended up staying there. The kitchen was also the bathroom — the only bathroom. And the toilet — also the kitchen sink — was a hole in the floor. My wife and I lounged around all day with this family and laughed and napped and had great food.

Q. With thousands of travel blogs and online travel writers now – how does one distinguish him/herself from all the others – especially when trying to find one's way with an independent career – such as you've created for yourself?
There are loads of ways to go about it. One of the things I tried and realized I didn't like was twitter. But there are travel writers who have used their large twitter following to launch a career. But the one thing all the ones who've "made it" have in common is that they have a strong work ethic. They are working all the time.

Q. Since you call Stockholm "home" when you're not traveling around the world what are some of your favorite experiences to enjoy in or around this city?
I try to stay active, and Stockholm makes it pretty easy. I'd give it about an 8.5 out of 10 for outdoor sports in a major city. I like ice skating on the inland waterways and cross country skiing around the parks in the winter, jogging and kayaking around the city in the summer. There are some nice cafes I like meeting up with friends at, but the friends are a much bigger part of the equation than the cafe and I'd just as soon not send more people there, so please forgive this travel writer for not plugging any actual watering holes.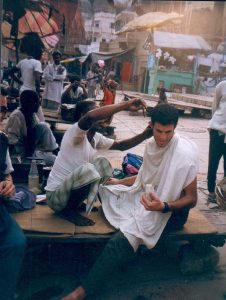 BIOGRAPHY
Doug Lansky has been living abroad and traveling for the last nearly 20 years in over 120 countries. He is the author of 10 books, including 2 for Lonely Planet and 3 for Rough Guides, had a weekly syndicated travel column in over 40 newspapers for five years, hosted a Travel Channel show, served as a correspondent for Public Radio's Savvy Traveler show, served as travel editor for Scandinavian Airlines inflight magazine for three years and contributed to publications such as National Geographic Traveler, Reader's Digest, Esquire, Men's Journal, The Guardian, National Geographic Adventure, World Hum, and Huffington Post.
On the speaking circuit, Doug has given acclaimed lectures at nearly 100 universities, spoken to a sold-out audience at National Geographic Headquarters, for the United Nations World's Tourism Organization, as an after-dinner speaker at corporate events and at both public and industry travel/tourism conferences, and set the attendance record for keynote lectures at the 2012 ITB Berlin. Visit his website.