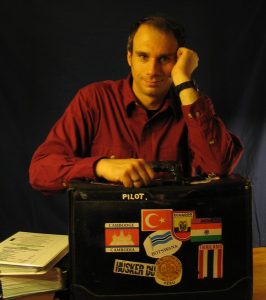 For those who travel often for business or pleasure – airports and planes are an integral part of our lives. Entire online communities have been formed around the airplane – FlyerTalk is the perfect example of this. When I was offered a chance to review a new book about air travel, "Cockpit Confidential" I jumped at the opportunity. For the better part of the past few weeks this book has been a constant companion in a number of airports during my travels. Author and airline Pilot Patrick Smith graciously accepted our interview request – here are our questions and his answers.
Q. You have just released the extremely informative book – "Cockpit Confidential – Everything You Need to Know About Air Travel" – tell us a little about your background and what motivated you to write this book.
My infatuation with aviation goes back to early childhood. You hear this from many, if not most airline pilots, but I suppose I'm a bit atypical in that it was never the hands-on thrill of flying, in and of itself, that most enthralled me. What captivated me then, and still, is what I like to call the grand theater of air travel in whole. This is something I talk about in the book's introduction: As a kid, it was the airlines themselves that compelled and fascinated me. Five minutes at an air show watching the Blue Angels and I'd start yawning, but I could spend hours poring over the timetables and route maps of the world's airlines, memorizing the countries and capitals they flew to. I'm a throwback, maybe, in the sense that I still see planes as a way of bridging people, cultures and continents.
Thus, my passion for aviation came to nurture a passion for travel. I'd never have traipsed off to eighty (or however many it's been) countries if I hadn't fallen in love with airplanes first. This connection, as anybody familiar with my work already knows, is something I promote relentlessly. What underpins my writing is a hope that you, too, will come to see the airplane as more than just an inconvenient means to an end.
As for the writing part, the best flight-related writing I've come across has been from industry outsiders, which is to say writers, not pilots, who best understand which ideas and nuances people will find meaningful.
I'd always had a mild compulsion for writing. In the early 1980s I self-published a punk rock fanzine, then later a homespun poetry zine (featuring knockoffs of my favorite Stephen Dobyns poems, which was mostly just a lame attempt to meet girls). But it was never anything I took too seriously until 2001, when I was laid off after the September 11th attacks. All of a sudden, flying was on everybody's mind, and there I was with an opportunity to meld two interests of mine into something useful. So I started making cold calls. The first thing I was paid for was a piece on airport security for the website Salon.com…

Select photos from some of Patrick's travels (all photos courtesy of Patrick Smith):
Q. Relating to the above question – how long did it take you to write this comprehensive book – was it based on notes you took during your travels – or did you just sit down and start writing – compiling much of this information from memory and first hand knowledge?
Much of the book is culled from the many columns and articles I wrote for Salon. For nearly ten years, between 2002 and 2012, my "Ask the PIlot" column was a fixture at that magazine (today I blog on my own site, www.askthepilot.com). So, most of the material was already out there in some form. The hard part was organizing, updating, and expanding it. The book was more a labor of "re" writing than of writing. Still it took the better part of a year, probably.

Q. I am seeing Wifi offered more and more on domestic flights – I recently flew a USA based carrier Internationally with Wifi for the first time (although it was "very" spotty over the far northern latitudes) – Can you address WiFi in planes – is the trend for eventually all major carriers to offer this on commercial flights?
I imagine so. Keeping people happy on long flights is all about distraction, and the opportunity to surf the Internet at 35,000 feet is a wonderful time-killer. The problem for airlines is that satellite link-ups for transoceanic WiFi are extremely expensive. There needs to be a critical mass of carriers interested in providing the service before the cost will come down. This "will" happen, though how soon I'm not sure. (While a nominal fee for WiFi is perfectly reasonable, I feel strongly that carrier should provide it free for their first and business class customers.)
In the meantime, airlines need to make their seat-back tray tables a little more laptop-friendly. When the person in front of you reclines, a dangerous pinch-point forms between the horizontal tray and the cushion, trapping your screen in a sort of vise. I'm surprised more computers aren't destroyed this way.
(photo by Patrick Smith: China Airlines A340)

Q. My understanding is Air Marshalls are on certain flights (discrete to the public of course). Can you clarify if they are only on domestic flights, or only to or from certain destinations, or on some International flights arriving in the USA and how they choose which flights to be on? Does the government pay for their own flights?
I have mixed feelings about the effectiveness of Air Marshals. Mostly, I feel that the money and resources would be better spent on the ground — helping to screen for explosives, for instance. As I write about in chapter five, we need to move past our fixation with the September 11th attacks. For numerous reasons, that blueprint really isn't workable anymore from an attacker's perspective. Beyond that I'm not at liberty to discuss any details regarding the assignments of Air Marshals. Yes, the government pays their way.

Q. You address a number of problems with most airports in your book – incessant noise being one of the major problems. You've mentioned in the past that Incheon in Korea is one of your favorite airports. Do you have a favorite airport in the USA?
Well, the romantic in me loves the chaos and multicultural melee that is JFK. From a practical and aesthetic point of view, though, I'd have to go elsewhere. I've always thought that my hometown airport, Boston-Logan, is terribly underrated. http://www.askthepilot.com/planes-pranks-and-praise/ It's clean, green, easy to navigate, and has a decent public transportation link. Austin, Texas, has an attractive little airport. Portland, Oregon. Orlando. Roanoke and Norfolk, Virginia. Tampa.

Q. Do you ever crave a break from flying, airports and the constant wear of "being in motion" – if so, what do you do to relax?
I recently got into urban beekeeping, for one. We have a busy hive in our little Somerville backyard.

Q. This is a somewhat broad question and the nature of the airline industry is always in a state of change – but what major trends do you foresee for the airline industry over the next decade?
I don't know about any major trends, but it appears that the industry is finally figuring out a way to better assure long-term financial stability. The three recent mega-mergers were a part of that; consumers worry about fare increases when carriers come to dominate certain markets, but there are still plenty of discount carriers out there, and consolidation is probably a good thing in long run, for passengers "and" industry employees. The industry has been so ruthlessly cyclical over the past few decades.

Q. Have you ever thought about creating a cartoon series based on your vast and intimate experiences in the air travel industry?!
If I could draw, maybe. Here's a picture I made in 1975 or so, when I was about nine. That's a Delta L-1011. My skills have improved only marginally since then.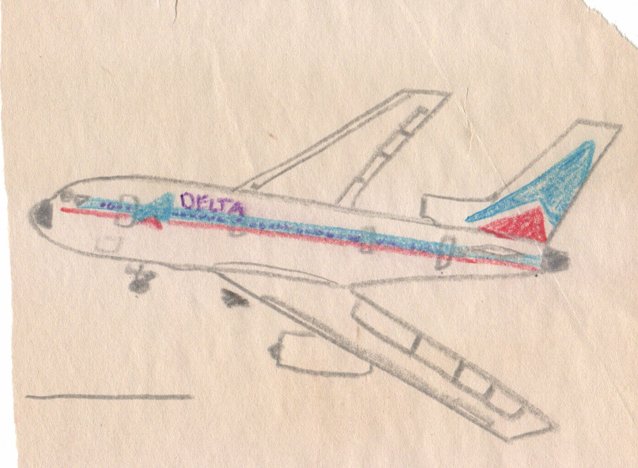 Biography:
Patrick Smith is a commercial airline pilot and air travel writer. He has appeared on over 200 radio and TV outlets, including PBS, Discover Channel, CNN and National Public Radio. His work has been cited in numerous publications, including the New York Times, Washington Post and USA Today.
He was author of Salon.com's popular Ask the Pilot feature for nearly ten years. Patrick has been called the thinking man's pilot, offering fresh provocative, occasionally hilarious insights into everything from turbulence to terrorism. He has traveled to more than 70 countries.
For more information about "Cockpit Confidential" and additional air travel resources, visit Patrick Smith's "Ask the Pilot" website.