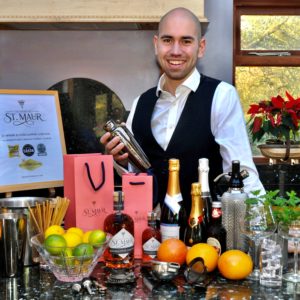 Four years ago William Seymour's life took on a completely new direction. The Earl of Yarmouth married the love of his life and then, together, they established The Secret Aristocrat Company, producing a unique drink inspired by their own wedding day.
Today, William and Kelsey's St Maur elderflower liqueur has several international awards to its name and their business continues to grow. Lord Yarmouth answers our questions. . .
Q1. How and where is St Maur made?
The provenance of our product is really important to us and an essential part of the St Maur story.  Look on our logo and on our bottles and you will see map coordinates. Those will take you to Ladies Wood, a family-owned woodland in Alcester, south Warwickshire, and to a wild elder grove where we hand-pick elderflowers which flavour St Maur Elderflower Liqueur.
All the elderflowers we use grow wild and are chosen from our own forest and farmland in the beautiful heart of England where we live. This is all part of giving St Maur a sense of place. St Maur is made and bottled by us on our farm, using our own formulation, and it is very much a family business. When we say St Maur is "a little drop of England's heart", that is genuinely an authentic claim, and it gives us great pleasure that we have won a number of internationally recognised awards for St Maur since we launched it in May 2020.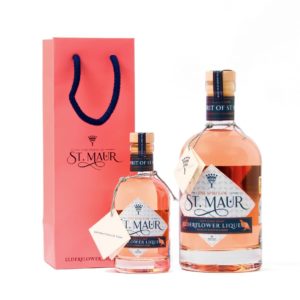 Q2. What helps set the drink apart?
It is not just the element of foraging and the sense of place that marks out our liqueur. There is also something of a marriage of science and artisanal craft in the creation of the drink too. We've packed our drink with plenty of flavour and an unmistakable "nose". If you like elderflower as a sip, or want to make a cocktail with an elderflower element, then St Maur is a great choice and a real "hero" brand.
So many liqueurs fall into the trap of being over-sweet, and have a sugariness to them. We have avoided that with St Maur to create a fresh feel to the liqueur with sweetness balanced with a citrus, and a long pleasing finish to savour. We are very pleased with the way we have been able to do this and it is both the basis of much of the acclamation we receive from drinks experts and the reason why St Maur is such a versatile drink working so well in sips and sours, highballs, English Martinis, Champagne cocktails, and spritz drinks.
You'll find some of our signature cocktail suggestions on our website, including the Hugo St Maur and the sublime Partridge and Pear Sour.  drinkstmaur.com/cocktail-recipes/
Q3. When and why did you set up the business?
St Maur started with a drink we created for our wedding reception in 2018. We wanted to make a drink to share with our friends and family that, when you tasted it in years to come, would transport you back to a special moment in time. Once married we wanted to start to build our own family business, and to a great extent refresh and perhaps even regenerate a family heritage.
The drink we made worked so well, and we had such great feedback on it and encouragement to develop it further, that when we were considering how we might take a family business forward it became an obvious choice as a starting point to build a brand. We named the drink St Maur after the surname ancestors used in the Middle Ages. By the time Jane Seymour married Henry VIII our family name had changed to the one we use today.
We are still really in the start-up phase with our business, and we have a long way to go yet, but we have ambition for St Maur. We have a good following in central England for our product, customers throughout the United Kingdom, and interest internationally coming in particular, so far, from Australia, Germany, and the United States.
We did not come to this industry with any prior knowledge, at all, and no experience in drinks, so there has of course been a steep learning curve. But fresh eyes are never a bad thing to have in any walk of life, and we launched our business during the pandemic lockdown. You certainly learn to be agile in business doing that!
Q4. How important is sustainability to you?
One of the great freedoms, and obligations, with running your own company is that you get to decide for yourself your stance on responsible business, sustainability and the environment, and the impact you have on the world you live in and do business in. We do not believe it is good enough anymore to "do no harm", but rather to make a positive contribution to the communities we work in, and to leave the world a better place for having been in it. That is the benchmark we want to achieve, and the goal we have set ourselves as we grow our business. We are on a journey we have only just begun.
Q5. Who is St Maur aimed at and what can you do with it?
St Maur is designed as both a sip and a cocktail ingredient. We advocate the philosophy to drink less but drink better. We would suggest that when you have a friend or guest visit it is good to make them a drink rather than just pour them one. That's a great way to enhance the social atmosphere too. No one will remember the glass of fizz you pour them or the gin and tonic you give them, but they will remember, say, the Hugo St Maur spritz you make for them, or the Partridge and Pear Sour you mixed for them with St Maur and your favourite gin.
Cocktail making should be fun and not something to be frightened of. Anyone can make a good cocktail with a bit of practise, and it is not a gendered pursuit either. You don't need to be a mixologist to mix a really lovely, sensual drink with St Maur, but then again if you are there is much to excite the professional too. That's the point with cocktails, in our view, there should be something for everyone, and with St Maur there is.
To purchase or find out more, visit: St Maur – St Maur (drinkstmaur.com)
To try some of William's bespoke cocktail recipes, visit: COCKTAIL RECIPES – St Maur (drinkstmaur.com)