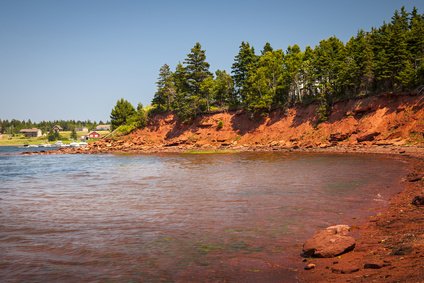 ATLANTIC CANADA – Travelers in search of adventure need not travel far. Just north of the U.S. border of Maine lies the Atlantic Canadian provinces of New Brunswick, Newfoundland and Labrador, Nova Scotia, and Prince Edward Island, all rich with culture, character, and natural splendors that are perfectly appointed for an assortment of outdoor adventures. From soft to extreme, here are some examples of unforgettable active experiences in the region.
Located in Northern New Brunswick, the Nepisiguit River provides a tranquil off-the-grid landscape for a variety of outdoor activities in all four seasons. Nepisiguit Adventures offers a five-hour guided canoe run through the thick Acadian forest, where bald eagles soar overhead. During the excursion, guides will share myths and folklore of the river and prepare a meal on the pink granite rocks before a swim in a world-famous salmon pool, and a stop at the magnificent Pabineau Falls. Available through the end of October or until the snow flies. Guided canoe run is $95 CAD per person.
StAndrews Sport FishingThrill-seeking shark enthusiasts can head to the Bay of Fundy in New Brunswick for the ultimate catch, tag and release experience. Joined by Captain Chris and his team of shark biologists, the group will depart on a six-hour excursion in search of the elusive sharks that inhabit the Bay of Fundy waters. Participants will learn how to fish for bait, prepare chum and watch firsthand how biologists tag these fascinating sea creatures in efforts to conserve the species. St. Andrews Sport Fishing Co. has partnered with the Canadian Shark Conservation Society for the conservation and preservation of the sharks in the Bay of Fundy, working very closely with a leading shark expert at the University of New Brunswick. Price is $295 CAD per person. Select summer dates book up quickly. To plan a 2019 excursion, contact St. Andrews Sport Fishing Co.
NEWFOUNDLAND AND LABRADOR
Western Brook Pond Fjord Hikers, WesternNearly 485 million years in the making, Gros Morne National Park is located on the west coast of the island of Newfoundland and is a mecca for outdoor adventures, particularly hiking. A UNESCO World Heritage site, the park features marked and unmarked trails winding through fjords carved by glaciers, towering cliffs, waterfalls, and dense forests of rare plants, animals and bird species. Tour Gros Morne offers a variety of active and soft hikes that bring hikers off-the-beaten path in search of geological wonders, spectacular vistas and if lucky, the mighty moose. Guided day hikes are available through October 10 and start at $150.00 CAD per person for a semi-private tour.
Dark Sky – Ochre Hill – David SaundersOn the east coast of the island, Terra Nova National Park was designated a Dark Sky Preserve in March 2018 by the Royal Astronomical Society of Canada, the first in Newfoundland and Labrador and the twentieth in Canada. Nocturnal adventurers are given a new Night Sky Kit with binoculars and resources to guide visitors through the wonders of the night sky. A Night Watch tour is also available focusing on one of the parks' favorite nocturnal animal, the bat.
NOVA SCOTIA
Off the coast of Nova Scotia, the Wild Islands offer campers a serene escape. The Wild Islands Camping Adventure begins aboard an open whaleboat to one of the untouched white sand beaches of the Wild Islands for an afternoon of guided hiking, foraging and snorkeling. The archipelago of more than 100 islands is refuge for many migratory seabirds, osprey, bald eagles, grey seals and sunfish. The eco-adventure also includes lunch of smoked salmon and seafood chowder, a seafood boil dinner on the beach, campfire and provides camping equipment such as tent and sleeping bags. The overnight experience is available August 20, August 29 and September 10. Price starts at $725 CAD per person.
For those who prefer glamping, LaHave Islands Glamping Adventure by LaHave Adventures provides all the necessities including the private island beach side campsite. The two- or three-night experience includes island hopping by kayak to colorful fishing communities, fresh seafood and local dishes prepared on an open fire by a wilderness chef on the beach, yoga, stand-up paddle boarding and "seafari"-style East Coast Glamping canvas wall tent. The two-day experience is available September 19-20 at $749 CAD per person. The three-day option is available September 21-23 for $1049 CAD per person.
PRINCE EDWARD ISLAND
Prince Edward Island's shallow bays and consistent winds provide an ideal setting for kiteboarding adventures especially in the salty waters of North Rustico, Cavendish and Malpeque Bay. In Cavendish, the expert instructors at PEI Kiteboarding offer lessons for beginners looking to learn this fast-growing water sport. Advanced lessons are also available for those ready to test their skills at aerials and advanced transitions. Water lessons start at $200 CAD for two hours. Prices vary based on lesson.
For those who enjoy the thrill of catching their meal, Tranquility Cove Adventures' Giant Bar Clam Dig invites travelers to gear up and drop anchor five miles off the coastline of historic Georgetown to dig for clams. The half-day experience includes all the appropriate gear – masks, snorkels, wetsuits, water socks and clam rake. Once the clams are gathered, the group journeys to a deserted island off the coast of PEI for a beach cook out. Guests will also learn how to haul a lobster trap, rock crab pot and a mussel sock. Available Monday through Saturday in the summer, price is $98 CAD per adult.
About Dave's Travel Corner

Dave's Travel Corner is a travel content, resource provider and community (founded 1996) providing travel
Guides
written about Dave's personal travel experiences and
Journals
, pages that contain trip summaries and experiences written by fellow travelers. We spotlight locations and attractions with an article linked directly from our homepage including content across our blog, photo and video galleries. We use a combination of social media, written content, photography and videos to promote locations. Not only does the content appear on this site but we have direct partnerships with other well visited travel sites for placement of the content. Since 1996, we have also established hundreds of relevant link exchanges with other travel sites.
Visitors to Dave's Travel Corner will also find thousands of travel related links organized by categories on the
Resources Page
, a
Photo Gallery
containing International travel photos,
Book Reviews
, and
Product Reviews
focusing on products useful for travelers, fully automated
Forums
,
Tour Bookings
offering over 4400 unique tours around the globe,
Interviews
with those making news in the travel industry and
Videos
- specializing in International travel videos as well as home of the
Dave & Jim Show
.
Dave's own travel blog is
Above the Clouds
which focuses on International Travel & Lifestyle.
For information on advertising please choose from a variety of
advertising options here
.
Contributors are welcome

Learn how you can contribute
About

www.davestravelcorner.com/about