Arizona's Playground Offers Plenty of Budget-Friendly Activities
LAKE HAVASU CITY, Arizona (April 01, 2022) – Pain at the pump might be cutting into people's discretionary vacation budgets. But vacationers looking to beat inflation can rejoice that gas prices in Arizona tend to be at least one dollar less than fuel in Southern California, according to the gas-price app GasBuddy.
Go Lake Havasu President/CEO Terence Concannon says Havasu's largest tourist draws come from within a six-hour drive, including Southern California, Southern Nevada, Phoenix and other in-state tourism markets.
"Most of the people who come to visit our community have to put gas in their cars to get here – that is the primary means of travel to get to our destination," Concannon says.
"So yes, we are obviously concerned about gas prices going up."
Yet once visitors arrive by car, there are many ways to save in this walkable city along the shore of the Colorado River.
Using data including reviews, ratings, photos and popularity, Tripadvisor ranked 17 Best Budget-Friendly Things to Do in Lake Havasu City. Free and low-cost attractions include the world-famous London Bridge, 28 replica lighthouses, an award-winning visitor center, state and local parks, the largest skate park in Arizona, the family-friendly Aquatic Center, the Lake Havasu Museum of History, and the lake itself.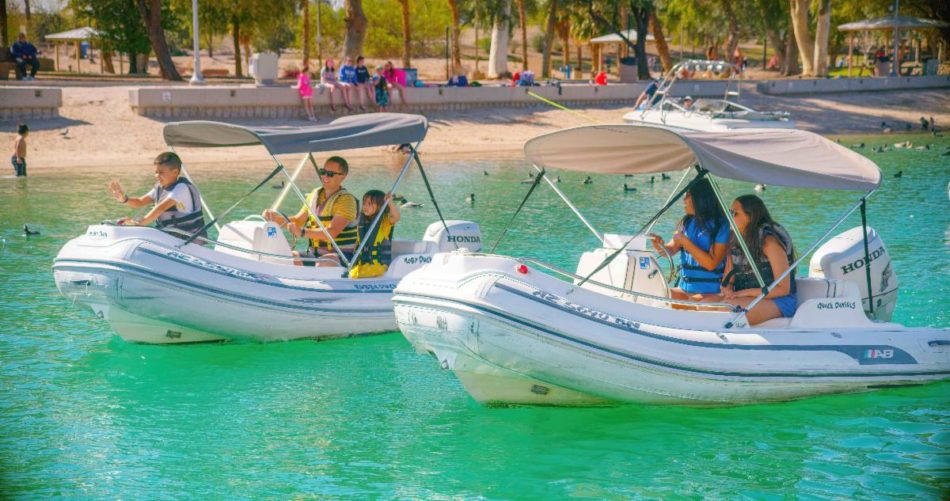 Self-drive Rubba Duck Safari guided lake tour.
Budget-friendly tours include narrated sunset cruises with Sunset Charter & Tour Co and Rubba Duck Safari's guided lake and river tours in rubber inflatable boats that visitors can pilot themselves. The Lake Havasu Sunday Swap Meet & Vehicle Mart and B.J.'s Cabana Bar & Karaoke are favorites for visitors who want to travel like locals.
A roundtrip ferry ride is just $2 on the Tecopa.
One of the best bargains in town is a $2 roundtrip cruise aboard the Tecopa, the 65-ft. passenger ferry boat that takes visitors across the river from the London Bridge to the Havasu Landing Resort and Casino on the California side.
"The entire 17-minute (each way) roundtrip journey is especially memorable at sunset," Concannon says.
GoLakeHavasu.com also features a Local Happenings page with listings for a variety of mostly free events held throughout the year in the city. Events include car club gatherings, pickleball and disc golf play, a hiking group, and a bike night for motorcycle enthusiasts.
London Bridge Renaissance Faire & Joust performers.
Upcoming Events in April 2022
London Bridge Renaissance Faire & Joust, SARA Park Rodeo Grounds, April 1-3, 2022
What's a Renaissance Faire & Joust? Glad you asked.
Now in its sixth year, the London Bridge Renaissance Faire is a festival with stage and street performers in period costumes, bringing medieval history to life.
Jugglers, musicians, magicians, and a myriad of roving village characters and minstrels will entertain and delight the entire family. Renaissance Guilds will interact with faire-goers and populate the shire with their demonstrations and encampments. There will also be a marketplace with arts and crafts, artisan demonstrations, and delicious food and drink (including the Troll Under the Bridge Tavern). For the perfect family selfie spot, visit the Pirate's Cove Children's Area and escape into a world of buccaneers, smugglers, and booty.
Knights of Mayhem, jousting world champions who have appeared in numerous television shows, will be displaying their sport at this year's faire.
Faire-goers can also enjoy archery, warhorse rides, an aviary show and Queen Mary's Garden Tea.
Weekend passes are $15 for adults, $5 for children ages 5 to 12.
The boating season kicks off with the Lake Havasu Boat Show.
The 31st Annual Lake Havasu Boat Show, April 8-10, 2022, Lake Havasu State Park, Windsor 4
The return of the Lake Havasu Marine Association's annual Lake Havasu Boat Show, now in its 31st year, kicks off a new Lake Havasu boating season.
The Lake Havasu Boat Show, the largest in Arizona and Nevada (and possibly California as well), opens at Lake Havasu State Park, Windsor 4, for a three-day run on Friday, April 8 through Sunday, April 10. The Boat Show will feature a boatload of over 140 exhibitors and vendors, ranging from million-dollar high-performance sport boats to inflatable paddleboards and kayaks and everything in between. The Demo Dock, sponsored by Ahoy Insurance, gives boat show visitors an opportunity to test drive new boats before they buy.
The Lake Havasu Boat Show is also hosting the 2022 Lake Havasu Spring Cornhole Championships on Saturday, April 9, presented by Just Money Motorsports.
Bands and Brews, London Bridge Beach, April 9, 2022
Enjoy live music, brats and cold beer at this fundraiser benefiting the 2022 Leadership Class for the Lake Havasu Chamber Foundation for Education and Leadership. The band lineup includes Crosscutt, Mile High, One Eyed Romeo, The 64s, and Yarn Bomb. Admission is $15 to $40.
Performance boats race during Desert Storm.
Desert Storm Poker Run and Shoot-Out, April 20-24, 2022
Named "One of the Top Five Poker Runs in the Nation" by Performance Boats magazine, the Desert Storm Poker Run & Shootout is a world-class collection of the most prestigious performance boats from across the nation. All performance boaters are invited to participate. The schedule includes:
Thursday Night (April 21) – Party on Main Street – a multi-million-dollar presentation of extraordinary super-charged racing vessels from the world's top custom boat builders.
Friday (April 22) – Desert Storm Parade through the channel. Drivers will be displaying their boats on parade from Thompson Bay through the Bridgewater Channel. The best views will be along London Bridge Beach and the channel.
Desert Storm Poker Run – After the parade, the drivers will be taking off for the Poker Run, picking up cards at various card stops on the lake.
Saturday (April 23) Desert Storm Shootout – Drivers run a course starting near the Site Six Launch Ramp and head south. Best viewing for the Shootout will be on the surrounding bluffs on the Island near Site Six to Spectator Point.
Over 100 boats are registered for the Poker Run.
All spectator events are free.
In addition to this smattering of highlights, a complete list of scheduled events in Lake Havasu City is on the special events calendar at https://www.golakehavasu.com/events. Event dates, times and/or details are subject to change. Contact event organizers to verify information.
View the current temperature on the Lake Havasu Live Weather Webcam:
https://www.golakehavasu.com/lake-havasu-weather-webcam
Take a virtual tour, including newly posted 360-degree views of the London Bridge and English Village: https://www.londonbridgetour.com
About Lake Havasu City
Lake Havasu City is situated on the eastern shore of Lake Havasu on the Colorado River border of California and Arizona. The city was established in 1963 by Robert P. McCulloch, Sr. as a self-sufficient, planned community. Lake Havasu City is located on what is known as "Arizona's West Coast," three hours' driving time west of Phoenix, 2-1/2 hours south of Las Vegas, and four to five east of the Los Angeles region. As part of the northern and western limits of the Sonoran Desert, Lake Havasu City and the surrounding area feature outstanding biodiversity.
The area attracts 835,000 visitors annually with its historic London Bridge, pristine lake, friendly community, abundant sunshine, annual events, ideal weather, and wide range of restaurants and lodging. More than 400 miles of stunning coastline offer exceptional watersports, including fishing, skiing, kayaking, and house boating. Visitors can also explore the lake from the beautiful beaches, campsites, and hiking trails.
Rated one of the top 100 best bass fishing lakes in America, Lake Havasu is ideal for catching large and small-mouth bass and striper fishing. The region is also host to extensive off-road trails and undeveloped stretches of the river.
For more information: GoLakeHavasu.com
About Dave's Travel Corner

Dave's Travel Corner is a travel content, resource provider and community (founded 1996) providing travel
Guides
written about Dave's personal travel experiences and
Journals
, pages that contain trip summaries and experiences written by fellow travelers. We spotlight locations and attractions with an article linked directly from our homepage including content across our blog, photo and video galleries. We use a combination of social media, written content, photography and videos to promote locations. Not only does the content appear on this site but we have direct partnerships with other well visited travel sites for placement of the content. Since 1996, we have also established hundreds of relevant link exchanges with other travel sites.
Visitors to Dave's Travel Corner will also find thousands of travel related links organized by categories on the
Resources Page
, a
Photo Gallery
containing International travel photos,
Book Reviews
, and
Product Reviews
focusing on products useful for travelers, fully automated
Forums
,
Tour Bookings
offering over 4400 unique tours around the globe,
Interviews
with those making news in the travel industry and
Videos
- specializing in International travel videos as well as home of the
Dave & Jim Show
.
Dave's own travel blog is
Above the Clouds
which focuses on International Travel & Lifestyle.
For information on advertising please choose from a variety of
advertising options here
.
Contributors are welcome

Learn how you can contribute
About

www.davestravelcorner.com/about