Colonial Williamsburg's new summer experience offers refreshed programming, more interaction and exclusive offers for hotel guests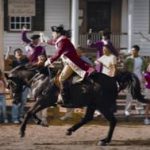 Williamsburg, VA May 20, 2013 – This summer, Colonial Williamsburg will introduce a new concept created to make the on-site experience even more effortless and fun for first-time and repeat guests. The refreshed programming; additional opportunities for interaction; integrated technologies; and exclusive entitlements for hotel guests makes the summer season the ideal time to explore Colonial Williamsburg. The enhanced Revolutionary City experience debuts Monday, June 17.
The primary additions include:
— Hotel-Guest entitlements. Those staying at the official Colonial Williamsburg Hotels can take advantage of one complimentary evening program per guest, per stay; special tours of the Capitol; and an exclusive 45-minute hands-on activity at a different trade shop each day. Hotel guests can also enjoy access to the on-site family Fun Zone, complete with games and puzzles, and scheduled events including storytelling, magic shows, cookie decorating. A daily militia march from the Williamsburg Lodge to the Revolutionary City kicks off the morning, while Woodlands guests can take advantage of pool parties, shuffleboard and putt putt.
— RevQuest: The Black Chambers. The latest chapter in Colonial Williamsburg's interactive, text message-based adventure sends guests on a covert mission to identify a threat to American Liberty and save the Revolution by interacting with interpreters, deciphering coded messages and unlocking clues throughout the Revolutionary City.
— Three big scenes anchoring each day: This summer, the Revolutionary City community can gather three times daily for interactive narratives providing the historical context that streamlines the entire Revolutionary City experience. At 10:00 a.m., guests can participate in Storming the Palace, an event on Palace Green to demand the return of the colony's gunpowder at a time when colonists were choosing between the British king and the quest for independence. At 1:00 p.m., Declaration of Independence at the Capitol transitions the Revolutionary City to the new republic and war years, with the debate of the phrase "all men are created equal." On to Yorktown and Victory!, at 5:00 p.m. on Market Square Green, encourages guests to join the militia in anticipation of what is expected to be the deciding battle at Yorktown.
— Evening experiences. The Revolutionary City remains alive after the sun sets. The introduction of new venues increases the scale and number of evening offerings this summer, from comedy and dance to storytelling and music. Guests can take advantage of dinner reservations timed to complement the beginning or end of an interactive program, and can enjoy after-hours games with Gambols at Chowning's Tavern.
Guests can also take advantage of:
— New tavern programs. This summer, the taverns become an even more integral component of the Revolutionary City with programming at breakfast, afternoon tea, dinner and into the evening. Guests can start the morning by learning the news of the day at a Revolutionary Breakfast or join in lively story and song during Tea with Mrs. Campbell. In the evening, the three-course High Life Below Stairs dinner theatre program tells the story of a wealthy London man who believes his servants are eating and drinking him out of house and mansion, while Mr. Shields' 18th Century Pig Roast boasts family-style seating, buffet dining and live music. After hours, guests can enjoy family-friendly Tavern Ghost Walk tours, or check their gentility at the door for Gambols, complete with games, gossips, music, beer and light fare.
— Refreshed tours. Experts at individual sites in the Revolutionary City place guests in key moments of history, immersing them in components of the larger storyline and providing clearer historical context. Other tours will combine storytelling, material culture, archaeology and curatorial research.
— Integrated experiences at the Art Museums: In addition to two flagship exhibitions in their first full season, the Art Museums will further illuminate storylines in the Revolutionary City through programs using art and antiques to trace the events leading to the Revolution.
— Increased guest assistance. The addition of more than 15 interpreters in the Revolutionary City provides more resources for guests during their visit. These staff will keep guests informed of when and where activities are taking place, allowing the Revolutionary City to further function as a community.
Access to all Revolutionary City, Art Museums and programming, including RevQuest: The Black Chambers, is included with a Colonial Williamsburg admission ticket. Multi-day admission starts at just $49.95 for adults and $24.95 for youth. The Colonial Williamsburg experience is enhanced by a stay at an Official Colonial Williamsburg Hotel. This summer, kids stay, play and eat free through a value-loaded offer at the Woodlands Hotel & Suites. Other packages are available throughout the summer.
About
The Colonial Williamsburg Foundation, a center for history and citizenship, is a not-for-profit educational institution and cultural destination. The Foundation is dedicated to promoting the importance of an informed, active citizenry. Its mission, "that the future may learn from the past," is realized through offering innovative, imaginative and interactive experiences – both on- and off-site – designed to educate guests about the importance of the American Revolution. From the RevQuest: Save the Revolution! series of technology-assisted alternate reality games, to the theatrical programming of Revolutionary City®, guests can become immersed in the drama of the American Revolution and discover the ongoing relevance of the past. Guests can also visit the Art Museums of Colonial Williamsburg, enjoy the many gardens and green spaces, and visit up to 35 historic sites. To experience all that the Foundation offers, guests may stay in one of the five award-winning Colonial Williamsburg hotels and enjoy the renowned golf courses of the Golden Horseshoe Golf Club, indulge in The Spa of Colonial Williamsburg and shop in 40 stores. Fine dining is offered in more than 20 locations from historic dining taverns to restaurants with contemporary fare. Colonial Williamsburg is open 365 days a year. A full schedule of programs and special events can be found by visiting colonialwilliamsburg.com.
About Dave's Travel Corner

Dave's Travel Corner is a travel content, resource provider and community (founded 1996) providing travel
Guides
written about Dave's personal travel experiences and
Journals
, pages that contain trip summaries and experiences written by fellow travelers. We spotlight locations and attractions with an article linked directly from our homepage including content across our blog, photo and video galleries. We use a combination of social media, written content, photography and videos to promote locations. Not only does the content appear on this site but we have direct partnerships with other well visited travel sites for placement of the content. Since 1996, we have also established hundreds of relevant link exchanges with other travel sites.
Visitors to Dave's Travel Corner will also find thousands of travel related links organized by categories on the
Resources Page
, a
Photo Gallery
containing International travel photos,
Book Reviews
, and
Product Reviews
focusing on products useful for travelers, fully automated
Forums
,
Tour Bookings
offering over 4400 unique tours around the globe,
Interviews
with those making news in the travel industry and
Videos
- specializing in International travel videos as well as home of the
Dave & Jim Show
.
Dave's own travel blog is
Above the Clouds
which focuses on International Travel & Lifestyle.
For information on advertising please choose from a variety of
advertising options here
.
Contributors are welcome

Learn how you can contribute
About

www.davestravelcorner.com/about