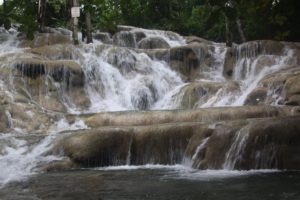 Why stick to the rivers and lakes that you're used to when travelers to Jamaica can experience some amazing waterfalls? Among the island's best natural attractions, numerous gorgeous waterfalls surrounded by serene natural greenery can be found dotted throughout the landscape. No two falls are the same and each one has its own features to offer. Some are popular with tourists while others are off-the-beaten-path and ripe for discovery, but one thing they all have in common – visitors can swim! So, bring a swimsuit for a refreshing dip and stunning views at the below waterfalls in Jamaica!
Kingston
The Blue and John Crow Mountains National Park and World Heritage site has mini falls and great falls that are accessible by hiking. Hikers will also enjoy the diverse flora and fauna along the way. These can be booked through the Jamaica Conservation and Development Trust.
Ocho Rios
Island Gully Falls 'Blue Hole' – This waterfall leads into crystal clear blue waters. It's a crowd-pleaser and is aptly named because of the unbelievably bright and beautiful turquoise water of the White River nestled high in the hills of St. Mary. The river offers several sizes of natural swimming pools, plus a few caves to explore and a few waterfalls for climbing, rope swinging, and leaping.
Dunn's River Falls – Dunn's River Falls is one of Jamaica's national treasures and is truly one of the most beautiful spots on the island. At a towering 960 feet tall, it is a living and growing phenomenon that continuously renews itself from deposits of travertine rock; the result of calcium carbonate from the river flowing over the falls. The small dome-shaped cataracts are usually associated with thermal spring activity found in limestone caves. This, combined with its location near to the sea, gives Dunn's River the distinction of being the only one of its kind in the Caribbean, if not the world.
Konoko Falls – For the traveler who want a little bit of everything, this waterfall has plenty to offer nearby including a zoo, museum, and koi pond. Visitors can take a guided tour to hear the history of the island and its first inhabitants, the Tainos, who Columbus met upon his arrival in Jamaica. These stunning waterfalls are just five minutes from the city of Ocho Rios.
Where To Stay in Ocho Rios: Moon Palace Jamaica All Inclusive Resort in Ocho Rios is just 5 minutes away from Dunn's River Falls, 20 minutes from Blue Hole, and 10 minutes from Konoko Falls, making it the perfect place to stay for someone interested in chasing waterfalls. This beach front resort has everything needed for a relaxing stay, from a gorgeous spa, water sports, fine dining, and dazzling entertainment.
Portland
Reach Falls – This gorgeous waterfall is set in an ecological sanctuary, which helps to ensure its beauty is preserved. It was discovered by runaway slaves who sought refuge in the hills of the John Crow Mountains. Lush greenery surrounds the falls, and the entire area is full of caves, some of which are big enough to climb in and out of. Couples feeling romantic are encouraged to spend some time in the heart-shaped natural pool.
Where to Stay near Portland: For an immersive nature experience, Geejam Hotel in Port Antonio hotel is nestled in the rainforest at the foot of the Blue Mountains and overlooking the azure seas of Port Antonio. This laidback yet luxurious hotel is situated just 30 minutes from Somerset Falls and 60 minutes from Reach Falls.
Negril
Mayfield Falls – Mayfield falls boasts multiple waterfalls and natural pools, so visits with a guide such as Chukka Caribbean Adventures to find all the best spots. Located off the beaten path, this hidden gem thrives with wildlife and cool, crystal-clear waters. Experience the coolness of one of the island's rivers or explore the land as you climb and take in the beautiful and tranquil surroundings. Mayfield Falls is the perfect escape from the ordinary, and a great haven for nature lovers. Many of the natural pools have a jacuzzi-like affect thanks to the churning waters created by the falls. For a more thrilling experience, be sure to check out the tallest waterfall at Mayfield Falls which is also known as "The Washing Machine."
Benta Falls – Located in the heart of Westmoreland, just 9 miles from Negril, Benta Falls is a family-owned business found off the beaten track but well worth the effort it takes to get there. Considered one of Jamaica's best kept secrets, the family friendly attraction features 7 beautiful waterfalls and sparling blue lagoon. Visitors can explore acres of picnic trails and scenic terrain and immerse themselves in an outdoor adventure including orchards and farms tours to showcase local exotic flowers and fruit grown in the area. Guests can book a guided tour, climb the falls, bathe in the natural jacuzzi and relax in a rejuvenating, therapeutic mud bath. Traveling groups are also offered campsites on the grounds. Benta has been developed in an environmentally friendly and responsible, manner with care taken to preserve the flora and vegetation of that region.
Where To Stay in Negril: An award-winning boutique hotel, Rockhouse is perched over Pristine Cove on Negril's west end. Located approximately an hour from the secluded Mayfield Falls, this hotel offers rooms built from timber, stone and thatch and are designed to exist in harmony with the fossilized rock and jungle-like landscape. There are several dining options on the property as well as a spa and access to Pristine Cove.
South Coast
YS Falls – Having opened in 1992, YS Falls is one of Jamaica's premier nature-based attractions in St. Elizabeth surrounded by lush gardens and trees. YS Falls is a seven-tiered waterfall, which cascades into natural pools for swimming. More recent additions to the attractions at YS Falls, include exhilarating canopy rides, which glide from the top of the falls to its base. YS was originally a cane farm, with a working sugar factory.
Where To Stay in the South Coast: Take a tractor drawn jitney to YS Falls from Jakes Hotel, a family-owned retreat style hotel in Treasure Beach. Just 45 minutes from the falls, Jakes offers authentic Jamaican hospitality in their oceanfront bungalows, cottages, and villas. Throughout a stay at the boutique hotel, guests can learn about the sustainable, farm-to-table style of Jamaican cuisine with farm tours, take a One Love Boat Tour with the legendary Captain Jospeh Brown, and visit many famous attractions like Lover's Leap and so much more. After a day of adventure, guests can enjoy treatments at Driftwood Spa using local ingredients from their garden in open-air treatment rooms right off the sea.
For more information on Jamaica, visit visitjamaica.com
About Dave's Travel Corner

Dave's Travel Corner is a travel content, resource provider and community (founded 1996) providing travel
Guides
written about Dave's personal travel experiences and
Journals
, pages that contain trip summaries and experiences written by fellow travelers. We spotlight locations and attractions with an article linked directly from our homepage including content across our blog, photo and video galleries. We use a combination of social media, written content, photography and videos to promote locations. Not only does the content appear on this site but we have direct partnerships with other well visited travel sites for placement of the content. Since 1996, we have also established hundreds of relevant link exchanges with other travel sites.
Visitors to Dave's Travel Corner will also find thousands of travel related links organized by categories on the
Resources Page
, a
Photo Gallery
containing International travel photos,
Book Reviews
, and
Product Reviews
focusing on products useful for travelers, fully automated
Forums
,
Tour Bookings
offering over 4400 unique tours around the globe,
Interviews
with those making news in the travel industry and
Videos
- specializing in International travel videos as well as home of the
Dave & Jim Show
.
Dave's own travel blog is
Above the Clouds
which focuses on International Travel & Lifestyle.
For information on advertising please choose from a variety of
advertising options here
.
Contributors are welcome

Learn how you can contribute
About

www.davestravelcorner.com/about