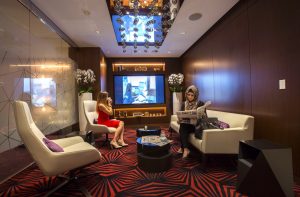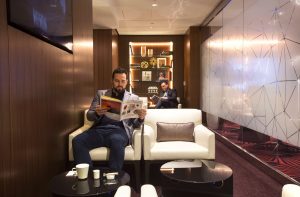 (Los Angeles, California – July 25, 2016) Etihad Airways officially opened its first U.S. west coast First and Business Class Premium Lounge at Los Angeles International Airport (LAX) in the new Tom Bradley International Terminal (TBIT). Building on a growing global reputation for product innovation and development, the lounge reflects a commitment to delivering exceptional hospitality experiences for First and Business Class guests, Etihad Guest Platinum, Gold and Silver members flying on EY170, and Etihad Airways Partner (EAP) airlines' equivalent Platinum and Gold members.
"LAWA and our airline partners are committed to continuing our initiatives to transform and modernize LAX into a world-class airport that Angelenos and visitors deserve," said LAWA Chief Executive Officer Deborah Flint. "We applaud Etihad Airways in bringing this exciting, new premium lounge experience that truly caters to the modern traveler."
The new facility moves away from the normal conventions of airport lounge design, and features the same 'Modern Arabian' decorative elements which characterize Etihad Airways' new international lounges. The décor draws inspiration from the geometric patterns found in the traditional and modern architecture of Abu Dhabi and its spectacular desert landscape.
Martin Drew, Etihad Airways Senior Vice President Americas, said: "As a world-leading airline, Etihad Airways continues to redefine travel, setting new benchmarks for innovative service on the ground and in the air."
"Our new First and Business Class Lounge in Los Angeles demonstrates our unwavering commitment to travelers on the U.S. West Coast, and in the United States as a whole, by providing them with the intuitive hospitality they have come to expect from our people and our brand. It gives us great pleasure to inaugurate this facility."
More akin to top hotels, fine dining establishments and private members' clubs, the new lounge provides a tranquil environment in which guests can relax, re-energize, be entertained, and enjoy the finest culinary experiences and hospitality services for which the airline is renowned. The space features luxuriously appointed seating, an à la carte dining area, showcase bar, TV area, shower facilities, complimentary high-speed Wi-Fi, multi-zone electrical and USB power outlets, and a selection of international magazines and daily newspapers. A separate VIP area can also be made available when required.
About Los Angeles International Airport (LAX)
LAX is the seventh busiest airport in the world and third in the United States. LAX served more than 74.9 million passengers in 2015. LAX offers 742 daily nonstop flights to 101 cities in the U.S. and 1,273 weekly nonstop flights to 76 cities in 41 countries on 64 commercial air carriers. LAX ranks 14th in the world and fifth in the U.S. in air cargo tonnage processed, with more than 2.1 million tons of air cargo valued at over $101.4 billion. LAX handled 655,564 operations (landings and takeoffs) in 2015.
An economic study based on 2014 operations reported LAX generated 620,610 jobs in Southern California with labor income of $37.3 billion and economic output (business revenues) of more than $126.6 billion. This activity added $6.2 billion to local and state revenues and $8.7 billion in federal tax revenues. The study also reported that LAX's ongoing capital-improvement program creates an additional 121,640 annual jobs with labor income of $7.6 billion and economic output of $20.3 billion, $966 million in state and local taxes, and $1.6 billion in federal tax revenues.
LAX is part of a system of three Southern California airports – along with LA/Ontario International and Van Nuys general aviation – that are owned and operated by Los Angeles World Airports, a proprietary department of the City of Los Angeles that receives no funding from the City's general fund.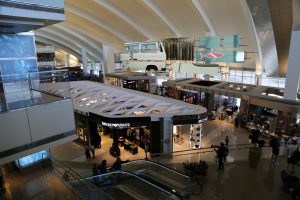 For more information about LAX, please visit www.lawa.aero/lax or follow on Twitter @flyLAXAirport, on Facebook at www.facebook.com/LAInternationalAirport, and on YouTube at www.YouTube.com/laxairport1. Information about LAX's ongoing multi-billion-dollar LAX Modernization Program, as well as tips and shortcuts to help navigate LAX during construction, are available at www.LAXisHappening.com.
As a covered entity under Title II of the Americans with Disabilities Act, the City of Los Angeles does not discriminate on the basis of disability and, upon request, will provide reasonable accommodation to ensure equal access to its programs, services, and activities. Alternative formats in large print, braille, audio, and other forms (if possible) will be provided upon request.
About Etihad Aviation Group
Etihad Aviation Group (EAG) is a diversified global aviation and travel group comprising four business divisions – Etihad Airways, the national airline of the United Arab Emirates, Etihad Engineering, Hala Group and Airline Equity Partners. The group has minority investments in seven airlines: airberlin, Air Serbia, Air Seychelles, Alitalia, Jet Airways, Virgin Australia, and Swiss-based Darwin Airline, trading as Etihad Regional.
From its Abu Dhabi base, Etihad Airways flies to, or has announced plans to serve, 117 passenger and cargo destinations in the Middle East, Africa, Europe, Asia, Australia and the Americas. The airline has a fleet of 123 Airbus and Boeing aircraft, with 204 aircraft on firm order, including 71 Boeing 787s, 25 Boeing 777Xs, 62 Airbus A350s and 10 Airbus A380s. For more information, please visit: www.etihad.com
About Dave's Travel Corner

Dave's Travel Corner is a travel content, resource provider and community (founded 1996) providing travel
Guides
written about Dave's personal travel experiences and
Journals
, pages that contain trip summaries and experiences written by fellow travelers. We spotlight locations and attractions with an article linked directly from our homepage including content across our blog, photo and video galleries. We use a combination of social media, written content, photography and videos to promote locations. Not only does the content appear on this site but we have direct partnerships with other well visited travel sites for placement of the content. Since 1996, we have also established hundreds of relevant link exchanges with other travel sites.
Visitors to Dave's Travel Corner will also find thousands of travel related links organized by categories on the
Resources Page
, a
Photo Gallery
containing International travel photos,
Book Reviews
, and
Product Reviews
focusing on products useful for travelers, fully automated
Forums
,
Tour Bookings
offering over 4400 unique tours around the globe,
Interviews
with those making news in the travel industry and
Videos
- specializing in International travel videos as well as home of the
Dave & Jim Show
.
Dave's own travel blog is
Above the Clouds
which focuses on International Travel & Lifestyle.
For information on advertising please choose from a variety of
advertising options here
.
Contributors are welcome

Learn how you can contribute
About

www.davestravelcorner.com/about